Storm Rave 2015 in pics (Frankie Bones, Lennie Dee, Heather Heart, Adam X, Rob G, more)
Frankie Bones & Heather Heart raving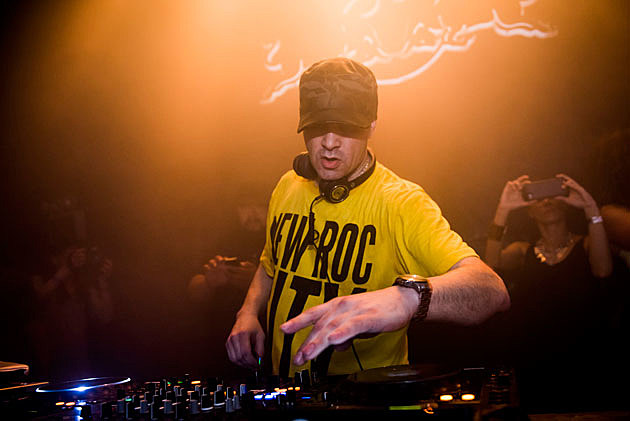 "Storm Rave was about bringing the future of music to people, why would I want to, in 2015, play music from 1992 when half the people at the party weren't even born yet?" Adam says. "Techno is still really big and strong and new and fresh in different aspects and it's just time to bring what it is now." The only thing that Adam promises will be the same is the intensity and tension of the original party. If all goes according to plan, this may mark a new generation for Storm Rave. The future is at the whim of the weathermen. [Thump]
Red Bull Music Academy helped Frankie Bones revive the legendary Storm Rave over the weekend at a Bushwick warehouse. Photos from the evening continue under a 2015 mix by Bones, below. Make sure to press play on that before descending further...

--
The return of Frankie Bones' NYC techno party, Storm Rave

Brooklyn's recent wave of abrasive techno owes a massive debt to Frankie Bones. In the early '90s, Bones effectively brought rave culture to New York with Storm Raves, a series of wild warehouse events that played host to thousands of attendees - and a steady stream of world-class DJs - and educatied an entire generation about a new way to party in the process.
Soundtracked by hard, punishing techno, and often taking place in suffocatingly cramped and disorienting spaces, these clandestine all-night affairs may have lasted for only a few years, but they left an indelible mark on New York City nightlife. Now, 22 years after the last Storm Rave, we're proud to help bring the event back.
True to the spirit of the original series, we'll be taking over an undisclosed warehouse location somewhere in the city. Naturally, Bones himself will be behind the decks, and he'll be joined by an elite crew of fellow New York techno pioneers, including Adam X, Heather Heart, Lenny Dee, and Rob Gee.