stream Black Breath's new album 'Slaves Beyond Death'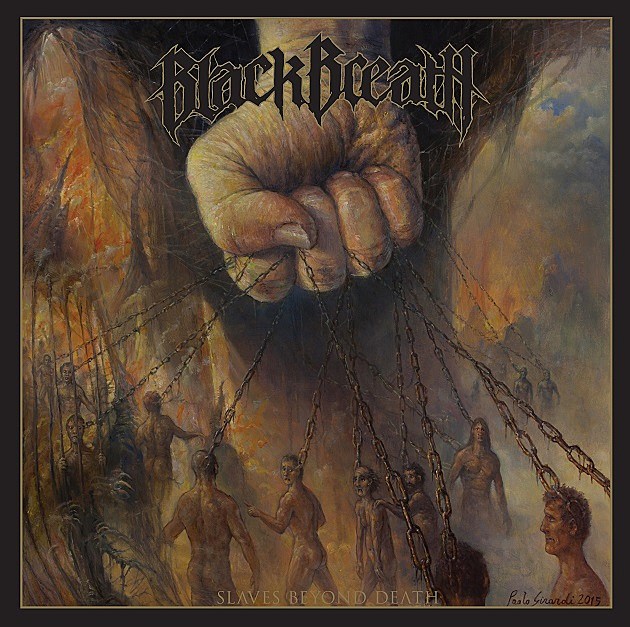 Black Breath will release their third album Slaves Beyond Death this week (9/25) via Southern Lord, and now the whole thing is streaming courtesy of our metal blog Invisible Oranges. Like we said about one of the early singles, they upped the death metal influences on this one and their hardcore side takes more of a backseat, making for their most gnarled, gruesome album yet. If you're hesitant about the new direction, consider what IO's Joseph Schafer had to say:
Go into Slaves Beyond Death with an open mind, and listen a few times. After I did that, I realized that Black Breath's leap from HM-2 loving punks to their current, more complex selves mirrors Metallica jumping from Kill Em All to Ride the Lightning, Slayer jumping from Show No Mercy to Hell Awaits. Yes, I think Black Breath right now are as good as those bands were thirty years ago (and if the new Slayer is any indication we need bands like this now more than ever).
Black Breath -- 2015 Tour Dates
9/23/2015 Boardwalk - Sacramento, CA*
9/24/2015 Catalyst Atrium - Santa Cruz, CA*
9/26/2015 Highline - Seattle, WA*
9/27/2015 Hawthorne Theater - Portland, OR*
11/12/2013 The Korova - San Antonio, TX
11/17/2015 Oakland Metro - Oakland, CA^
11/18/2015 Whisky A Go Go - West Hollywood, CA^
11/19/2015 The Constellation Room - Santa Ana, CA^
11/20/2015 Soda Bar - San Diego, CA^
* - w/ Goatsnake, Battalion Of Saints, Obliterations
^ - w/ Havok