Suffocation, Faceless, Decrepit Birth & others touring (dates)
by BBG
Suffocation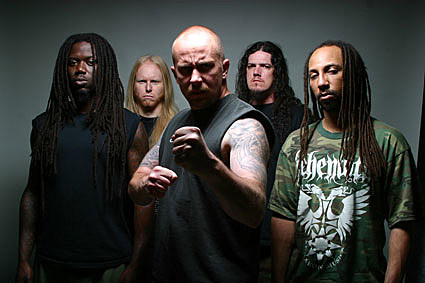 The tongue-wagging vocalist Frank Mullen will return to NYC, as NYDM gods Suffocation, The Faceless, and Decrepit Birth will team up with Fleshgod Apocalypse and Through The Eyes Of The Dead to soil Gramercy Theater on 10/16. Tickets are on sale. The show is part of a greater tour for the bands dubbed the Decibel Defiance tour. Full dates are below.
And while we're on the subject of classic 90s death metal, Incantation have announced that Mortician, Fatalist (who we profiled here), and Funerus will open the NYC show at Rebel on 11/20. Ticket info still unavailable. The show will be part of a short stint of dates for Incantation, Fatalist, and Funerus.
All dates and some videos below...

Suffocation - Cataclysmic Purification

Decrepit Birth- "Resonance"

DECIBEL DEFIANCE - 2010 TOUR DATES
Sep 25- The Palladium- Watertown, NY
Oct 15- The Palladium- Worcester, MA
Oct 16- Gramercy Theater- New York, NY
Oct 17- Imperial Theater- Quebec City, QC
Oct 18- Lee Foufounes Electriques- Montreal, QC
Oct 19- Vieux Theatre (Jonquiere, QC)
Oct 20- The Opera House - Toronto, ON
Oct 21- The Chance - Poughkeepsie, NY
Oct 22- Harpo's - Detroit, MI
Oct 23- Clearwater Theater - West Dundee, IL
Oct 24- Station 4 - St. Paul, MN
Oct 25- The Rave Bar - Milwaukee, WI
Oct 27- The Summit Music Hall - Denver, CO
Oct. 29th- The Farm - Las Vegas, NV
Oct. 30th- The Glass House - Ponoma, CA
Oct. 31st- The Whisky - West Hollywood, CA
Nov 1st- The Clubhouse - Tempe, AZ
Nov 2nd- The Fualon Factory - Albuquerque, NM
Nov 3rd- The War Legion Underground - Amarillo, TX
Nov 4th- The Marquee - Tulsa, OK
Nov 5th- Emo's - Austin, TX
Nov 6th- Ridglea Theatre - Fort Worth, TX
Nov 8th- Brass Mug - Tampa, FL
Nov 9th- The Pit - Jacksonville, FL
Nov 10th- Volume 11 - Raleigh, NC
Nov 11th- Starlight Ballroom - Philadelphia, PA
Nov 12th- Jaxx - West Springfield, VA
Nov 13th- Crocodile Rock - Allentown, PA
INCANTATION, FATALIST, FUNERUS - 2010 TOUR DATES
11/19 - Reggie's Rock Club Chicago, IL
11/20 - Rebel New York, NY
11/21 - Peabody's Cleveland, OH