Sufjan Stevens is on tour — pics & setlist from Chicago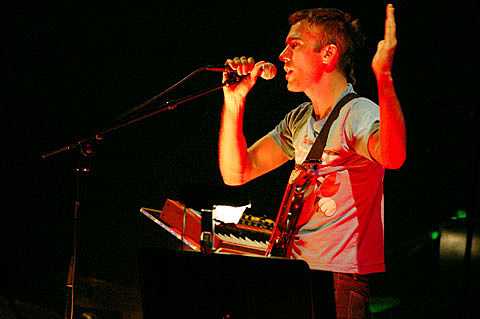 Sufjan Stevens is now on tour in support of his new album The Age of Adz. That tour, which ends with two shows in NYC, stopped by the Chicago Theatre in Chicago on Friday night. Some pictures from that show are in this post. They continue, with the setlist, below...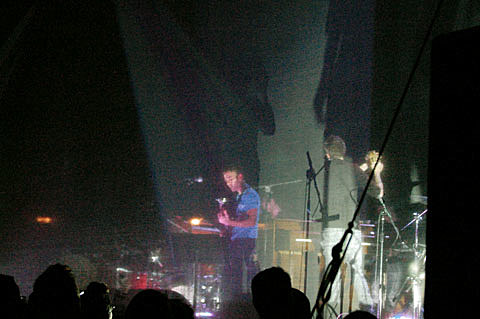 Sufjan Stevens Concert at Chicago Theatre, Chicago, IL, USA
Setlist on October 15, 2010
Seven Swans
Too Much
Age of Adz
Heirloom
I Walked
Now That I'm Older
Vesuvius
Futile Devices
Get Real Get Right
The Owl and the Tanager
Impossible Soul
Chicago
Encore:
Concerning the UFO Sighting Near Highland, Illinois
Decatur, Or, Round Of Applause For Your Stepmother!
Casimir Pulaski Day
John Wayne Gacy, Jr.
---
Sufjan Stevens - 2010 Tour Dates
2010-10-16, Saturday: Minneapolis, MN - Orpheum Theatre
2010-10-17, Sunday: Kansas City, MO - Uptown Theater
2010-10-19, Tuesday: Austin, TX - Long Center For The Performing Arts
2010-10-20, Wednesday: Dallas, TX - McFarlin Memorial Auditorium
2010-10-22, Friday: Mesa, AZ - Mesa Arts Center
2010-10-23, Saturday: Los Angeles, CA - Wiltern Theatre
2010-10-24, Sunday: Los Angeles, CA - Wiltern Theatre
2010-10-25, Monday: Denver, CO - Paramount Theater
2010-10-26, Tuesday: Oakland, CA - Paramount Theatre
2010-10-28, Thursday: Vancouver, BC - Orpheum TheatreCanada - Orpheum Theatre
2010-10-29, Friday: Portland, OR - Arlene Schnitzer Concert Hall
2010-10-30, Saturday: Seattle, WA - Paramount Theatre
2010-11-01, Monday: Salt Lake City, UT - Kingsbury Hall
2010-11-02, Tuesday: Denver, CO - Paramount Theater
2010-11-04, Thursday: Indianapolis, IN - Hilbert Circle Theatre
2010-11-05, Friday: Knoxville, TN - Bijou Theatre Center
2010-11-06, Saturday: Atlanta, GA - Tabernacle
2010-11-07, Sunday: Asheville, NC - Thomas Wolfe Auditorium
2010-11-10, Wednesday: Philadelphia, PA - Kimmel Center for the Performing Arts
2010-11-11, Thursday: Boston, MA - Orpheum Theatre
2010-11-12, Friday: Boston, MA - Orpheum Theatre
2010-11-14, Sunday: New York, NY - Beacon Theatre
2010-11-15, Monday: New York, NY - Beacon Theatre