Sufjan Stevens & My Brightest Diamond brought neon to Prospect Park (night 1 pics, video, setlist)
Sufjan Stevens and his elaborate band walked out onto a dark stage at Prospect Park last night (8/2), masked by a black transparent screen. They slowly began the delicate "Seven Swans" as dim light patterns swelled on the screen. Where soft piano and drums usually enter the song, Sufjan's entire band erupted into a heap of crashing chords as the black screen rose and revealed the neon-coated collective of musicians, backup singers, dancers, and Sufjan Stevens flapping a pair of massive bird wings. Sufjan and his band then proceeded to play a set of mostly Age of Adz material. Last night's and tonight's Celebrate Brooklyn shows are the last of the Adz tour.
They launched into the glitchy pop of "Too Much" and "Age of Adz" complete with a frenzy of futuristic visuals and carefully choreographed moves from Sufjan and his dancers/backup singers. After about 15 minutes of the orchestral glitchy awesomeness, Sufjan gave the crowd some "folk relief." He told us that he's still a folk musician at heart and played "Heirloom" off the All Delighted People EP, which was released shortly before Age of Adz last year. He took a moment to tell us about the inspiration for the album and all of the corresponding visuals, outfits, and dancing. He told us that he discovered the work of folk artist/self-proclaimed prophet Royal Robertson, and was influenced by his material. He described Royal's work as the portrayal of visions he had throughout his life, and mentioned that he also faced many struggles within himself, as all of us do. Sufjan said that much of the album was a tribute to Royal, his artwork, and his ideas, and explores themes like inner space, outer space, and the body.
As Sufjan and his band were nearing the end of the set, they delivered the one-two punch of "Vesuvius" and "I Want To Be Well," and after quieting down with album opener "Futile Devices," they sent the show into the most epic part of the night with the 25-minute album closer "Impossible Soul." The song opened with Sufjan accompanied by his piano and voice and slowly built into a layered piece that evolved into the portion sung by Shara Worden of My Brightest Diamond.
Although Shara was there (because she opened the show), I'm pretty sure it was one of Sufjan's backup singers who handled her part, though it was hard to tell because they were wearing a mask covered in light bulbs. As she sang, the black screen dropped once again, swirling light patterns drenched the stage and a light tunnel zeroed in on the singer and her light-up mask. After that mesmerizing section drifted off into ambiance and the stage went black once again, Sufjan appeared front and center in a large silver mask with a diamond shaped backdrop behind him and delivered the exaggerated auto-tuned vocals of the song's third section. As glitch hop beats entered the song and the robotic Sufjan left the stage, lights sprung up again and Sufjan's backup dancers, now in neon green t-shirts, neon pink shorts, leggings, and sideways pink hats, appeared at the front of the stage singing lead vocals to the song's epic refrain. After hitting the first round of "it's not so impossible"s, an indecipherable Sufan returned, running onto the stage covered in balloons and feathers and joined in on lead vocals. As the stage became a balloon-covered sing-along dance party, clear beach balls were propelled into the audience as long inflatable creatures shot up in front of the stage, turning the entire prospect park into into a huge party. Once the party died down and the song arrangements fizzled out, Sufjan returned to the front of the stage with only an acoustic guitar and sang the wispy ending of the song, where he plays off the refrain's lyrics to create what could be a stand-alone song in Sufjan's style of folk.
After making such a mess, Sufjan thanked the crowd and he and his band left the stage. He shortly returned for a three-song encore of Illinoise material. It's really hard to follow the end of that set with anything, but it's also pretty hard to turn down Sufjan Stevens playing "UFO," "Casmir Pulaski Day," and "Chicago."
My Brightest Diamond (aka Shara Worden) opened the show with a strong set of mostly songs off her upcoming album All Things Will Unwind, quirky dancing, and also an awesome outfit. She wore a bright green dress and a headdress of something resembling peacock feathers. She switched between guitar, ukulele, keyboard, autoharp, and other instruments as she and her band delivered one great song after another, including the recently released single "Reaching Through to the Other Side." Shara told a story during her set of seeing a Laurie Anderson show about the death of her mother, being extremely touched by it, and wondering if she'd ever learn to love. She told us that she eventually talked to Laurie and asked her if she'd ever learn to love. Laurie told her that it takes a lifetime to learn to love, which Shara then wrote a song about. She played it for us. It aptly opens with the line, "It takes a lifetime to learn how to love." Shara and her band also played a cover of "Tainted Love," which she recorded for the Guilt by Association Vol. 2 compilation, before her band left the stage and she ended the set with another new song solo with guitar and vocals.
More pictures, videos, and setlist from the first show below...

--
Sufjan Stevens - (part of) "Impossible Soul" at Prospect Park 8/2/11

Sufjan Stevens - "Impossible Soul" (ending) at Prospect Park 8/2/11

Sufjan Stevens - "I Want to Be Well" at Prospect Park 8/2/11

Sufjan Stevens - "Seven Swans" at Prospect Park 8/2/11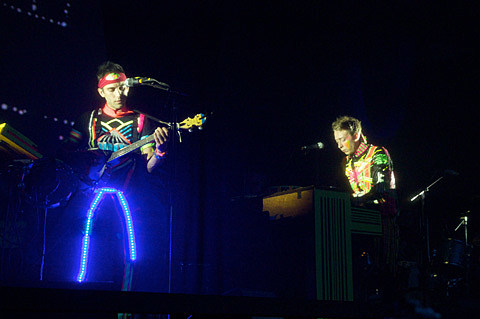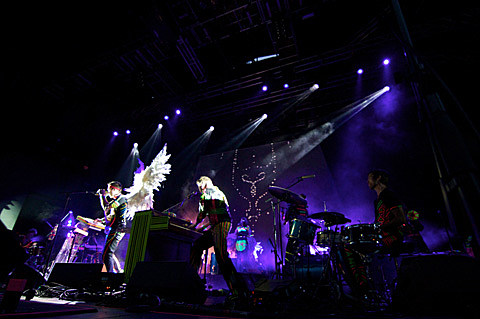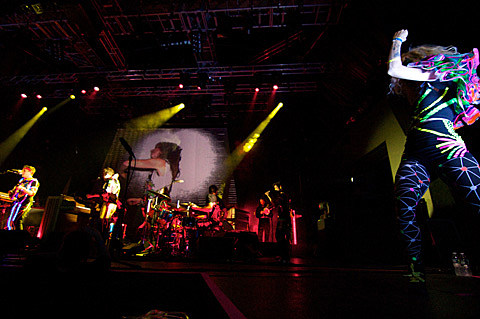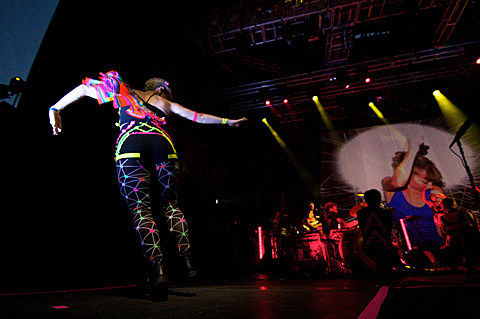 Setlist:
1. Sevens Swans
2. Too Much
3. Age Of Adz
4. Heirloom
5. I Walked
6. Now That I'm Older
7. Get Real Get Right
8. Vesuvius
9. I Want To Be Well
10. Futile Devices
11. Impossible Soul
Encore:
12. Concerning The UFO Sighting Near Highland
13. Casimir Pulaski Day
14. Chicago
--