Sufjan Stevens played Prospect Park again, but this time w/ rain & Diamond Rings (pics & setlist)
There's no question. The Age of Adz, Sufjan Stevens' bombastic game-changer-of-an-album is hugely divisive among fans and critics alike. Many balked at its sheer absurdity and accompanying oddball aesthetic. When I first heard the new album, I admit I was one of the skeptics. It was the gentle beauty of Michigan and quirky magnificence of Seven Swans that initially drew me in, but after seeing his performance at Beacon Theatre last fall, I was a convert. I drank the neon-colored, glow-in-the-dark Kool-aid, and I do not regret it.
Before Sufjan and his 14+ band mates claimed the Prospect Park Bandshell stage last night (8/3), the one-man glam artist Diamond Rings (John O'Regan) took his turn. Like Sufjan, O'Regan's show is just as much about his attitude and aesthetic as it is about his music. Dressed in a glittering silver crown and eye make-up reminiscent of Ziggy Stardust, O'Reagan helped pump up the crowd with his upbeat synthesis of samples, drum machine beats, and live guitar/keys.
Though the rain ceased a bit during Diamond Ring's set, by the time Sufjan and his band began to play, it had begun to steadily fall once again. But in a movement of crowd solidarity, umbrellas disappeared one by one as people traded in comfort for better sightlines.
As if in an effort to ease old fans into the post-apocalyptic landscape of glow-in-the-dark electrical tape, Sufjan Stevens kicked off his second Celebrate Brooklyn show not with a new song, but with "Seven Swans" (as he did the night before). Of course, it wasn't long before the nine-minute song began to get raucous.
And in what was just the first of many times throughout the evening, Sufjan slipped into the role of spiritual guide, sage, and motivational speaker. "Oh you are fierce warriors," he said, surveying the sopping magnitude before him, "You have the patience and fortitude and strength."
Sufjan followed the more mellow opening number with a string of songs from The Age of Adz, breaking up the new material only slightly with "Enchanting Ghosts" from last year's over-shadowed but excellent All Delighted People EP. Like last fall's show at Beacon Theatre, the scene was ridiculous. Psychedelic projections, wild costumes (including massive white wings for "Seven Swans"), and the carefully choreographed moves of Jessica Dessner (the sister of Bryce and Aaron of The National) provided abundant visual stimulation.
"I'd like to apologize for being so melodramatic, but I knew you had the heart and strength and soul to take it," Sufjan said as if anticipating a backlash. "So if you're feeling a little bit wet and disenchanted, I encourage you to move your butt."
At times Stevens comes across as a parody of himself and a bit of a megalomaniac, teetering on the edge of sanity... and maybe he is, or maybe he's just channeling the eccentricities of others.
Toward the middle of his set, Stevens explained that the inspiration behind both the fantastical scene on stage and much of the music was an "amazing outsider artist" from Louisiana that he had started studying a few years ago named Royal Robertson. "I decided to use him as my muse [...] and I just really wanted to capture in the frenetic sense the sound of the universe. I wanted to sound my barbaric yawp above the rooftops. And so I threw away the acoustic guitar, and I threw away the banjo, and I decided to surround myself with noise. And then through Royal Robertson I was able to contextualize all this mess into a sort of beautiful pop pageant."
Sure, The Age of Adz is an indulgent, schizophrenic mess, but it's a marvelous mess--especially in a live setting. The neon colors, the flashing lights, the trilling flutes, and dancing girls--it all just works... if you open yourself up to it, that is. Luckily, with the steady rain and steep ticket price (which benefits the Celebrate Brooklyn series), this was no place for haters.
"Tonight we celebrate Brooklyn. We celebrate rain. We celebrate ourselves. We sing the body electric. Am I quoting too much Whitman? I celebrate myself. I sing myself [...] every atom belonging to me as good belongs to you. These are your songs this is your show. Thanks for being here." And with that, he launched into "Impossible Soul."
By turns life affirming and heartbreaking, his sprawling opus was clearly the grand finale of the set. Stevens and friends pulled out all the stops--especially DM Stith (on backing vox and keys) and Cat Martino. Though she provided backing vocals for much of the show, Martino (who also sings with Sharon Van Etten) left her post at the back of the stage for a spirited, soulful duet with Stevens, proving that she is more than capable of being the leading lady. (Look for Martino's second solo album, Yr Not Alone this fall.)
After donning an elaborate golden headdress for the auto-tune portion of the song, Stevens re-emerged wearing a crazy balloon costume that would even be a bit much for George Clinton. Then out of nowhere, inflatable dancing men--the kind typically found in side-of-the-road displays--popped up, sending cheers throughout the soaked but ecstatic crowd. As if the scene on stage were not enough, large, clear beach balls began to circulate the crowd.
Stevens concluded the show with a three-song encore of older songs, including the simple, quiet love song "The Dress Looks Nice On You" and of course, "Chicago."
One thing's for sure. As Stevens sings himself in "I Want To Be Well," he's "not fucking around."
More pictures and setlist from the Wednesday show below...

--
Diamond Rings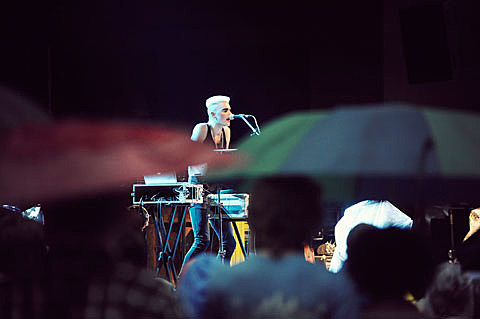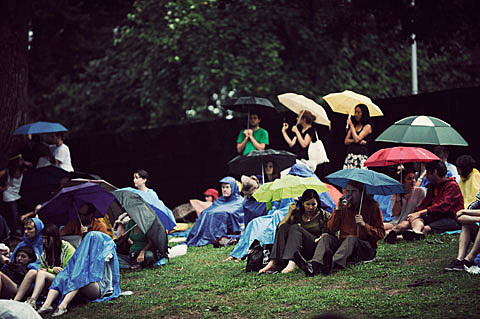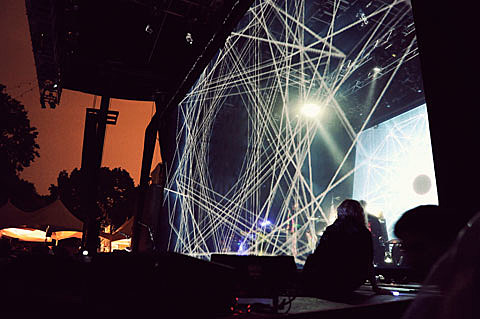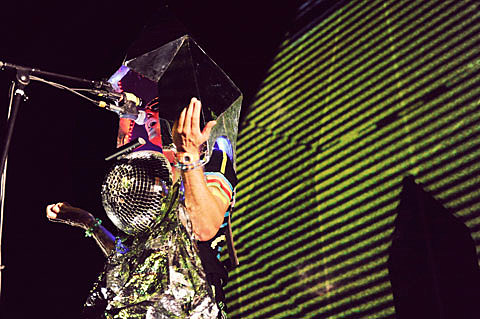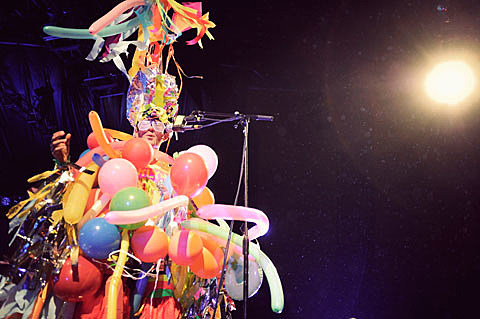 Sufjan Stevens Set list
Seven Swans
Too Much
Age of Adz
I Walked
Get Real Get Right
Enchanting Ghost
Vesuvius
I Want to Be Well
Futile Devices
Impossible Soul
Encore
Concerning the UFO Sighting Near Highland, IL
The Dress Looks Nice on You
Chicago
--