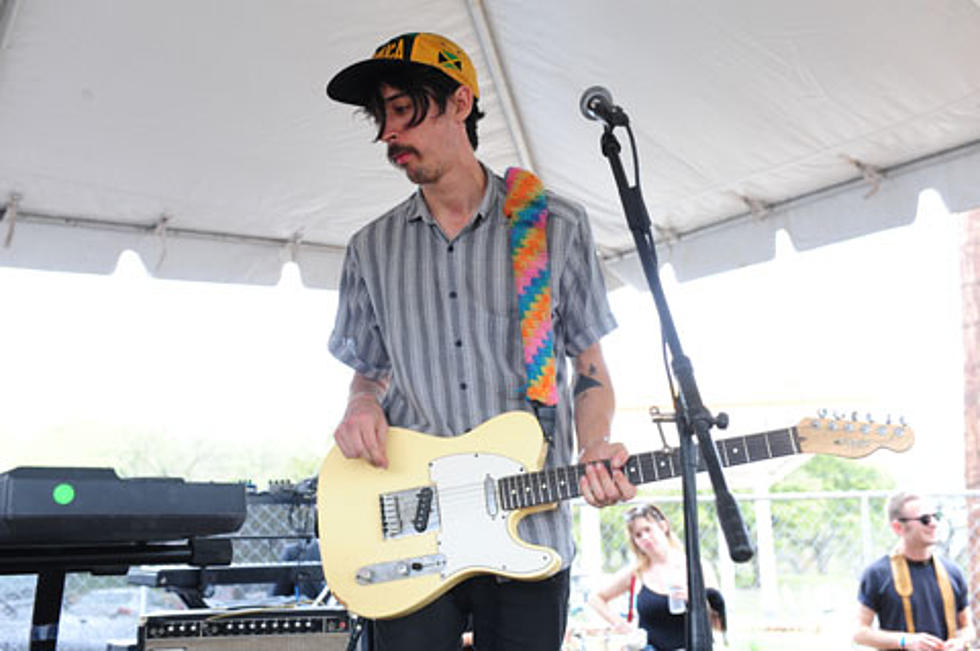 Sun Araw appearing on Stones Throw/Leaving comp, playing NYC w/ Ital, released live EP w/ The Congos (dates, streams)
Sun Araw at BV-SXSW 2012 (more by Nate "Igor" Smith)

Sun Araw and M. Geddes Gengras took part in one of 2012's most interesting (relatively) obscure releases with Icon Give Thank, a collaborative album with reggae legends/Lee "Scratch" Perry associates The Congos. And towards the end of the year, the three collaborators released a 5-track live EP recorded with the Raw Power Band at the Village Underground in London this past June. You can download that EP (name your price) at bandcamp and stream the whole thing below.
Both Sun Araw and M. Geddes Gengras are teaming up this month for a NYC show which happens on January 19 at Knitting Factory with Ital, who toured with M Geddes Gengras (and Laurel Halo) in 2012 around the time he dropped Dream On, his second album of 2012. Tickets for that show are on sale now. It's the only currently announced date for Sun Araw but Ital has other upcoming dates, which are listed below.
Sun Araw is featured on an upcoming double album compilation from Stones Throw and Leaving Records (Matthewdavid's label) called Dual Form which drops January 22 in cassette, LP, CD, and digital formats. The compilation also features Julia Holter (covering Arthur Russell), Dntel, Run DMT, Odd Nosdam and many more. You can stream Sun Araw's contribution, "Right Off," and check out the full tracklist below. The cassette version features bonus tracks by Matthewdavid.
All streams and a list of Ital dates below...

---
Sun Araw, M Geddes Gengras, Raw Power Band, The Congos - Icon Give Life

Stones Throw & Leaving Records: Dual Form Tracklist:
1. - - Untitled
2. Visions - The Cyclist
3. Into The Night - Davis
4. Lions Dream - Dak
5. Labelle Gross - Oscar McClure
6. You & Me Both (Arthur Russell live tribute) - Julia Holter
7. Sisters - Odd Nosdam
8. Right Off - Sun Araw
9. Glue Suit - Dem Hunger
10. Bardo States Dream Walker Version - Run Dmt
11. Purple Hay - Trance Farmers
12. Atimo - Yuk
13. Beacon - SoundWizard BZB & MC Set
14. Sadnis - Knx
15. Conga Dawn - Ssaliva
16. Cooked Love, Lady Bomb - Dream Love
17. Windy Windy - Dntel
18. Peace - Lapti
19. Hawk Wind - Semya
--
Ital -- 2013 Tour Dates
1/19 Knitting Factory Brooklyn, NY w/ Sun Araw, M Geddes Gengras
1/26 University of Wisconsin Madison, WI
1/27 The Empty Bottle Chicago, IL