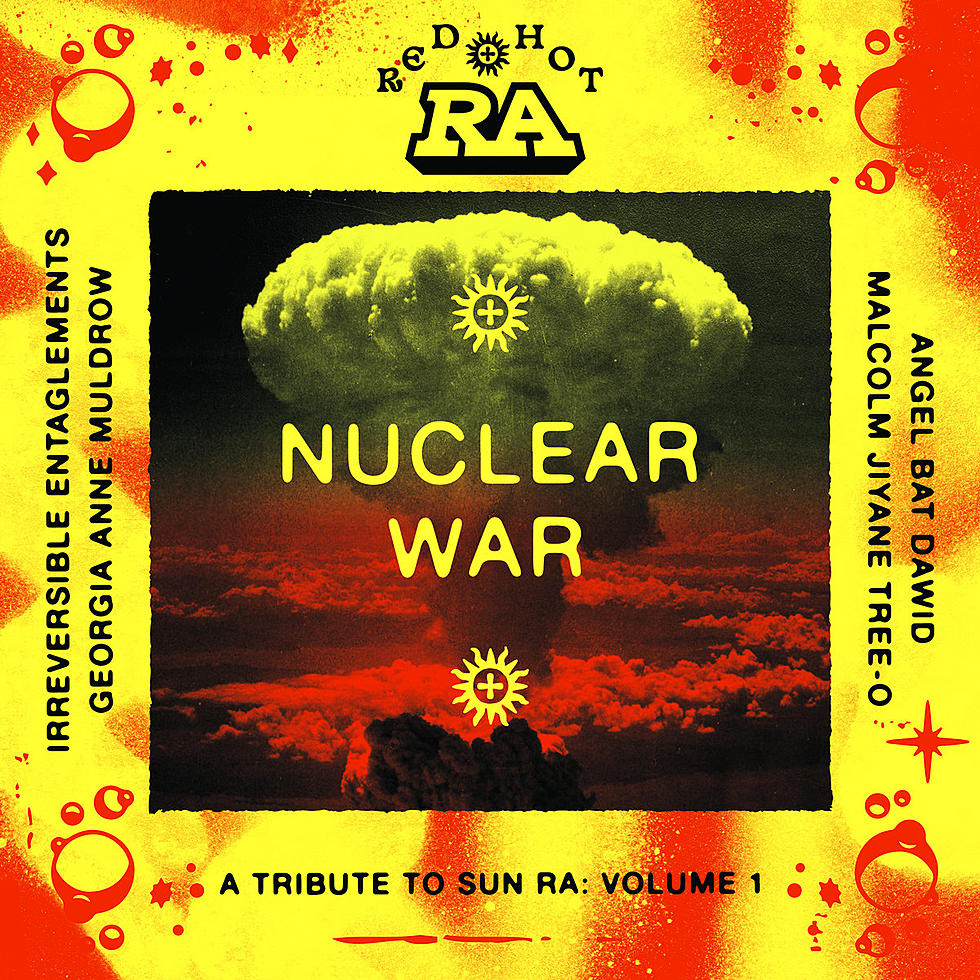 Sun Ra tribute LP coming via Red Hot; Georgia Anne Muldrow's track out now (listen)
Red Hot has announced Red Hot + Ra, a series of Sun Ra tribute albums, which will be rolled out over the next two years. It begins with Nuclear War - A Tribute to Sun Ra: Volume 1 on May 26 (pre-order). The LP has six tracks, clocking in at over 60 minutes, with covers and reinterpretations of "Nuclear War," Sun Ra's 1981 song "protesting the meltdown at the Three Mile Island Nuclear Power Plant near Philadelphia, where Ra and the Arkestra lived," by Georgia Anne Muldrow, Irreversible Entanglements, Angel Bat Dawid and Malcolm Jiyane Tree-o.
The first single released is Georgia Anne Muldrow's "Nuke's Blues," featuring Josef Leimberg, and it's a stunning piece that you can hear below.
Red Hot is "a non-profit 50(c)(3) organization that fundraises for health pandemics by financing organizations on the front lines of global health epidemics, epidemics and health crises. Through music and film, Red Hot works to lay the foundations of lasting change. Challenging stigma, highlighting resources and uplifting communities are important steps to dealing with wide spread diseases."
Tracklist / Credits
1. Georgia Anne Muldrow — Nuke's Blues (Feat. Josef Leimberg)
2. Angel Bat Dawid — Part 1- The Cosmic Bypass
3. Angel Bat Dawid — Part 2- Nuclear War!
4. Angel Bat Dawid — Part 3- Kiss Yo Ass Goodbye
5. Malcolm Jiyane Tree-O — We're Not Buying It (Featuring Grandmaster CAP)
6. Irreversible Entanglements — Nuclear War
01. Georgia Anne Muldrow - Nuke's Blues (Feat. Josef Leimberg)
(written by Georgia Anne Muldrow, Josef Leimberg & Sun Ra)
Georgia Anne Muldrow - Vocals / Track / Synth
Josef Leimberg - Trumpet / Piano
Taso Anastasios - OP1 keyboard / engineer
02.-04. Angel Bat Dawid - Nuclear War: A Cosmic Myth Science Trilogy
(Written by Angel Bat Dawid & Sun Ra)
The Cosmic Ensemble
Angel Bat Dawid - Piano, Clarinet, Vocals, Synths
Jaden Berkman (Jaytheziah) - Bass, Guitar, Flute, Saxophone
Alejandro Salazar - Percussion
The Cosmic Children
Rayna Golding, Mahari Ajani Collier
The Cosmic Choir
Monique Golding, Phillip Armstrong, Camila Isabel, Tramaine Parker, Erica Nwachukwu
Arranged & Mixed by Angel Bat Dawid
05. Malcolm Jiyane Tree-o - We're Not Buying It (Feat. Grandmaster CAP)
(written by Fani Malcolm Jiyane, Nhlanhla Masondo & Sun Ra )
Ayanda Zalekile - Electric Bass & Vocals
Gontse Makhene - Percussion & Backing Vocals
Grandmaster CAP - MC
Lungile Kunene - Drums & Backing Vocals
Malcolm Jiyane - Piano, Keyboards & Backing Vocals
Tubatsi Moloi - Electric Guitar, Flute & Backing Vocals
06. Irreversible Entanglements - Nuclear War
(Written by Sun Ra)
Keir Neuringer - Saxophone
Tcheser Holmes - Drums
Aquiles Navarro - Trumpet
Luke Stewart - Bass
Camae Ayewa - Vocals