Superchunk played 'Fallon' and Bowery Ballroom twice, joined by Eleanor Friedberger at 2nd show (pics, setlist, streams)
Superchunk w/ Eleanor Friedberger @ Bowery Ballroom, 9/28/2013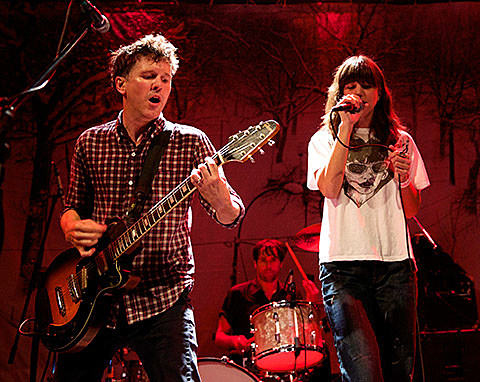 For more than two decades, minus a few years hiatus, Superchunk has consistently released high quality albums filled with excellent songs. There's not a clunker among any of their ten studio albums -- heck, there isn't even a bad song in their catalog. The newest release came out last month, and I Hate Music not only continues the streak, but its one of the strongest albums in their history. The band is currently on tour in support of the album and performed two shows at Bowery Ballroom this weekend, and we were there for Saturday's barnburner. Superchunk opened the show on high octane, working through a democratic mix of songs from the new album interspersed with the classics in an hour-long set that barely came up for air. And the very-sold out crowd was with them throughout. - [NYC Taper]
Superchunk's current tour hit NYC over the weekend for two sold-out Bowery Ballroom shows with openers Spider Bags. We were there for Saturday's show (9/28) and photos from the show are in this post. If the band looks a little different, it's because bassist Laura Ballance is sitting out touring due to hearing condition hyperacusis, and was subbed by Jason Narducy of Bob Mould's band.
They brought out Merge labelmate Eleanor Friedberger during the first encore to sing Patti Smith's "Free Money" and the Ramones' "Oh Oh I Love her" and then Mac McCaughan and drummer Jon Wurster switched places allowing Wurster to sing on covers of The Misfits' "20 Eyes" and Black Flag's "My War." Setlist is below, as are a couple streams from NYC Taper's terrific sounding recording of the whole show which you can download over his way.
Mac and the rest of the band were busy while they were here. They stopped by Late Night with Jimmy Fallon on Friday (9/27) to play "Void" from their new album I Hate Music and their 1994 nugget "Driveway to Driveway" as a web exclusive. You can watch those below. Then on Saturday, they spent most of the day at Bushwick's Shea Stadium filming a new music video, so look out for that soon.
More pics from Saturday's Bowery Ballroom show, plus the setlist, live recordings and Fallon videos, below...

---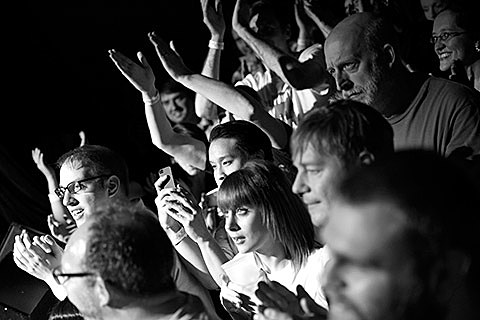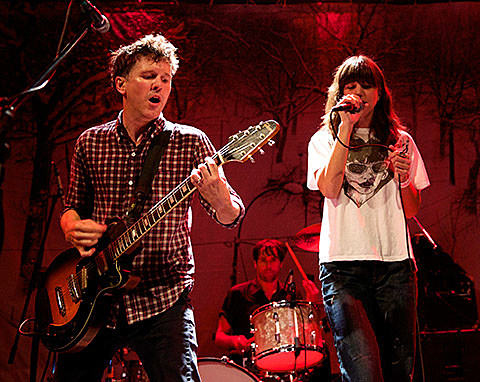 SETLIST: Superchunk @ Bowery Ballroom, 9/28/2013
Breaking Down
FOH
Crossed Wires
Detroit Has A Skyline
Punch Me Harder
Staying Home
Void
Like A Fool
Tower
Iron On
Water Wings
Out of the Sun
Me and You and Jackie Mittoo
Cast Iron
Digging For Something
Trees of Barcelona
ENCORE:
Seed Toss
Free Money [Patti Smith]
Oh Oh I Love Her So [Ramones]
Slack Motherfucker
Precision Auto
ENCORE 2:
Animated Airplanes Over Germany
Throwing Things
Fishing
20 Eyes [Misfits]
My War [Black Flag]