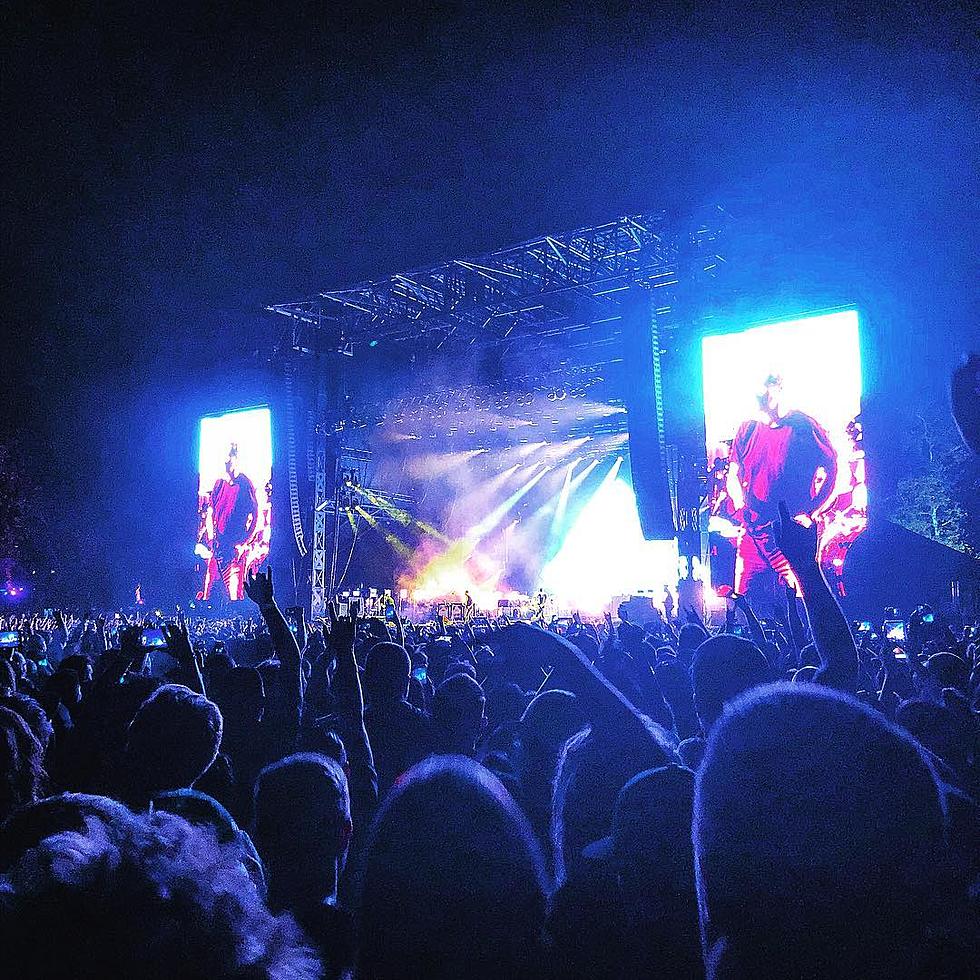 System Of A Down played first US show in 3 years (videos, setlist)
SOAD at Aftershock 2018 (photo via Jorge Navarro)
There's apparently been all kinds of inner-band turmoil in System Of A Down and all kinds of back-and-forth over whether or not the band will finally release a follow-up to 2005's Mesmerize/Hypnotize, but that hasn't stopped SOAD from staying active on the road. They just began a run of their first U.S. shows in three years with a huge headlining show at San Bernardino's Glen Helen Amphitheater on Saturday (10/13) that also included Incubus, At the Drive In, Clutch, Pallbearer, and Skeletonwitch; followed by an appearance at Sacramento's Aftershock festival on Sunday (10/14). At both shows, they played a huge chunk of their most highly-regarded album, 2001's Toxicity, plus plenty of other favorites from throughout the rest of their career. At the headlining show they played 30 songs, and at Aftershock they played 22. Full setlists and videos from both shows below. SOAD's U.S. tour continues in Phoenix on Tuesday (10/16), San Diego on Wednesday (10/17), and Vegas on Friday (10/19). Those shows are all with At The Drive In and Skeletonwitch.
Meanwhile, SOAD frontman Serj Tankian is one of the guest vocalists on Mindless Self Indulgence singer Jimmy Urine's new self-titled EURINGER album, which comes out this Friday (10/19). Jimmy released the Gerard Way collab last week, and now the Serj collab is here too. Serj told Revolver: "We're both fans of nutty witty humor, so when he told me to just go off with whatever words come to mind, I grabbed some poetry book titles of mine I had in the vocal booth and randomly spewed them off in the mic."
And Jimmy added: "I'm really into the idea of stream of consciousness and I talked to Serj about it when we were getting ready to record it and, you know, "I want you to do stream of consciousness, I want you to do all sorts of crazy shit in the vocal booth and we'll just record a whole bunch of it and we'll pull the craziest ones and put them in a weird order" and stuff like that, and he was totally down, he was like, 'All right!'"
The album also features a yet-to-be-released song featuring Grimes, which Jimmy also talked to Revolver about:
So on this record, when I was going to do it with Grimes, my initial idea was, "Let's flip it, you write the track, you produce it, you tell me what to do and we'll flip it, like, I'm the Brittany Spears and you're the Dr. Luke," but we didn't have any time. By the time we got around to working on it, I was like, "I hope you're not insulted to just sing on the track," and she was totally cool with it, and she loved the "Medicine Does Not Control Me" track because it totally sounds like Blade Runner. She really made it and put a spin on the melody and everything. It just came out fucking bananas good.
Stay tuned for the Grimes song. Listen to the Serj song below.
System Of A Down at Glen Helen Amphitheater - 10/13/18 Setlist (via)
Innervision
Prison Song
I-E-A-I-A-I-O
Soldier Side - Intro
B.Y.O.B.
U-Fig
Violent Pornography
Aerials
Mr. Jack
Deer Dance
Dreaming
Needles
Radio/Video
Hypnotize
ATWA
Bounce
Suggestions
P.L.U.C.K.
Psycho
Chop Suey!
Lost in Hollywood
Question!
Lonely Day
Know
A.D.D.
Spiders
Cigaro
Science
Toxicity
Sugar
System Of A Down at Aftershock - 10/14/18 Setlist (via)
Prison Song
I-E-A-I-A-I-O
Soldier Side - Intro
B.Y.O.B.
U-Fig
Violent Pornography
Aerials
Deer Dance
Needles
Radio/Video
Hypnotize
Bounce
Suggestions
Psycho (with snippet of "Let the Music Play" by Shannon in intro)
Chop Suey!
Lost in Hollywood
Question!
Lonely Day
Cigaro
Roulette
Toxicity
Sugar