Tacocat perform the new 'Powerpuff Girls' reboot's theme song and share second single off 'Lost Time' (listen)
photo: Tacocat at SXSW 2014 (more by Amanda Hatfield)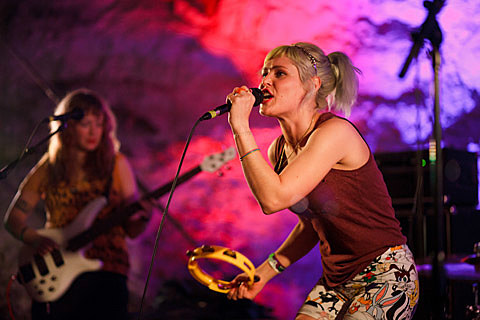 The Powerpuff Girls  is coming back to Cartoon Network in the spring and the reboot brimming with girl power in its brand new theme song by Tacocat called "Who's Got The Power?" It's just as catchy as the original theme song, keeping the same nostalgic "Sugar, spice, and everything nice" intro. You may remember that the original series had some great indie artists and bands contribute original songs for the show, including Frank Black, Shonen Knife, and The Apples In Stereo. Show creator Craig McCracken will not be back for the new series but has given his blessings. Watch the new main title sequence with Tacocat's song (and a clip from the show), below.
In addition to the theme song, Tacocat also released a new single, "Talk," from their upcoming LP, Lost Time, which is out on April 1 via Hardly Art. The track is grittier than their typical upbeat pop, showing how their sound has evolved in their forthcoming album.
As mentioned, they're touring in support of their LP this spring, which stops by NYC for two shows: April 12 at Mercury Lounge and Palisades on April 13. Tickets for Mercury and Palisades are still available.
Tour dates are listed along with "Talk" and Powerpuff Girls' new theme song, below...
Tacocat - 2016 Tour Dates
03.31.16 - Seattle - Chop Suey -
04.07.16 - St Paul, MN - Turf Club -
04.08.16 - Chicago, IL - Empty Bottle
04.09.16 - Detroit, MI - Marble Bar -
04.12.16 - NYC - Mercury Lounge
04.13.16 - Brooklyn - Palisades (All-ages)
04.14.16 - Cambridge, MA - Middle East Upstairs
04.16.16 - Washington, DC - Comet Ping Pong -
04.19.16 - Durham, NC - Pinhook
04.20.16 - Atlanta, GA - 529
04.21.16 - Nashville, TN - Stone Fox
04.22.16 - St Louis, MO - Billiken Club
04.24.16 - Denver, CO - Larimer Lounge
05.02.16 - UK, Nottingham - JT Soar
05.03.16 - UK, Edinburgh - Electric Circus
05.04.16 - UK, Glasgow - Broadcast
05.05.16 - UK, Cardiff - The Moon Club
05.06.16 UK, Brighton - Sticky Mike's Frog Bar
05.07.16 - UK, London - The Lexington
05.09.16 - FR, Paris - Le Mecanique Ondulature
05.11.16 - CH, Luzern - Schüür
05.12.16 - CH, Geneva - Kalvingrad L'Usine
05.13.16 - DE, Schorndorf - Manufaktur /
05.14.16 - NL, Tilburg - Extase
05.15.16 - DE, Hamburg - Aalhaus
05.18.16 - SE, Stockholm - Lilla Hotelbarren
05.19.16 - NO, Oslo - Internasjonalen
05.20.16 - SE, Lund - Mejereit
05.21.16 - DK, Copenhagen - Huset
05.22.16 - DE, Berlin - West Germany
05.27.16 - 05.30.16 - George, WA - Sasquatch Music Festival