Talk Normal & Screaming Females New Years Eve pics, more tour dates & SXSW band announcements
Talk Normal @ Cake Shop on NYE...

"The Cake Shop, so deemed because it apparently sells cake, contained within it the pure essence of hipster, from its vintage vinyl chairs to its free PBR to its nerdy patrons in bangs, white-boy afros, skinny jeans, baby doll dresses and berets to its basement bar where hipsters gathered around to hear the agonizing alien death moans of the androgynous lead singer of The Screaming Females. Ethan and Roland showed up at a quarter to midnight, I introduced them to Hunter and Yulia, and they quickly disappeared. At the stroke of, The Screaming Females revved up their screeching machines and prepared to unleash their unbearable dissonance. Lead singer went,"Yeah, it's 2010...whatever..." Hunter, Yulia, and I clinked red plastic cups and Budweiser bottle, and Ethan and I exchanged a wave from where he stood alongside the band set." [Taking Pictures of Dogs]
Frankie & the Outs, who also played a NYE show at the Cameo on the same night, have a number of shows coming up in NYC, Austin (for SXSW) and elsewhere. One of them is opening for Dun Dum Girls at Mercury Lounge. That show is now on sale.
Talk Normal will be at SXSW too - they have a show set up for March 18th with The Carrots, Tyvek, Grass Widow, Wet Hair and "many more." After the fest, Talk Normal travel with Xiu Xiu and Tune-Yards to open a number of shows on their tour together (but not the NYC one which also recently went on sale). Those dates and more details are below.
More New Year's Eve pictures and dates and stuff, below..

---
Talk Normal @ Cake Shop...
Screaming Females @ Cake Shop...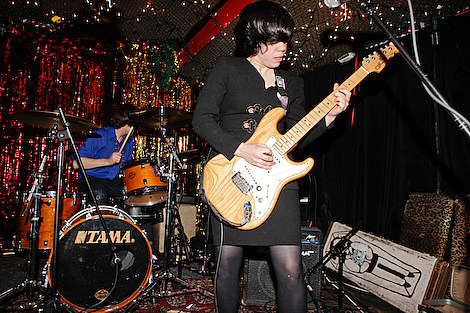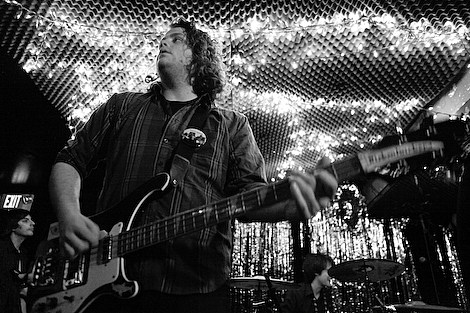 Talk Normal - 2010 Tour Dates
Mar 18 SXSW Austin, Texas $
Mar 26 Urban Lounge Salt Lake City, Utah #
Mar 27 Hi-Dive DENVER, Colorado #
Mar 29 Jackpot Saloon LAWRENCE, Kansas #
Mar 30 Lemp Arts Center ST. LOUIS, Missouri #
Mar 31 The Picador Iowa City, Iowa #
Apr 01 The Cave at Carleton College NORTHFIELD, Minnesota #
Apr 02 7th Street Entry MINNEAPOLIS, Minnesota #
Apr 03 Lincoln Hall Chicago, Illinois # *
Apr 05 The Dionysus Discotheque OBERLIN, Ohio #
Apr 07 The Spot CLEVELAND, Ohio #
$ M'Lady Showcase @ Baby Blue Studio w/The Carrots, Tyvek, Grass Widow, Wet Hair, many more
# w/ Xiu Xiu, Tune-Yards
* w/ ZOLA JESUS