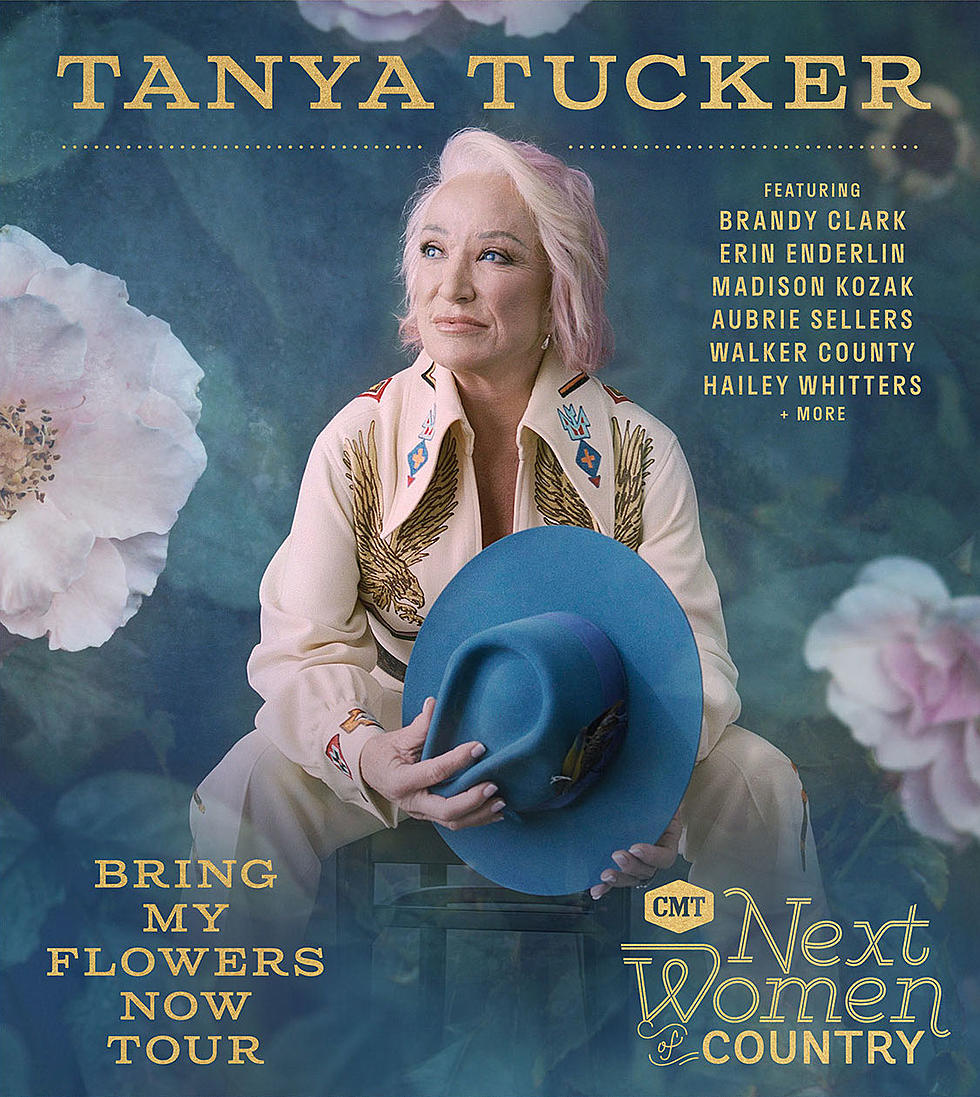 Tanya Tucker headlining 2020 CMT Next Women of Country tour
Country legend Tanya Tucker will be spending much of 2020 headlining the "CMT Next Women of Country: Bring My Flowers Now Tour." Joining her at various stops on the tour will be  CMT's Next Women of Country alum, including Aubrie Sellers, Brandy Clark, Erin Enderlin, Hailey Whitters, Madison Kozak and Walker County. Also appearing at some dates will be Shooter Jennings, who co-produced Tanya's Grammy-nominated new album While I'm Livin' with Brandi Carlile.
Dates kick off February 5 in Vienna, VA and currently run though June 14 in Seattle, with dates along the way in Philly, NYC, Nashville, Memphis, Fargo, Woodstock, Morgantown (WV), Houston, Indio, CA for Stagecoach 2020, Cleveland, San Francisco, Vancouver, and more. The NYC show happens February 7 at Town Hall and that one's with Brandy Clark and Aubrie Sellers. Tickets for that show, and most dates of the tour, go on sale Friday, December 13 at 10 AM local time, and there are presales starting Wednesday (12/11) at 10 AM local.
All tour dates are listed, along with a stream of While I'm Livin' below. That album topped Rolling Stone's recently published 40 Best Country and Americana Albums of 2019 list, which also includes the new Erin Endnerlin album. Watch a video from that and the video for the new Aubrie Sellers single below too.
Tanya Tucker - 2019/2020 Tour Dates
DEC 13, 2019 - Riverdome at Horseshoe Casino - Bossier City, LA w/ Marty Stuart and His Fabulous Superlatives
DEC 14, 2019 - Uptown Theater - Kansas City, MO - supporting Wynonna
JAN 12, 2020 - Ryman Auditorium - Nashville, TN - Tanya Tucker & Friends
JAN 18, 2020 - JAN 19, 2020 - 30A Songwriter's Festival - Santa Rosa Beach, FL
JAN 22, 2020 - Seminole Casino Hotel - Immokalee, FL
FEB 5, 2020 - The Barns @ Wolf Trap - Vienna, VA
FEB 6, 2020 - World Cafe Live - Philadelphia, PA *
FEB 7, 2020 - The Town Hall - New York, NY *
FEB 10, 2020 - Bridgestone Arena - Nashville, TN - All For The Hall 7
FEB 20, 2020 - Soundstage at Graceland - Memphis, TN *
FEB 21, 2020 - Gillioz Theatre - Springfield, MO *
FEB 22, 2020 - TempleLive - Wichita, KS *
FEB 24, 2020 - The Blue Note - Columbia, MO *
FEB 25, 2020 - Bourbon Theater - Lincoln, NE *
FEB 27, 2020 - The District - Sioux Falls, SD *
FEB 28, 2020 - Fargo Theatre - Fargo, ND *
FEB 29, 2020 - Grand Casino Hinckley Event Center - Hinckley, MN
MAR 3, 2020 - River Run Centre - Guelph, Canada *
MAR 5, 2020 - FirstOntario Performing Arts Centre - St. Catharines, Canada *
MAR 6, 2020 - Levon Helm Studios - Woodstock, NY *
MAR 7, 2020 - The Metropolitan Theater - Morgantown, WV *
MAR 13, 2020 - 3Arena - Dublin, Ireland - Country to Country
MAR 14, 2020 - 3Arena - Dublin, Ireland - Country to Country
MAR 15, 2020 - The O2 - London, United Kingdom - Country to Country
MAR 26, 2020 - Kessler Theater - Dallas, TX *
MAR 29, 2020 - The Heights Theater - Houston, TX *
APR 18, 2020 - Sugar Creek Casino - Hinton, OK *
APR 22, 2020 - Fremont Theatre - San Luis Obispo, CA *
APR 24, 2020 - APR 26, 2020 - Stagecoach Festival - Indio, CA
APR 29, 2020 - Bluebird Theater - Denver, CO *
MAY 9, 2020 - Harrah's Cherokee Event Center - Cherokee, NC *
MAY 13, 2020 - Jefferson Center - Roanoke, VA *
MAY 15, 2020 - Royal Oak Music Theatre - Royal Oak, MI *
MAY 16, 2020 - Roxian Theatre - McKees Rocks, PA *
MAY 17, 2020 - The Wilbur - Boston, MA *
MAY 20, 2020 - House of Blues Cleveland - Cleveland, OH *
MAY 21, 2020 - The Danforth Music Hall - Toronto, ON *
MAY 22, 2020 - The Egg - Albany, NY *
MAY 30, 2020 - Beaver Dam Amphitheater - Beaver Dam, KY *
JUN 4, 2020 - The Fillmore - San Francisco, CA *
JUN 5, 2020 - Crest Theatre - Sacramento, CA *
JUN 6, 2020 - TJ's Corral Outdoor Amphitheater - Minden, NV *
JUN 8, 2020 - State Theatre For The Arts - Red Bluff, CA *
JUN 10, 2020 - Crystal Ballroom - Portland, OR *
JUN 12, 2020 - Vogue Theatre - Vancouver, BC *
JUN 13, 2020 - Bing Crosby Theater - Spokane, WA *
JUN 14, 2020 - The Showbox - Seattle, WA *
JUL 10, 2020 - Country Thunder - Craven, Canada
JUL 16, 2020 - JUL 19, 2020 - Country Thunder - Twin Lakes, WI
* CMT Next Women of Country: Bring My Flowers Now Tour