Team Spirit, Total Slacker & more playing Giggawatts Fest at Silent Barn over Independence Day weekend (line-up)
One Point Twetnty One Gigawatts is a free, full-color DIY music, art and fashion magazine that comes out bi-monthy and has been around for about a year. You can pick up copies at lots of Brooklyn DIY venues and other places, and if you can't find one near you, there are also PDF and iBooks versions available too.
Issue #6 marks the zine's one-year anniversary issue with Anamanaguchi (who play MHOW tonight) on the cover. To further celebrate, they're throwing a two-day Giggawatts Festival at Silent Barn on Friday and Saturday of Independence Day Weekend (July 5 & 6) with Team Spirit, Total Slacker, Celestial Shore, Heaven's Gate, Grand Resort, Dead Stars and more. Tickets to individual days are $12 or you can get a pass for both for $20.
Day-by-day line-up and Gigawatts Fest flyer is below.

---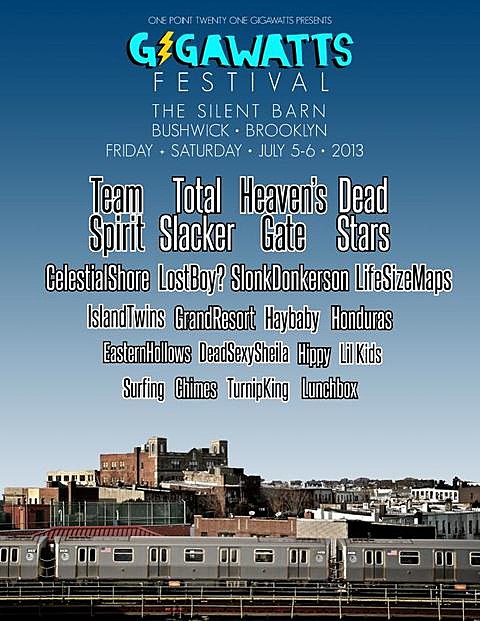 Gigawatts Festival Line-Up
Friday 7/5:
Team Spirit
Total Slacker
Celestial Shore
Slonk Donkerson
Island Twins
Haybaby
Eastern Hollows
Hippy
Turnip King
Surfing
Saturday 7/6:
Heaven's Gate
Dead Stars
Lost Boy ?
Life Size Maps
Grand Resort
Honduras
Dead Sexy Sheila
Lil Kids
Chimes
Lunchbox