Team Spirit, Total Slacker & more playing Giggawatts Fest at Silent Barn over Independence Day weekend (line-up)
Issue #6 marks the zine's one-year anniversary issue with Anamanaguchi (who play MHOW tonight) on the cover. To further celebrate, they're throwing a two-day Giggawatts Festival at Silent Barn on Friday and Saturday of Independence Day Weekend (July 5 & 6) with Team Spirit, Total Slacker, Celestial Shore, Heaven's Gate, Grand Resort, Dead Stars and more. Tickets to individual days are $12 or you can get a pass for both for $20.
Day-by-day line-up and Gigawatts Fest flyer is below.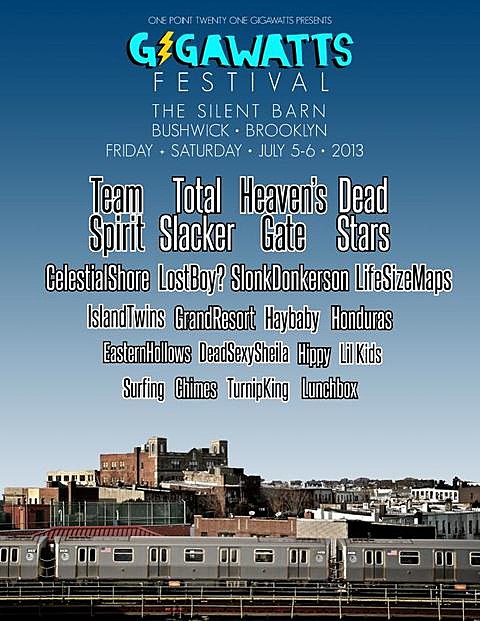 Gigawatts Festival Line-Up
Friday 7/5:
Team Spirit
Total Slacker
Celestial Shore
Slonk Donkerson
Island Twins
Haybaby
Eastern Hollows
Hippy
Turnip King
Surfing
Saturday 7/6:
Heaven's Gate
Dead Stars
Lost Boy ?
Life Size Maps
Grand Resort
Honduras
Dead Sexy Sheila
Lil Kids
Chimes
Lunchbox