Ted Leo, Sharon Van Etten & Kurt Braunohler celebrated New Year's Eve at Maxwell's (pics, video)
"ATTN HOBOKEN! I WILL NOT BE DROPPED TONIGHT!" - kurt braunohler
"Pink shirt on. Ready to party like it 3012" - kurt braunohler
"Happy New Year to everybody! I didn't get to reply last night because I was watching @TedLeo and @kurtbraunohler be awesome." - Tom scharpling
"Omg @scharpling 's here @maxwellsnj for @tedleo NYE& I didn't even say hi - @kurtbraunohler was hilarious - Sharon Van Etten & band=amazing!"
- Bella Allen Farrelly
"Last 2 nights w/@kurtbraunohler, @obitsband, @sharonvanetten, & the AMAZING AUDIENCES: I count myself lucky to be among such excellence." -Ted Leo
Ted, Kurt & Phamacist @ Maxwell's

Ted Leo & The Pharmacists rang in the new year at Maxwell's with not-surprise guest Sharon Van Etten and comedian opener Kurt Braunohler who also opened for Ted and Obits at The Bell House one night earlier. Pictures from the NJ show, where Kurt Braunohler tried to crowd surf again, and possibly got dropped again, are in this post.
Ted played a predictably excellent set and covered 'I Wanna Destroy You' with Sharon Van Etten whose opening set included a new backing band lineup. Doug Keith is still there, but there was a new guy on drums and a new backup singer/keyboard player/additional guitarist lady. When they played "Don't Do It", they did this new thing with looped sorta spooky vocals in the beginning and it was so beautiful. The new songs sound amazing. I can't wait for the album.
Sharon will hit the road for a string of dates in February that include Music Hall of Williamsburg and Bowery Ballroom, and before that she'll make an appearance at the Greene Space. Tickets are still available for that WNYC Soundcheck session, as well as both Bowery and MHoW.
More pictures and some video from Maxwell's on New Year's Eve, below.

--
Screened poster from the show
(more still available.. inquire at jaymorrisdesign AT gmail DOT com)

Kurt Braunohler
Sharon Van Etten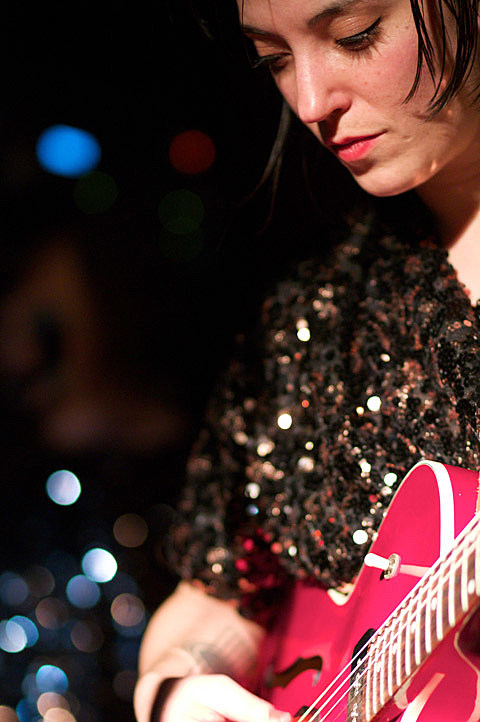 Give Up - Sharon Van Etten - Maxwells - 12/31/11

One Day - Sharon Van Etten - Maxwells - 12/31/11

Ted Leo & The Pharmacists
Ted Leo & the Pharmacists: "Timorous Me" @ Maxwell's