Ted Leo & the Pharmacists @ Pier 54 in NYC in the rain – pics
photos by Chris La Putt
"Wow - thanks to everyone who stuck it out - I was a little disombobulated, and I'm truly sorry the R4 & XtraGolden didn't play... ...but we all made the best of it, right? Thanks again for braving it with us!" - Ted Leo
Hundreds of people braved the rain to see Ted Leo & the Pharamacists play a tight set with no set list on Pier 54 in NYC (part of the RiverRocks summer series). After a slight delay and the cancellation of both openers (Radio 4 and Extra Golden), Ted and band played for about an hour and 20 minutes of relatively rain-free music. They went on around 7:50. The above picture was taken around 6:30. To quote a friend, "all in all another memorable night in the eight year saga of Ted vs the Environment. Ted and his diehard fans always win." More pictures and some video below...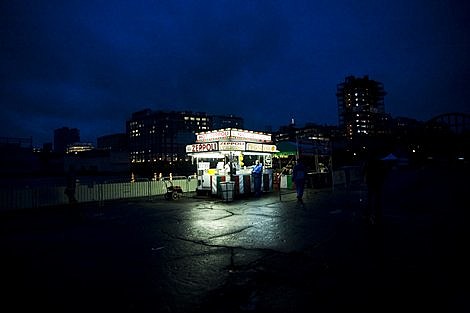 Ted Leo & The Pharamacists | NYC @ Pier 54 | 23 Jul 2009

"Ted Leo & The Pharmacists fighting literally piss poor weather conditions and playing "Where was my brain?" live in New York City at Pier 54 at part of Hudson River Park's "River Rocks" free summer shows.
I feel bad for Radio4 and how they didn't get to play, especially since I am/was sort of friendly with 2 members in the band. But considering the circumstances I think it was the right call to send Ted Leo out there for as long as it seemed safe. The stage was drowned in water because the wind came from the east and blew it right on there, like a fire hose. So one doesn't need a high school diploma to figure out that water and electricity don't mix. This show was always on the verge of getting the axe, let there be no misunderstanding. Everybody should be happy and thankful that at least Ted Leo got to play, even though I'm sure that sentiment might not be shared by all involved that night." [unARTigNYC]
Tour dates HERE.