Ted Leo & the Pharmacists played 'The Tyranny of Distance' @ South Street Seaport (pics, setlist video, another show)
"At South Street Seaport this evening: Screaming Females absolutely tore it up and Ted Leo rocked like a rowboat in a hurricane." - Michael Azerrad
Ted Leo and the Pharmacists and Screaming Females played the kickoff party for 4Knots Music Festival on Saturday (7/9). As promised, Ted Leo played The Tyranny of Distance in its entirety, in addition to ten other tracks.
TL/Rx took the stage a little after 7:30 and came sprinting out the gate with "Where Have All the Rude Boys Gone?" After a group of songs ending with one of my favorites, "Bottled in Cork," the band jumped into what would be a complete performance of their album The Tyranny of Distance. They even paused between "Stove by a Whale" and "The Great Communicator" in side A/side B fashion. (Their banter and band introductions in between was referred to as the album skit.) "You Could Die (or This Might End)" finished the set, but the boys came back for an energetic 3-song encore. [Dry Paint Signs]
The full setlist is below with and video and more pictures from the show.
Ted Leo will also appear as a special guest at the Mr. Coconuts Comedy Show on July 19 at Union Hall. The show is hosted by Gabe Delahaye and also features Max Silvestri and Nick Turner. Tickets are on sale.
The actual 4Knots Music Festival takes place back at the Seaport on Saturday (7/16) with Black Angels, Titus Andronicus, Eleanor Friedberger, and others.
Screaming Females pics from the Seaport are HERE. More Ted Leo pics below...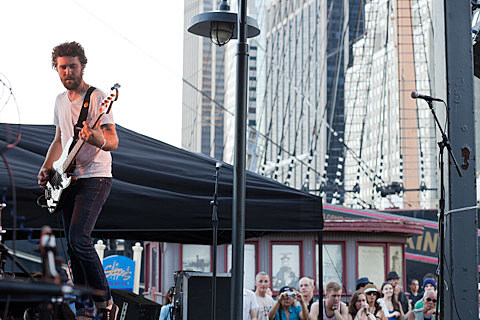 Ted Leo setlist (via)
Where Have All the Rude Boys Gone? / I'm a Ghost / Me & Mia / Little Dawn / Colleen / Mourning in America / Bottled in Cork / Biomusicology / Parallel or Together? / Under the Hedge / Dial Up / Timorous Me / Stove by a Whale / The Great Communicator / Squeaky Fingers / M¥ Vien iLin / The Gold Finch & the Red Oak Tree / St. John the Divine / You Could Die (or This Might End)
ENCORE -
The High Party / A Bottle of Buckie / Where Was My Brain?
Ted Leo and the Pharmacists at South Street Seaport 7/9/11

Ted Leo and the Pharmacists - "Mourning In America" at South Street Seaport 7/9/11

Ted Leo and the Pharmacists - "St. John The Divine" at South Street Seaport 7/9/11

Ted Leo and the Pharmacists - "The Great Communicator" at South Street Seaport 7/9/11

Ted Leo and the Pharmacists - "Timorous Me" at South Street Seaport 7/9/11

Screaming Females - "Boyfriend" at South Street Seaport 7/9/11