Teenage Fanclub played River Rocks with Honeyblood and Saint Rich (pics, setlist)
Teenage Fanclub / Honeyblood / Saint Rich @ Pier 84 7/24/2014

I have never seen so many Big Star t-shirts in one place in my life. It makes sense, of course, given the sonic debt Glasgow's Teenage Fanclub owe to Alex Chilton, but it was still funny to see so many people all with the same idea. (Also a lot of striped tees, including myself.) This was the band's first NYC show in four years, first show anywhere in two years, and only one of two US shows they're doing on this visit. The River Rocks show was a warm-up to this weekend's Merge 25 fest in Carrboro, NC and they all seemed in very good spirits. And sounded great as usual. With no album to plug, I was actually expecting a few more "hits" but TFC have always been a deep cuts kinda band. We did get "The Concept," "Sparky's Dream," "Ain't That Enough" and "Everything Flows" which ended the very lovely night. Setlist is below.
Fellow Glaswegians Honeyblood opened and seemed chuffed to be there. The duo -- Stina Marie Claire Tweeddale and Shona McVicar -- were a lot scrappier live than they are on their debut album which recently came out via FatCat. It's in the Best Coast vein, just a little more scuffed-up.
Opening the evening were Delicate Steve offshoot Saint Rich whose take on good-times Southern Rock sounded pretty good in the magic hour by the Hudson. At one point singer Christian Peslak tried to get the crowd lounging on the grass to come up closer to the stage but Steve Marion cut him off, "Just let 'em sit in the grass, dude!" Saint Rich are definitely grass music.
The final River Rocks show of the season happens August 7 with Temples, Here We Go Magic and Spires. More pics from last night's Teenage Fanclub show below...

---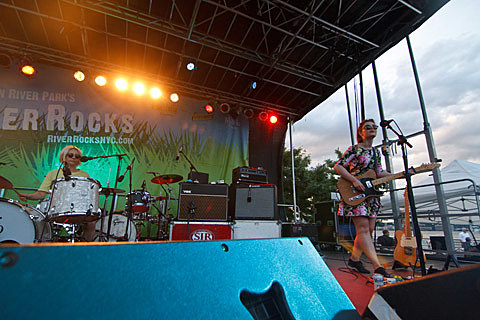 SETLIST: Teenage Fanclub @ Pier 84 7/24/2014
Start Again
Sometimes I Don't Need To Believe In Anything
It's All In My Mind
Take the Long Way Round
The Past
Don't Look Back
I Don't Want Control Of You
About You
I Need Direction
Baby Lee
Can't Feel My Soul
When I Still Have Thee
Your Love Is The Place Where I Come From
Ain't That Enough
The Concept
Encore:
Sparky's Dream
Everything Flows