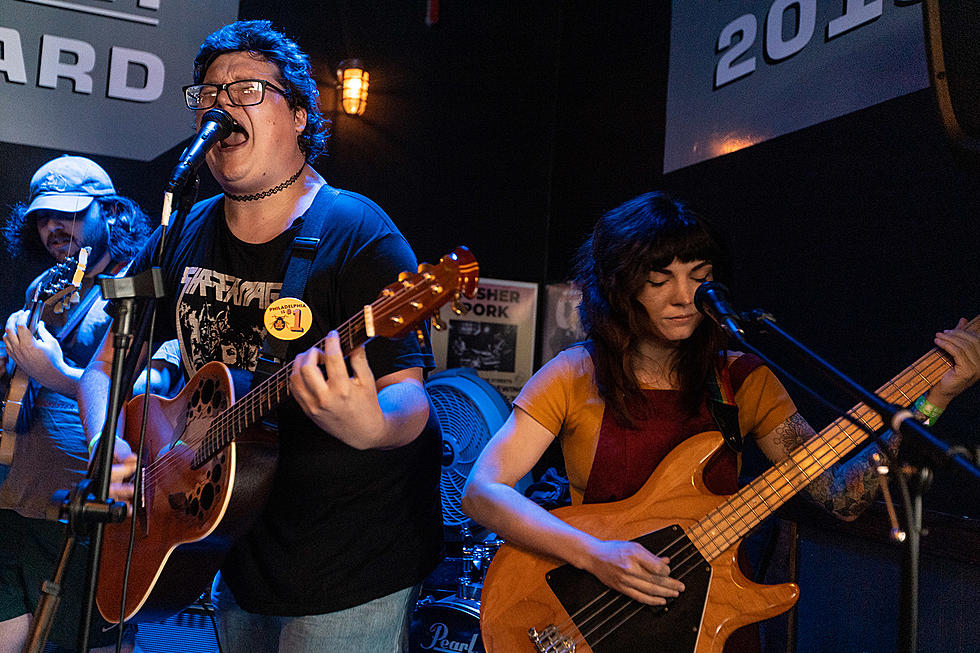 Teenage Halloween release split with The Homeless Gospel Choir, list favorite LPs of 2021
photo by Amanda Hatfield
Happy New Year! For the occasion, Teenage Halloween have released a split EP with The Homeless Gospel Choir with two new songs by each band. It's the first new studio material from Teenage Halloween since their 2020 self-titled debut LP (one of our favorite albums of that year) and first for THGC since that same year's This Land Is Your Landfill. Teenage Halloween's contributions include "Burn," the song sung by bassist/backing vocalist Tricia Marshall that Teenage Halloween debuted during an Audiotree session earlier this year, as well as another great one called "Floating," sung by usual lead vocalist Luk Henderiks. The Homeless Gospel Choir's contributions pair well with Teenage Halloween's, making this a very cool indie-punk split. Listen to the whole thing below. Pick up a copy from Don Giovanni here.
Derek Zanetti of The Homeless Gospel Choir said this about the split:
After spending months apart from each other and feeling the bitter bite of quarantine, we wanted to write songs for each other to help us get through the lonely times. "Pittsburgh Shoes and "Harrisburg Shoes" are love songs written to encourage and uplift one another and remind ourselves about the goodness that is to come.

It was amazing for us to all be in a room together playing music and capturing the magical moments of being a band. All of the elements and musicality that is so important, small nuances, and inside jokes are all laid out in a way that you can hear everything.
More Homeless Gospel Choir music is coming in 2022 via Don Giovanni, so stay tuned for that.
With the year coming to a close, we asked Teenage Halloween what their favorite albums of 2021 were, and Luk, keyboardist Jane Lai, and guitarist Eli Frank all made us top 10s. Their lists are all very different, and you can check them out below.
Teenage Halloween were also scheduled to play BrooklynVegan-presented shows in Philly and Brooklyn this month, but those were cancelled due to COVID. Their self-tilted LP was also recently pressed on "electric smoke" vinyl. Pick it up here.
TEENAGE HALLOWEEN'S FAVORITE ALBUMS OF 2021
Luk's list:
1. Ceschi - This Guitar Was Stolen Along with Years of our Lives
2. TVOD - Victory Garden
3. The Armed - Ultrapop
4. Jeff Rosenstock - Ska Dream
5. Dinosaur Jr - Sweep It Into Space
6. Bruno Mars, Anderson .Paak, Silk Sonic - An Evening with Silk Sonic
7. Thing - Demo (2021)
8. 2nd Grade - Wish You Were Here Tour Revisited
9. Felt Star - Into the Yard
10. Aaron Dilloway / Lucretia Dalt - Lucy & Aaron
Eli's list:
Baby Keem - The Melodic Blue
Turnstile - Glow On
Shame - Drunk Tank Pink
Bachelor - Doomin' Sun
Bob Vylan - We Live Here
Porches - All Day Gentle Hold!
Hotline TNT - Nineteen In Love
Ovlov - Buds
Jhariah - A Beginners Guide to Faking Your Death
Johnny Dynamite - Sleeveless
Jane's list
1. Sun June - Somewhere
2. Katy Kirby - Cool Dry Place
3. Wednesday - Twin Plagues
4. Mia Joy - Spirit Tamer
5. Skirts - Great Big Wild Oak
6. Squirrel Flower - Planet (i)
7. Sloppy Jane - Madison
8. 22 Degree Halo - Garden Bed
9. Floating Room - Shima
10. In My Lungs - Poking Holes