Tesco Vee, Negative Approach & others playing Detroit hardcore book release shows & other dates
Negative Approach at Red 7(more here)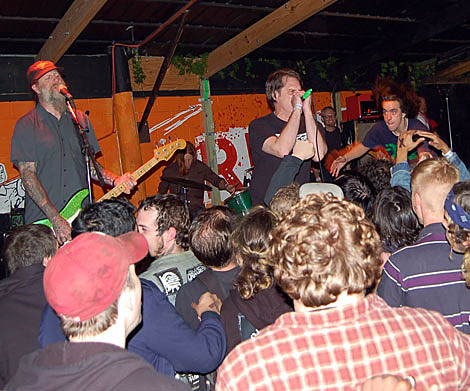 Why Be Something That You're Not chronicles the first wave of Detroit hardcore from its origins in the late seventies to its demise in the mid-eighties. Through a combination of oral history and extensive imagery, Tony Rettman proves that even though the Southern California beach towns might have created the look and style of hardcore punk, it was the Detroit scene - along with a handful of other cities across the country - that cultivated the music's grassroots aesthetic before most cultural hot spots around the globe even knew what the music was about.

The book includes interviews with members of The Fix, Violent Apathy, Negative Approach, Necros, Pagans, Bored Youth, and L-Seven along with other people who had a hand in the early hardcore punk scene like Ian MacKaye, Tesco Vee and Dave Stimson.
The book is definitely something I will check out, and the release has sparked a ton of interesting shows in celebration including (in my opinion) the whopper of them all in NYC on August 28th; look for the destructive Negative Approach to team up with Tesco Vee's Hate Police, Mind Eraser (who are playing dates with Slang), Off With Their Heads (who have a Knitting Factory show of their own), Hellmouth, and New Lows at Santos Party House! Ticket info is forthcoming.
Negative Approach will also be in NYC on June 20th to play Punk Island along with a ton of other notables. The final roster for that festival, and more dates in celebration of Why Be Something That You're Not are below.

Negative Approach | NYC @ Southpaw | May 14th, 2008

Mind Eraser at The Cake Shop, NYC 11/8/09

Hellmouth - Pick A Coffin

WHY BE SOMETHING THAT YOU'RE NOT Release party dates
7/16/2010 Cleveland OH Now That's Class (Tesco Vee's Hate Police/White Flag/Hellmouth + More)
7/17/2010 Chicago IL The Abbey Pub (Tesco Vee's Hate Police/White Flag + More)
7/31/2010 Detroit MI St. Andrews Hall (Negative Approach/Tesco Vee's Hate Police/Sorcen/Violent Apathy/Hellmouth)
8/27/2010 Philadelphia PA Northstar Bar (Tesco Vee's Hate Police/Hellmouth/American Speedway/Common Enemy)
8/28/2010 New York NY Santos Party House (Negative Approach/Tesco Vee's Hate Police/Mind Eraser/Off With Their Heads/Hellmouth/New Lows)
--
Punk Island 2010 - FINAL ROSTER
(A)TRUTH NY
Abserdo NJ
All Rise NC
All Torn Up! NY
Angry & Broke Baltimore
Angry Youth VA
Ark Royal PA
Ashers MASS
Assrash Minneapolis
Bad Luck 13 PA
Battle Master VA
Beantown Boozehounds MASS
Betty Sue Aside Baltimore
Blackout Shoppers NY
Blanks 77 NJ
Blood Bomber PA
Blood Oranges PA
Bloodbeat NY
Bloody Muffs NY
Broken CT
Bucket Flush PA
Buerger Wuerger Germany
Burning Heads France
Bust It! CT
Call the Paramedics NJ
Captain Ronzo & The Thirsty Pirates NY
Captain We're Sinking PA
Caught in a Trap NY
Code Orange Kids PA
Combat Crisis PA
Common Enemy PA
Copyright Chaos CT
Crash Fist Fight Florida
D 60 NY
Dead Aces NY
Dead Fucks PA
Dealin' With It NY
Death Mold NY
Disaster Strikes MASS
DOA Canada
Dog That Bites Everyone NY
Drawback CT
Dude Man Bro IL
Endangered Feces NY
Factor X NJ
Feet First NY
First Strike NY
Fools on Sunday NY
Furiousity MASS
Greek Favourites PA
Hessian PA
Hub City Stompers NJ
Iconicide NY
Infernal Stronghold PA
Jenkem PA
Jerk Reaction PA
Jonee Earthquake Band NH/MA/MD
JRS CT
Lethal Aggression NJ
Live Not On Evil PA
Long Drop CT
Mary Magdalan CA
Mean Streets PA
Mental Abuse NY
Midnight Ohio
Mung Choke VA
Murder Majesty Las Vegas
Murdock's Thrashbag PA
Nancy and 2 Meteors VA
Nassau Chainsaw NY
Negative Approach MI
No Abuse NJ
No Redeeming Social Value NY
Olde York NY
On Point NY
Oxblood NY
Percocettes (Percs) PA
Pissant VA
Point Blank VA
Poison Control Y
Population Zero PA
Proles Blood PA/NJ
Refuse Resist MASS
Rentokill Austria
S.M.U.T. NY
Seizure Crypt NY
Sewage NY
Sexual Suicide NY
She Likes Todd IL
Shelter Shock Baltimore
Short Fuse NY
Simplistic Genocide CT
Skum City NY
SpEd NY
Star Fucking Hipsters NY
State of Decline NY
Stewart NY
Stomped on Sight CT
Straphangers NY
Stressbomb CT
Team Spider NY
The Afterbirths NY
The Alienz NY
The Arkhams NY
The Blame NY
The Choices NJ
The Clefts CT
The Edukators PA
The Havnotz CT
The Holy Mess PA
The Misanthropes NY
The Pogo VA
The Rayguns NJ
The Rebel Spell Canada
The Revilers MASS
The Snails PA
The Underclassed/Common Alliance PA
The Unpatriotics PA
Theatre Zombies CT
To Be Hated FL
Tough Luck CT
Transmission Transmission PA
Trauma Team 666 NY
UFO VCR NY
Violent Society NJ
Wifebeater PA
Wombat in Combat PA
Wreak Havok NY
Y69 OH
Yankee Doodle Blitzkrieg VT
Yo! Scunt NY
Zero Content NY
PLUS 0===>
Special performances by:
+The HellCat Girls burlesque
+Punx Faggot Death Squad (Philadelphia's FIRST and ONLY punk-rock male burlesque troupe)
+Maria Mosette Kretschmann