Thao With The Get Down Stay Down & Portland Cello Project – new albums & shows (Bowery Ballroom)
Thao With The Get Down Stay Down @ BV party - SXSW 09 (more by Leia Jospe)

Thao with the Get Down Stay Down will be playing a show at the Bowery Ballroom on Wednesday, November 4th. Tickets go on AmEx presale Wednesday, August 26th at noon. General sale starts Friday, August 28th at noon.
That show will include sets from David Schultz and the Portland Cello Project, the latter of which collaborated with Thao on their most recent album, The Thao and Justin Power Sessions, that came out on June 9th on Kill Rock Stars. Two tracks from that, one with Thao and one with Justin Power, are posted above.
"Portland Cello Project, in case you're unfamiliar, is an amazing group of cellists that, in the course of one of their epic 2-3 hour shows - (the format of which is always a one-time affair - the group writes almost entirely new arrangements for every performance cycle) - perform a crazy diverse array of everything from canonized and avant classical compositions to reconstructed pop covers of everything from Nintendo game themes to Britney Spears to Yoko Ono to R. Kelly--and they've accompanied The Builders and The Butchers, Laura Gibson, The Dandy Warhols, Mirah, Loch Lomond, Horse Feathers and tons of other indyish folks. At shows, you'll see hipsters too-cool-for-school mesmerized by Arvo Paert, members of the Decemberists playing late 19th century Russian compositions transcribed for Hammond Organ, a 40-piece choir, and all kinds of other craziness."
Thao with the Get Down Stay Down will releasing a new album of their own, Know Better Learn Faster, also on Kill Rock Stars, on October 13th. Producing the record will be Tucker Martine (The Decemberists, Bill Frisell, Jim James), and guests include Andrew Bird, Eric Earley of Blitzen Trapper, Laura Veirs, Nathan Crockett of Horse Feathers and Tune-Yards.
The Thao-Bowery show is part of a soon-to-be-announced (we think) larger tour. Those dates with album info are below...

Know Better Learn Faster Tracklist
01. The Clap
02. Cool Yourself
03. When We Swam
04. Know Better Learn Faster
05. Body
06. The Give
07. Good Bye Good Luck
08. Trouble Was For
09. Oh. No.
10. Fixed It!
11. Burn You Up
12. But What of the Strangers
13. Easy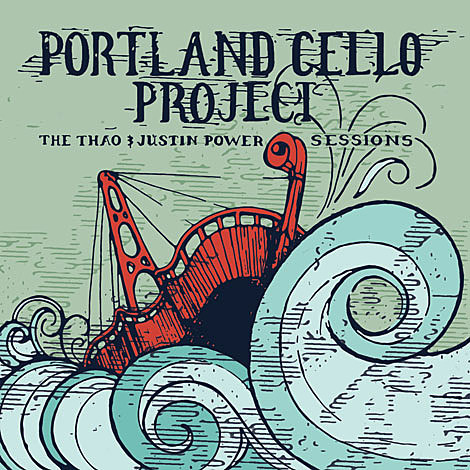 Thao and Justin Power Sessions Tracklist
01. The Lamb - By John Tavener
02. Beat (Health, Life, & Fire) - Featuring Thao
03. Cut the Rope - Featuring Justin Power
04. Mouth For War
05. Tallymarks - Featuring Thao
06. Por Una Cabeza - By Carlos Gardel
07. Violet - Featuring Thao
08. Hungry Liars - Featuring Justin Power
09. Geography - Featuring Thao
10. Seeds May Fall - Featuring Justin Power
11. Turkish Wine - By Norfolk and Western
12. Travel - Featuring Justin Power
Portland Cello Project - 2009 Tour Dates
09.07.09 - Seattle, WA @ Bumbershoot
09.16.09 - Portland, OR @ Berbati's Pan
11.04.09 - New York, NY @ Bowery Ballroom
Thao with the Get Down Stay Down - 2009 Tour Dates
Sep 12 - Monolith Fesitval Morrison, Colorado
Oct 18 - Treasure Island Music Festival San Francisco, California
Thu, 10/22/09 Chop Suey Seattle, WA
Tue, 10/27/09 Cedar Cultural Center Minneapolis, MN
Wed, 11/04/09 Bowery Ballroom New York, NY
Thu, 11/05/09 First Unitarian Church Philadelphia, PA
Tue, 11/17/09 Rhythm Room Phoenix, AZ
Wed, 11/18/09 Plush Tucson, AZ
Fri, 11/20/09 Glass House Pomona, CA
Fri, 10/23/09 Biltmore Cabaret Vancouver, BC