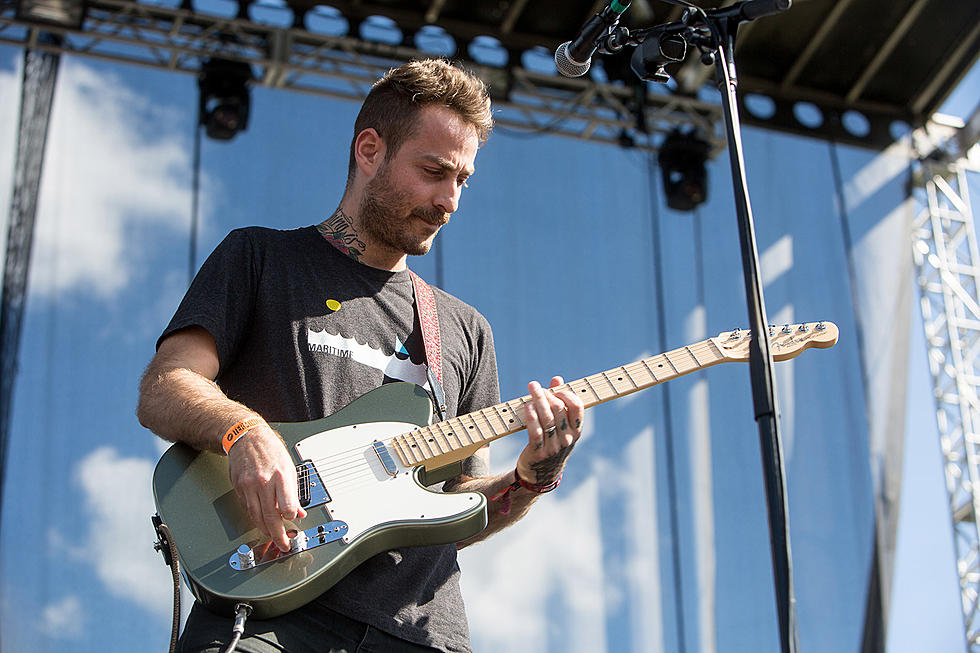 Our main non-genre-specific albums of the year list is coming soon here, but in the meantime here's something a little more specific: the top 20 emo/punk albums of 2016 (and 10 Honorable Mentions). There's a lot of debate about what really qualifies as emo and even more debate about what qualifies as punk, and nothing is more worthwhile of your time than having those arguments and proving that you are the one who knows the real, indisputable truth. Lately "emo" seems to be thrown at any melodic rock band signed to a particular batch of record labels (Run For Cover, Topshelf, Tiny Engines, Epitaph, SideOneDummy, Triple Crown, etc), but that's not accurate (If it was accurate, Run For Cover bands Pinegrove and Crying would be on this list, but those aren't emo or punk bands so they are not.) Emo is, however, a dominant force in the world of underground melodic rock. For the past few years now, a large number of the best independent rock records have been "emo" in one way or another.
Punk and emo are nearly inseparable, hence the focus on both. It might seem weird to put White Lung's hardcore-inspired album and Conor Oberst's Dylan-esque acoustic album on a list that highlights a specific genre, but it's all under the same punk/emo/hardcore/post-hardcore/etc umbrella (as annual punk mecca The Fest would agree).
In order to draw the genre line somewhere, I did leave off the great 2016 albums by Oathbreaker and Martyrdod, which have a foot in punk but would fit better on a metal list (which is coming soon here).
Genre debates aside, this corner of the music world produced tons of great music this year. Some veterans made unexpectedly great returns, and some young bands made some gigantic leaps. It was a bad year for a lot of reasons but a good year for this kind of music. The only major disappointment: no Brand New album.
20

John K Samson - Winter Wheat (ANTI-)

It's the perfect time for The Weakerthans to end their hiatus -- they're more influential than ever -- but while they haven't done that yet, frontman John K Samson's album Winter Wheat is pretty damn close. He made the album with his former bandmates Jason Tait and Greg Smith (so all The Weakerthans are here except Stephen Carroll), and it's got the latest addition to the Cat Named Virtute series. It's a little folkier than a new Weakerthans album would probably be, but John's voice and lyrical style remain as distinct as ever.

19

Mikey Erg - Tentative Decisions (Don Giovanni)

In terms of keeping pop punk real (in a Ramones/Lookout! Records sense), few bands did that into the late 2000s like The Ergs!. They still haven't released an album since 2007 (but did reunite to play The Fest this year), but drummer/vocalist Mikey Erg's new solo album Tentative Decisions picks up right where they left off. It's driving, unpolished punk with hooks for days.

18

Planes Mistaken For Stars - Prey (Deathwish)

The highly unique post-hardcore band Planes Mistaken For Stars' first album in a decade manages to do everything they've always excelled at without repeating themselves. It's very experimental, nearing metallic levels of heaviness at some parts and acoustic folk at others. And there's still hardly anyone else out there with a rasp like Gared O'Donnell. On Prey he sounds even more worn out than on the earlier records, but he also sounds full of life.

17

Gouge Away - , Dies (Eighty-Sixed Records)

The best hardcore is when you don't need to read the lyrics or any interviews to know the singer is pissed off; they just sound like they're about to explode. That's how the young Florida hardcore band Gouge Away sound on their debut album, , Dies. Vocalist Christina Stijy screams every song like it's the last song she'll ever sing, and when you do pay attention to the lyrics, it's clear she's railing against racism, sexism, homophobia, police brutality, and other abuse and injustices in this world. For all the anger in her words, the guitars aren't afraid to get a little melodic. It's an astonishingly good debut and it'll be really exciting to see where this band goes next.

16

Super Unison - Auto (Deathwish)

Super Unison were formed after vocalist Meghan O'Neil left the crushing hardcore band Punch, and their 2015 EP instantly filled the void left by that band. This year, Super Unison (whose lineup also includes ex-Snowing drummer Justin Renninger) put out their first full-length and it did a lot more than pick up where Punch left off. It's no real surprise that a band named after a Drive Like Jehu song wouldn't be content to stick to hardcore, but the loudest non-hardcore influence I hear on Super Unison is Sonic Youth. Meghan screams her lungs out but also coos like Kim Gordon. It's a killer mix.

15

Vanishing Life - Surveillance (Dine Alone)

Post-hardcore as we know it doesn't exist without Walter Schreifels (of Quicksand, Gorilla Biscuits, and more), and while he stays active, it had been a while since he put out new music in that style. He said the idea to go in this direction with his new band Vanishing Life came less from him and more from drummer Jamie Miller (of ...And You Will Know Us by the Trail of Dead and Bad Religion). Wherever it came from, it's just a real treat to have. No hate for Walter's lighter music, but this is the Walter Schreifels we know and love -- the only real difference is the name of the band. (I still think "Pretty Ruined" could pass for a lost Quicksand song.)

14

You Blew It - Abendrot (Triple Crown)

After about five years of reviving the type of emo that Polyvinyl and Jade Tree put out in the '90s (including an EP on Jade Tree), You Blew It inked a deal with the label that broke Brand New and made their first record that looks forward rather than backwards. They introduced gorgeous elements of post-rock to their sound and started writing the kinds of songs you could play alone with an acoustic guitar. At some parts of Abendrot, You Blew It are still a forceful rock band, but at others they're barely above a whisper. It's their most carefully constructed album yet.

13

Touche Amore - Stage Four (Epitaph)

Good art doesn't have to be born from tragedy, but it's often a truly powerful thing when it is. Stage Four was written in response to vocalist Jeremy Bolm losing his mother to cancer, and it's the most heartbreaking Touche Amore album yet. There's a lot of music about death, but Jeremy sings about such specific moments that he never even comes close to cliches. He sings about not being able to listen to the last message his mother left him. He sings about a time his mother took the wrong dose of medicine and wasn't making any sense. Touche Amore have always been able to stop you dead in your tracks, but Stage Four does this on another level. It's nearly impossible to listen to without thinking about your own mortality and that of your loved ones.

12

Jeff Rosenstock - WORRY. (SideOneDummy)

There really isn't anybody in punk quite like Jeff Rosenstock. He's been in beloved bands (like Arrogant Sons of Bitches and Bomb the Music Industry) since he was a teenager in the '90s, and the pure devotion his cult fanbase brings with them to his shows is really a sight to be seen. Last year he reached larger audiences than ever before with his first solo album for a larger label (We Cool? on SideOneDummy), and this year's followup bests that album in every way. Sometimes he's knocking out killer We Cool?-style indie punk like on his ode to Death by Audio, "Wave Goodnight To Me," but the level of ambition here goes far beyond your average punk band. The album opens with a piano ballad and it ends with a suite of mini-songs that Jeff says was inspired by The Beach Boys' Smile. It's a suite that includes acoustic guitars, synths, real-deal ska, real-deal hardcore, and more. And the whole thing is still recorded with the rawness that a guy who sings about Death by Audio would record with. Jeff holds nothing back on this album at all. The result is his highest creative peak yet.

11

Against Me! - Shape Shift With Me (Total Treble)

Laura Jane Grace's story (which you can read in her new memoir) is one of the most impactful stories in modern-day punk rock, and it's a major reason 2014's Transgender Dysphoria Blues was so powerful. But it wasn't the only reason -- for that album, Laura had a new lineup, she was off a major label, and she was writing the best punk songs she'd written since Against Me!'s early days. It was a new beginning for the band, and Shape Shift With Me is the continuation. Laura's still charged-up lyrically and the music is often even more charged-up. It's such a naturally good followup that it's easy to forget that Transgender Dysphoria Blues was a game changer and a career-best in the eyes of many. Against Me! aren't dwelling on that, they're just moving forward.

10

Owen - The King of Whys (Polyvinyl)

Of the two albums Mike Kinsella released this year, the American Football album was of course the bigger deal (more on that one soon), but the comparatively slept-on Owen album is really just about as good. Some of the songs came from the same exact writing sessions, and some that were intended for the Owen album ended up on the American Football album and vice versa. These albums are two sides of the same coin. The albums do have their clear differences, but that only adds to the excitement. The American Football album is much heavier on the math rock, but the Owen album -- made with a cast of collaborators that includes Sean Carey and Mike Noyce of Bon Iver's band -- is more fleshed-out and heavily arranged. It might be the biggest-sounding album Mike Kinsella has ever made. It's got huge percussion that works more as part of the melody than as traditional drumming, string arrangements, background vocal harmonies, and more. The American Football comeback is huge, but this is an essential companion.

9

Somos - First Day Back (Hopeless)

After kicking around the indie-punk scene for a few years, Somos made the jump to Hopeless Records and put out an album that dwarfed everything they did before it. It's an album that cares as much about emo as it does about R&B, and in a year dominated by Beyonce, Rihanna, Solange, and Frank Ocean, that might make this the most "2016" album on this list. It's got minimal James Blake-y beats at times, and sparkly Kinsella-style riffs and mathy drumming at others. While emo is often known for piercing, strained vocals in the upper register, Somos keep things somber and low-key, even when they find time for huge choruses.

8

Into It. Over It. - Standards (Triple Crown)

Into It. Over It. frontman Evan Weiss is potentially the single most important figure in connecting emo's classic '90s era to its current wave. He's played in a band with Mike Kinsella and he also produced You Blew It records -- he makes both eras literally one degree of separation apart. He also spent the entirety of the 2000s keeping "'90s emo" alive before other bands started to "revive" it. One of his many projects in the 2000s was touring with Damiera, whose wildly technical drummer Josh Sparks became an official member of Into It. Over It. for Standards. If it's true that rock bands are only as good as their drummer, it should be no surprise that Standards is IIOI's best album yet. It's also aided a lot by the production of John Vanderslice, who gives Standards a natural tone that the first two IIOI albums lacked. But Standards' power doesn't just come from Evan's collaborators. Like his pal Mike Kinsella, Evan's a wordsmith and knows his way around a hook, and these are his best songs yet.

7

White Lung - Paradise (Domino)

On their earlier albums, White Lung mastered the rare feat of pushing punk in a number of new directions without ever abandoning its short, loud and fast formula. Paradise does everything White Lung do best and more. White Lung already had a pop side, but they've never written a song as truly radio-ready as "Hungry" before (well, if it was 1994 it'd be radio-ready). "Below" has them experimenting with clean guitars and balladry, and "Demented" has them experimenting with metalcore. "Kiss Me When I Bleed" is an even more perfect version of the style they perfected on Deep Fantasy. They're rarely predictable -- Paradise is both their heaviest record and their poppiest, it explores new ground and expertly retreads old ground. Four albums in and it's still looking like White Lung can do no wrong.

6

Conor Oberst - Ruminations (Nonesuch)

Some Bright Eyes diehards are gonna hate me for saying this, but Conor Oberst's last two years of output rival his classic era. Last year he sounded more fired up than ever on the long-awaited second Desaparecidos album, and this year he went in a wildly different direction with a literal solo album that's home to some of his most bare-bones music yet. He's made depressing acoustic songs before, but never quite like this. Every sound you hear on Ruminations is either Conor's guitar, piano, harmonica, or voice, and there's a wisdom on this album that he didn't have at 19. It's an album obsessed with death, whether it's his own or Robbin Williams' or Sylvia Plath's. It's an album that uses specific moments (like the line about meeting Lou Reed and Patti Smith) to make large-scale commentary on life. And in a year that's given us both Bob Dylan and Neil Young albums, it's the best Dylan/Young-style album of the year.

5

American Football - American Football (LP2) (Polyvinyl)

Simply put, the current wave of emo does not exist without American Football. Their sole 1999 album and frontman Mike Kinsella's previous band Cap'n Jazz was the blueprint for basically every emo band that got started in the late 2000s that didn't wanna sound like My Chemical Romance. Had young emo bands not embraced Mike (and Tim) Kinsella, emo may never have gotten back to its indie rock roots. They were virtual nobodies when they made that album, but they were the most influential emo band in the world when they made this totally unexpected followup, and it's almost unbelievable how naturally great it is. It's lighter on the lengthy instrumental passages and heavier on the hooks. On one song ("Desire Gets in the Way"), they even sound like those young bands who combine American Football's style with Cap'n Jazz's. It's a reminder that when you want "Kinsella-style riffs," you should get them from a Kinsella.

4

Jimmy Eat World - Integrity Blues (RCA)

The last time Jimmy Eat World released a front-to-back great album was 2004's Futures, but after twelve years of missteps and the occasional brilliant song, they've finally done it again. Integrity Blues has Jimmy Eat World hitting all the sweet spots that they hit on their very best albums. It has them sounding inspired on every single song. They've got most of their usual post-Static Prevails tricks: the big single ("Sure And Certain"), the ballad ("The End Is Beautiful"), the song with the metal riff ("Pass The Baby"). They've got songs that sound right out of their classic era ("Through"), and they also explore less familiar territory too (the dark minimal bass of "It Matters," "Pretty Grids," and "Pass The Baby"). Just when it seemed like Jimmy Eat World's best days were behind them, they made one of the most endlessly re-playable albums of the year.

3

The Hotelier - Goodness (Tiny Engines)

Emo is too often tied to nostalgia, whether it's modern bands making carbon copies of Cap'n Jazz and Braid records or millennials attending Emo Nights to yell along to songs they "used to listen to," but a small group of bands in emo's latest wave have been finding ways to push the genre forward. The Hotelier's Goodness doesn't sound like emo's mainstream boom in the 2000s or its mathy Midwestern period in the '90s -- it lacks the commercial appeal of the former and the VFW hall-ready scrappiness of the latter. It sounds like something new. This is an album that abandons emo's lyrical cliches in favor of vaguer imagery. It has a spoken word intro and two acoustic interludes. It pays such clear attention to detail and throws so many satisfying melodic twists and turns at you, that you know you're listening to a band with a purpose.

2

Descendents - Hypercaffium Spazzinate (Epitaph)

It's been almost 35 years since Descendents created the blueprint for the type of pop punk that would one day rule the world, and 12 years since they had last released an album, yet they managed to come back this year with an album that rivals their most classic work. On every song on Hypercaffium Spazzinate, they sound energized, like they genuinely still want to be writing songs like this all these years later. They're a rare band that learned to age well in pop punk without abandoning their roots. And maybe more than ever, Descendents are writing true pop songs. The choruses of "Shameless Halo" and "Without Love" and "Smile" aren't just good punk songs -- turn them into acoustic ballads and you'd have brilliant pop in the most classic sense. After all, Milo Aukerman is a guy who studied The Beatles and Big Star. 2016 was a comeback year for the two biggest pop punk bands in the world, blink-182 and Green Day, and Descendents still crushed them.

1

Joyce Manor - Cody (Epitaph)

It seemed pretty clear that Joyce Manor would be a generation-defining punk band from the moment they dropped their 2011 self-titled debut, but if you had any doubt, Cody should erase it. It's the best album from a band that already had three near-perfect albums, and it just does everything right. Kids have been grabbing onto Barry Johnson's lyrics since day one (just go to any Joyce Manor show and watch the crowd when they play "Constant Headache"), and his words are sharper than ever here, full of wit and sincerity (and amazing Kanye West references). Their sound is still generally in the same ballpark as usual (they're kind of like Jawbreaker, Weezer, and The Smiths in a blender), but the songwriting is more thorough, more dynamic, and more distinguishable than ever. For hard-hitting, cathartic rock music with real passion and depth, you didn't have to look much further than Cody this year.