the 2009 Brooklyn Hip Hop Festival – in pics & review
Marty Markowitz and Ralph McDaniels

With all the veterans of hip hop on Saturday's lineup, you'd think that the most kinetic performance of the day would come from a Grand Puba or Pharoahe Monch. You'd be wrong. Oddly enough, the least "conscious" MC and the one that I always felt was slightly overrated, Styles P of D-Block (fka The Lox), delivered an energetic performance of hits that was matched only by the energy that the crowd bounced back. I was shocked, though pleasantly so.
I was glad to be wrong about Styles P, and I definitely learned a few other things that rainy Saturday:

- A Brooklyn Borough President throwing up his version of gang signs... not a good look. (see above)
- Tek of Smif N Wessun may be a fan of Monotonix, or he just likes to rhyme from the crowd.
- Surprise guests are a must! Preferably from the announced performers' crew (Buckshot, Brand Nubian, Sheek Louch), though not necessarily (Black Thought, OC, Grand Daddy IU).
- Clean versions of hip hop songs arent limited to Wal-Mart and Hot 97.
- Legend or not, you shouldn't be "performing" if you are unable to DJ your own 10-20 year old music without skipping the record (cough*premier*cough)
- Mayoral candidates looking to appeal to the "hip hop demographic" = groans. (see below)
Torae & Marco Polo...

Homeboy Sandman

Craig G with Smooth Da Hustler

Black Thought


Smif n Wessun...
Buckshot of Black Moon

OC of DITC...

OC & Grand Puba

Brand Nubian...

Black Thought of The Roots...
Ralph McDaniels and NY State Comptroller (and Mayoral candidate) Bill Thompson

Queen Pen

Grand Daddy I.U.

Chip-Fu (Fu -Schnickens)

DJ Premier

DJ Green Lantern introducing Dead Prez

Dead Prez (and son)...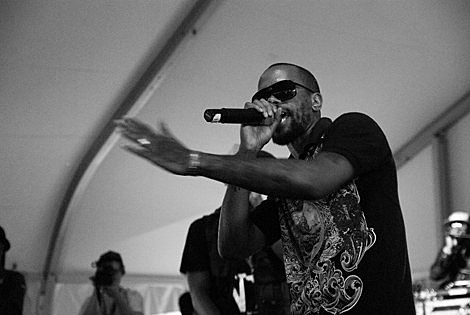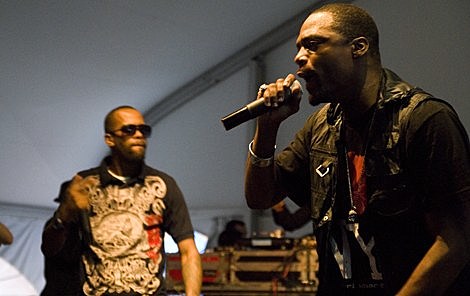 Styles P & Sheek Louch of D-Block...
Black Thought with D-Block