the 2010 New Orleans Ponderosa Stomp (in pics)
The Relatives

The Ponderosa Stomp is now in its 9th year and has grown steadily since its origins as a backyard wedding party for festival founder Ira 'Dr. Ike' Padnos. The 2-day, New Orleans-based festival (that took place on Sept 24 and 25th this year) brings to the stage an amazing line-up of 'unsung heroes' and originators in the intermingled genres of country, blues, garage, rock n' roll, soul, swamp pop, rhythm & blues, and funk. Attendees experienced artists who actively recorded in the 1940's through the 1970's and 1980's delivering profoundly moving and authentic performances, providing a vivid glimpse into a world of music that might seem long-gone.
The Stomp is musically successful because it encourages artists to perform their original music and brings in talented and dedicated bands to support them. This year included many of the usual suspects (check out the review and pictures from 2009): New Orleans soul-blues veterans Lil Buck and the Top Cats, Western Music masters Deke Dickerson and the Eccophonics, Michael Hurtt and the Haunted Hearts, The A-Bones, and Eve and the Exiles. Jenny Dee and the Deelinquents debuted with La La Brooks of the Crystals who will be in NYC on October 20th when she plays a CMJ show at BB King Blues Club & Grill with Paula Valstein. Tickets are on sale if you don't have a CMJ badge.
The Stomp attracts a core audience of baby boomer soul and blues fanatics, rock-a-billies, Zoot-suiters, music writers, radio hosts, DJ's, record collectors, historians, WFMU-types, and a sprinkling of open-minded music lovers of varied backgrounds and ages. During the day, there are panel discussions between artists and respected historians, screenings of rare music documentaries and a record show. Even for the most die-hard, the sum total is a bit overwhelming. But Dr. Ike, an anesthesiologist by trade, seems to revel in the dazed and delirious look on people's faces at the end of 2 non-stop days. If you can keep your bloodshot eyes open, you'll see him floating from stage to stage with his airbrushed T-shirt that reads "Dr. Ike Stomped My Ass".
Pictures from both nights of the 2010 festval continue below...

--
DL Menard, Vin Bruce, Leroy Martin and Harry Anselmi with the Lost Bayou Ramblers
Tommy Brown with Los Po-Boy-Citos
La La Brooks (The Crystals) with Jenny Dee and the Deelinquents
Jay Chevalier with Michael Hurtt and the Haunted Hearts
Willie West (with Lil Buck Sinegal)
Backstage with Ronnie Spector's back-up singers
Barbara Lynn with Ronnie Spector
Sugar Pie DeSanto (with Lil Buck and the Top Cats)
Lil Buck Sinegal and the Top Cats
Roy Loney and Cyril Jordan (of the Flamin' Groovies) with the A-Bones
Joe 'Ducktail' Clay (in crowd)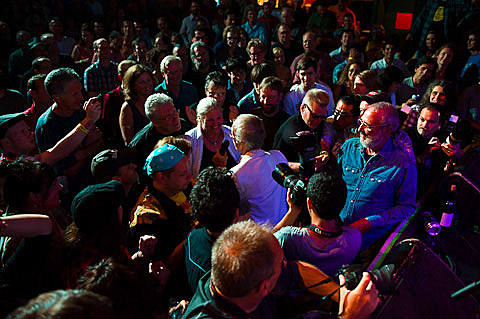 Red Simpson with Deke Dickerson and the Eccophonics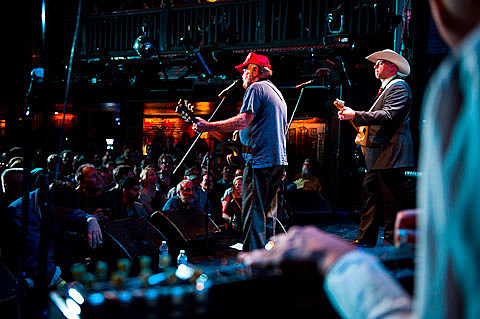 Young Jessie w/ Deke Dickerson
Duane Eddy w/ Deke Dickerson + Ron Dziubla (sax)