The Abominable Iron Sloth – new album, MP3, 2010 tour dates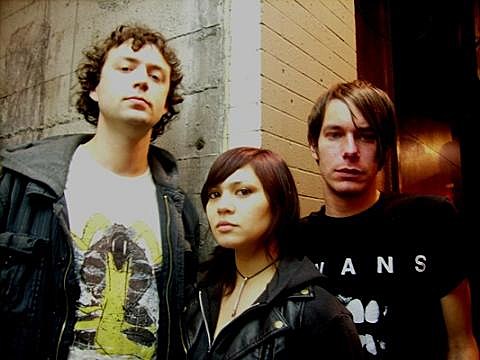 Don't be fooled by the somewhat over-the-top moniker, The Abominable Iron Sloth mean business. On their self-titled LP on Goodfellow Records, the Sacramento band bore their fangs and barked through a fiery LP of thundering post-hardcore sludge. Blood was shed, and songs like "Hats Made of Veal..." proved that this band featuring of members of Will Haven were not to be fucked with. Comparisons to Melvins meet Eyehategod seemed appropo.
The lineup has changed a bit since that 2006 LP (all Will Haven members have bid adieu), but one thing has stayed the same: raw and uncompromising sludge-core. Exhibit A: The Id Will Overcome, a new batch of post-hardcore cannon blasts due on April 20th via Black Market Activities (Guy from The Red Chord's label). The record, produced by Chris Owens of Louisville's Lords and Nick Zampiello, features twelve tracks of rumbling riffage like the Charles Manson cover "Big Iron Door" and "Two Black Helicopters" above. It's every bit as fierce and ugly as it's predecessor.
AIS hits the road in May, tagging NYC' Fat Baby on 5/14 along the way. Full tour dates and some video are below...

The Abominable Iron Sloth - "Hats Made Of Veal And That New Car Scent"

The Abominable Iron Sloth - "I am The Carcass"

The Abominable Iron Sloth - A Hot Pink Shell...(live)

THE ABOMINABLE IRON SLOTH - 2010 TOUR DATES
May 1 - Salt Lake City, UT @ Burt's Tiki Lounge (w/ Eagle Twin)
May 2 - Denver, CO @ Further Shoppe
May 3 - Wichita, KS @ Rock Island Live
May 4 - Kansas City, MO @ Foundation (w/ Sender Receiver)
May 5 - Rock Island, IL @ Rhizome Space (w/ Sender Receiver)
May 6 - Milwaukee, WI @ The Eagles Nest (w/ Sender Receiver)
May 7 - Chicago, IL @ Cobra Lounge (w/ Sender Receiver, Plague Bringer)
May 8 - Ypsilanti, MI @ The 734 (w/ Sender Receiver)
May 9 - Cleveland, OH @ Pirates Cove
May 10 - Syracuse, NY @ Westcott Community Center (w/ Engineer)
May 11 - Haverhill, MA @ Anchors Up (w/ the_Network)
May 12 - Worcester, MA @ Club Oasis (w/ the_Network)
May 13 - Providence, RI @ AS220 (w/ the_Network)
May 14 - New York, NY @ Fat Baby
May 15 - Philadelphia, PA @ Broad Street Ministry
May 16 - Wilmington, DE @ Mason Jar
May 17 - Greensboro, NC @ Legitimate Business
May 18 - Charlotte, NC @ The Milestone
May 19 - Atlanta, GA @ The 529
May 20 - Birmingham, AL @ Spring Street Fire House
May 21 - Jackson, MS @ The Warehouse
May 22 - Hot Springs, AR @ The Exchange
May 23 - Oklahoma City, OK @ The Conservatory (w/ 25 Ta Life)
May 24 - Albuquerque, NM @ The Tree House
May 26 - Scottsdale, AZ @ The Rouge
May 27 - San Diego, CA @ Ramona Mainstage (w/ Goatwhore)
May 28 - San Francisco, CA @ Thee Parkside
May 29 - Chico, CA @ Cafe Coda (w/ Armed For Apocalypse)
May 30 - Portland, OR @ Satyricon