The Antlers, despite generator problems, played (new songs at) River Rocks on Pier 54 w/ Dinosaur Feathers (pics, video)
I arrived a bit too late to see this happen, but after Dinosaur Feathers started playing their opening set on Pier 54 in Manhattan last night (7/22), a generator blew. That in turn caused much of the electricity on stage to stop working. When I got there, the opening band was playing again, but sans generator, monitors and drum machine. According to their own banter, they played 3.5 songs total (it was 2.5 songs, but then they were surprised when they were told to play one more after that). The Brooklyn band is now on tour with Lonnie Walker until August 28th when they conclude things at Littlefield (DF also have a show on September 7th at Bruar Falls).
Half way through the last song of Dinosaur Feathers' short set, a truck came blazing down the side of the peer with yellow lights flashing and a generator in tow. The crowd, aware of exactly what that was zooming by, cheered loudly. The Hudson River Park staff quickly got things up and running and The Antlers took the stage for their headlining set. It was around 9pm. That meant there was plenty of time for the band to play a full set that ran until not long past 10pm, 1-song encore included.
The wooden pier is a beautiful place, right off the West Side Highway. You're literally surrounded by the Hudson River on three sides as you're watching the band play in front of the NJ skyline (I'm not being sarcastic!). The breeze off the water, and nice night in general, made it even better.
The Antlers are one of my favorite new bands, and as usual, they didn't disappoint. Frontman Peter Silberman somehow manages to simultaneously channel so much emotion while completely playing it cool, and shredding on guitar. His backing band of Michael Lerner and Darby Cicci are completely able, and together they, well to quote James above, sound so good.
As a bonus we got two new songs, one of which was a falsetto-heavy number that they were playing for the very first time. I'm really looking forward to hearing them on record (especially the new song they played earlier in the set). The next show on Pier 54 is Deerhunter and Real Estate on August 12th. More pictures from the Antlers show, with more Antlers dates, and two videos including a video of one of the new songs (the one they played later in the set for the first time), below...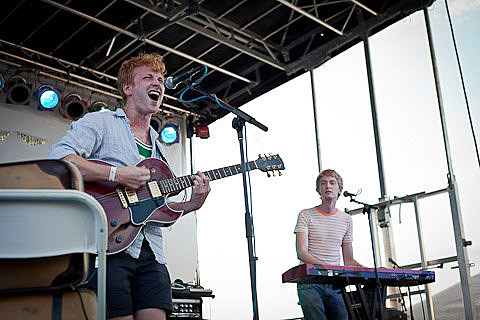 The Antlers - Bear NYC @ Pier 54 | 22 Jul 2010

The Antlers | NYC @ Pier 54 | 22 Jul 2010 (New Song)

The Antlers - 2010 Tour Dates
Aug 1 - Osheaga Festival Montreal, Quebec , CA
Aug 2 - LC Pavilion w/ The National Columbus, Ohio , US
Aug 3 - Royal Oak Theatre w/ The National Detroit, Michigan , US
Aug 4 - Riverside Theatre w/ The National Milwaukee, Wisconsin , US
Aug 5 - First Ave w/ The National Minneapolis, Minnesota , US
Aug 6 - First Avenue Minneapolis, MN
Aug 7 - Lollapalooza Chicago, Illinois
Aug 7 - House of Blues SOLD OUT Chicago, IL
Aug 8 - Lollapalooza Chicago, Illinois, US
Aug 28 - Getty Center/Getty Museum Los Angeles, CA
Sep 3 - Electric Picnic Stradbally, Co. Laois, IRELAND
Sep 4 - Electric Picnic Stradbally, Co. Laois, IRELAND
Sep 5 - Electric Picnic Stradbally, Co. Laois, IRELAND
Sep 10 - Bestival Isle of Wight, UK
Sep 12 - END OF THE ROAD FESTIVAL Dorset, GB
Oct 14 - Iceland Airwaves Reykjavik, ICELAND
Oct 15 - Iceland Airwaves Reykjavik, ICELAND
Oct 16 - Iceland Airwaves Reykjavik, ICELAND