The Antlers performed 'Burst Apart' @ SXSW w/ Wild Flag & more (pics & NPR stream), touring w/ Little Scream (dates)
The Antlers @ The Parish

One of the highlights of my day on Thursday at SXSW was the NPR showcase at The Parish. Though I didn't arrive in time to see Colin Stetson or tUnE-yArDs (I saw the latter the following day), I stuck around for the rest of the line-up, including the grand finale: The Antlers, who, as advertised, played their unreleased upcoming album (Burst Apart) in its entirety for the first time in public. But more on that later.
I arrived to the sounds of Malian singer Khaira Arby, who Jon Pareles of the New York Times later confessed to me was his go-to recommendation for the festival. I don't typically see much world music, but there's no denying Arby's effortless ability to captivate the audience with her rich vocals and rhythmic percussion.
The Joy Formidable @ the Parish

Up next were The Joy Formidable/ I confess it was hard to get past singer/guitarist Ritzy Bryan's wild stare, but if anything, the sheer intensity of her gaze was well suited to the tough indie rock strains of the London-based trio.
The energy level in the room continued to climb as Wild Flag took the stage. Not only does singer/guitarist Carrie Brownstein have a dedicated fan base thanks to her past band - Sleater-Kinney, she also received quite a warm welcome from NPR Music's Stephen Thompson due largely to the time she spent blogging and contributing to the site. This familiarity imbibed an otherwise strictly rock performance with a genuine warmth that made for a compelling combination on stage. Though their current musical project is young, these veteran lady rockers put on a triumphant and confident performance. Of course, it helps that the remaining three band members (Mary Timony, Rebecca Cole, and Janet Weiss) each have quite an impressive musical ability (and resume), themselves.
Wild Flag @ The Parish

Next came the part of the showcase that I was most anticipating - the preview of Burst Apart. After the Antlers' 2009 release, the cinematic and harrowing concept album Hospice, I was eager to hear what course they would take in their follow-up. Apparently, one of the biggest challenges the band faced leading up to the show was figuring out how to effectively translate all of the layers and effects found in the studio recording into a live setting. Being unfamiliar with the material, it's hard to tell if they achieved this goal.
I enjoyed the chance to hear the new material without having read any spoilers online, but at first listen, it seems that Burst Apart does not boast the same kind of sparse, sweeping intensity and catharsis that distinguished Hospice... but maybe that's a good thing.
In an interview with Pitchfork a few months ago, chief singer/songwriter Pete Silberman confessed:
For a while, I thought the next logical step from Hospice was to make some very sad, post-Hospice concept record. But thinking in those terms started to feel really manipulative and gimmicky. So I just let go of that idea and, from that point on, I was much happier. In a lot of ways, this album is an easier record to listen to than Hospice; you can put it on and not feel like it has to be a severe emotional experience. It might be. But it could also be on in the background.
Like Hospice, portions of the new album seem to project a dark kind of resignation to pain, sickness, and heartbreak. But in addition to the darker songs, it ended in a surprisingly hopeful, (albeit Gothic) vein as Silberman sang, "I'm not going to die alone. I stitched the stuff up so to close up the hole" in a particularly Hospice-like song.
You can check out the whole show for yourself (or whichever portion most interests you) over at NPR Music. All of their performances were archived and are now stream-able online (Antlers HERE).
Burst Apart will be releaesd by Frenchkiss Records on May 10th. The Antlers will head out on tour a week later with stops at both Music Hall of Williamsburg (May 19th) and Bowery Ballroom (May 20th). Both shows and much of the tour is with Little Scream who meanwhile is on tour with Sharon Van Etten. Tickets for both NYC shows go on AmEx presale Wednesday at noon, and then general sale Friday at the same time.
All tour dates and more pictures from the NPR show at the Parish, below...

--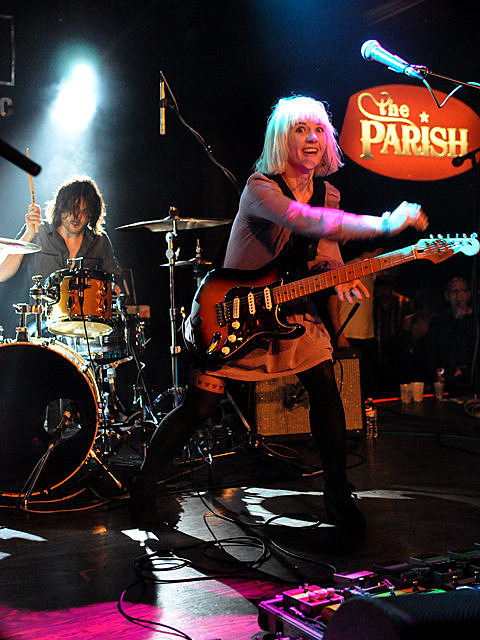 The Antlers - 2011 Tour Dates
May 17 Black Cat Washington, DC
May 18 First Unitarian Church Sanctuary Philadelphia, PA*
May 19 Music Hall of Williamsburg Brooklyn, NY*
May 20 Bowery Ballroom New York, NY*
May 28 Sasquatch Festival George, WA*
May 31 Great American Music Hall San Francisco, CA*
June 3 El Rey Los Angeles, CA*
June 4 Glass House Pomona, CA*
June 7 Emo's Austin, TX*
June 8 The Loft Dallas, TX*
June 9 The Marquee Tulsa, OK*
June 10 Firebird St. Louis, MO*
June 11 Metro Chicago, IL*
June 12 Magic Stick Detroit, MI*
June 14 Mod Club Toronto, ON*
June 15 La Tulipe Montreal, QC†
June 16 Paradise Boston, MA*
June 17 The Space Hamden, CT*
* with Little Scream
† with the Dodos