The Atlas Moth, KEN Mode on tour, played Union Pool w/ The Year is One (pics & video)
The Atlas Moth @ Union Pool

The Atlas Moth / KEN Mode overcame a damp, bitterly cold night at Union Pool on Saturday with locals The Year is One as part of an East Coast/Midwest tour. Both touring bands focused on material from their new LPs on Profound Lore. The Atlas Moth's An Ache for Distance was recently released on the label. KEN Mode's Venerable hit earlier this year.
The Atlas Moth fought through technical issues for the first portion of their set, but resumed a triple guitar attack by the time they hit the title track from their current LP. The band brought along disco-ball style lighting in multiple colors to add a psychedelic visual touch.
KEN Mode, sporting their third bass player in their last three NYC appearances, welcomed Andrew LaCour (of Khann) on low-end for this tour. Though the changing bass slot may weigh heavily on some bands, KEN Mode are no more worse for wear; the Canadian band sounded as vicious as ever on songs like "Book of Muscle".
More pictures and video from Brooklyn, as well as the remaining tour dates, are below...

--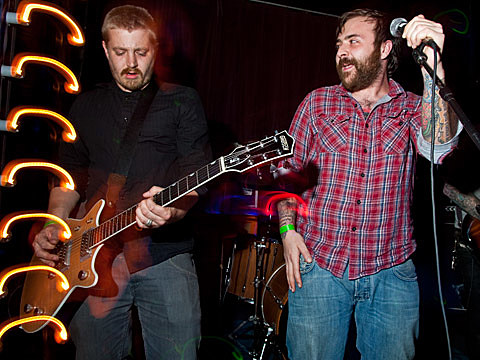 THE ATLAS MOTH, KEN MODE - 2011 TOUR DATES
MO - Oct 3 - Harrisonburg, VA - TBA
TU - Oct 4 - Chapel Hill, NC - Nightlight
WE - Oct 5 - Ashville, NC - The Get Down
TH - Oct 6 - Jacksonville, FL - Burro Bar
FR - Oct 7 - Gainesville, FL - The Atlantic
SA - Oct 8 - Orlando, FL - Will's Pub
SU - Oct 9 - Miami, FL - Churchills
TU - Oct 11 - New Orleans, LA - Siberia
WE - Oct 12 - Austin, TX - Emo's
TH - Oct 13 - San Antonio, TX - The Korova Basement
FR - Oct 14 - Dallas, TX - Phoenix Project
SA - Oct 15 - Columbia, MO - TBA
Su - Oct 16 - Chicago - Ultra Lounge