The Bats played Chaos in Tejas (pics), play NYC Popfest this weekend with Tigercats, Flowers & more
Timothy S. Griffin
photos by Tim Griffin
The Bats @ Red 7 - 5/30/2013

As mentioned, New Zealand indie legends The Bats are on their first North American tour since 2006 which stopped in Austin last night (5/30) to play Chaos in Tejas. With the same line-up the band began with in 1982 -- Robert Scott, Paul Keane, Kaye Woodward and Malcolm Grant -- the band knocked out a 17-song set that included such Flying Nun classics as "Boogey Man" and "Block of Wood." Pictures from their Chaos set are in this post and for more coverage of that fest head to BV Austin.
The band will be in NYC on Saturday (6/1) for NYC Popfest, playing at The Bell House and tickets are still available. In addition to The Bats (reason enough to go), the night features four UK bands -- scrappy and clever Tigercats, the previously profiled Flowers, shoegazy The Hobbes Fanclub, and the shimmering sounds of The Proctors. The night begins with Sweden's dreamy, synthy Azure Blue. You can listen to streams of all those bands below.
Set times for Saturday night's NYC Popfest show at The Bell House and more pictures from The Bats at Chaos in Tejas below...

--
The Bats at Chaos in Tejas, 5/30/2013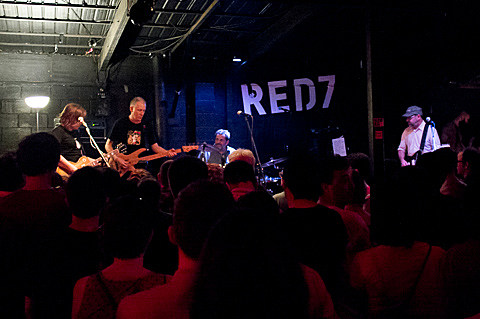 POPFEST NYC SATURDAY JUNE 1
VENUE: THE BELL HOUSE
AGE: 18+
TICKETS: $18 ADV / $20 DOS
7:00pm AZURE BLUE (SWEDEN)
7:45pm THE PROCTORS (UK)
8:30pm THE HOBBES FANCLUB (UK)
9:15pm FLOWERS (UK)
10:00pm TIGERCATS (UK)
10:45pm THE BATS (NEW ZEALAND)