the BBC's Sound of 2011 list, new Yuck tour dates, Mona shows & more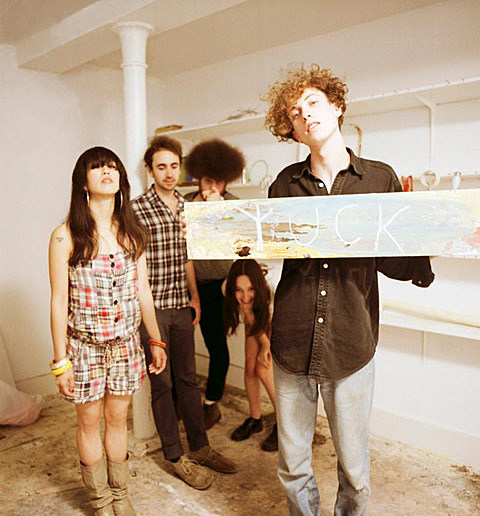 The BBC recently published its Sound of 2011 list, its annual picks of artists they think will be hot next year. A few of these you might have read about already: The Vaccines (playing here in January), Anna Calvi (playing here in March), Australia's The Naked and the Famous (maybe you saw them at Brooklyn Bowl in November), Esben and the Witch (been here a couple times), and Warpaint (already kinda big over here). There's also dubstep wizkid James Blake, hotshot producers Nero and more.
The list was determined via "160 influential UK tastemakers," and the artists selected must not have had a UK top 20 single or album by 14 November 2010, and must not already be famous (aka contender for TV talent competition, etc). You can see the whole list at the bottom of this post and the top five from the initial list of 15 will be revealed first week of the new year. Last year's list was topped by Ellie Goulding and also included The Drums, Marina & the Diamonds and, uh, Owl City.
Another of the band on the Beeb's list is Yuck who have scheduled and then cancelled U.S. shows twice this year already, but are now really coming -- they pinkie swear -- for two shows next month: January 25 at Mercury Lounge (on-sale 12/17 at noon) and Jan. 26 at Glasslands (tickets are on sale). Immediately after their NYC shows, Yuck heads out for a North American tour with their Fat Possum labelmates Smith Westerns. Yuck's debut album, loaded with warm and fuzzy indie rock a la early Teenage Fanclub or Yo La Tengo, will be out February 15. You can check out "Rubber" from the album above (and watch its NSFW video further down), as well as previously-released, super-catchy "Georgia."
Mona

The myth of the last gang in town is an enduring one in rock music. A small town, some big ideas and four kids who've grown up and grown so close that they finish each others sentences. Mona are those tender souls, hoping to outgrow the story that's been written for them. Says frontman/guitarist Nick Brown of their debut single Trouble On The Way. Nick: "It's pretty self-explanatory - there's a sound on the horizon and the volume's gonna grow."

The majority of this Nashville-based four-piece were raised in the church and learned their craft playing to the congregation: Nick and drummer Vince Gard as Pentecostalists and bass player Zach Lindsey in by Southern Baptist. Guitarist Jordan Young is the token heathen. For those within the faith, secular music was banned. Vince's mother would play him Creedence Clearwater Revival records and make him promise not to let on to his father - rock and roll as illicit, secret thrill.
You can check out a couple Mona videos below. The band have already played Later with Jules Holland, which seems to make them one of these American bands that England likes first. (Other examples: The Killers.) Apart from their three NYC shows next month, most of their 2011 plans seem to be focused in the UK.
Yuck - 2011 NOrth American Tour Dates
01/25 - New York, NY - Mercury Lounge
01/26 - Brooklyn, NY - Glasslands
01/28 - Nashville, TN - The End %
01/29 - Knoxville, TN - Pilot Light %
01/30 - Chapel Hill, NC - Local 506 %
01/31 - Athens, GA - 40 Watt Club %
02/01 - Atlanta, GA - Drunken Unicorn %
02/02 - Orlando, FL - Backbooth %
02/04 - Tallahassee, FL - Club Downunder %
02/06 - Houston, TX - Fitzgeralds %
02/07 - Austin, TX - Emo's %
02/08 - Dallas, TX - The Loft %
02/10 - Phoenix, AZ - Rhythm Room %
02/11 - Los Angeles, CA - Echo %
02/12 - Costa Mesa, CA - Detroit Bar %
02/13 - San Francisco, CA - Bottom of the Hill %
% = w/ Smith Westerns
--
Mona - Trouble on the Way

Mona live on Later with Jules Holland, Nov. 2010