The Black Ryder played Austin Psych Fest (pics) & Glasslands, playing Santos (tonight)
Timothy S. Griffin
the girls of Black Ryder @ Austin Psych Fest

Made up of former Morning After Girls members Scott Von Ryper and Miss Aimee Nash, The Black Ryder released their debut Buy the Ticket, Take the Ride in late 2009 which got released in America last year on Mexican Summer. Members of Black Rebel Motorcyle Club, Swervedriver and Brian Jonestown Massacre guested on the album which should give you a good idea of what they sound like. To give you an even better idea, download "Gone Without Feeling" at the top of this post.
The openers at Santos tonight are pretty good. My Best Fiend are not that far from Spiritualized angelic comedown vibe -- download their Jesus Christ EP for free here. The three guys in Heaven have played with Adam Franklin, Dean & Britta, the Comas, The Big Sleep and others and lay down a dreamy/heavy sound of their own. It's a well-curated night of bliss-out music at high volume, and stick around for the afterparty with Calle's Aurellio Valle DJIng (and others).
NYC show flyer, a video and more pictures from Psych Fest, below...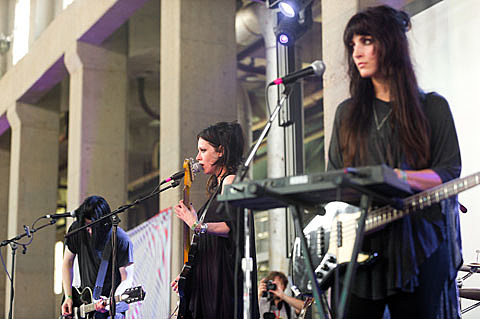 The Black Ryder also appear at San Francisco Popfest on May 25th