The Boomtown Rats played their first US show since the '80s at NYC's Terminal 5 (pics, setlist, video)
photos by Dana (distortion) Yavin
The Boomtown Rats @ T5, 9/26/2014

The Rats--led by Geldof's pointed, devilish, Dublin-accented vocals--were reunited and reignited, minus original members Johnnie Fingers and Gerry Cott. "I began singing those words again, and bizarrely, a different character from the guy who plays in the solo bands suddenly leapt out. This sort of snotty, pain in the ass dude"--here he chortles--"came back. Boomtown Bobby was intact, dusting off the cobwebs."
He found, both to his joy and distress, that the socio-political leanings were still valid. "It was, 'Well, hold on, here we are back in the midst of the worst economic conditions since the 30s. I wrote a lot of those songs waiting on a dole queue or working in an abattoir. And two weeks before some idiot had shot up his school, so when I did 'I Don't Like Mondays,' it sounded completely right. We just read about Obama and the NSA taking our mail and logging our calls...and I'd written 'Someone's Looking At You" in 1980 about paranoia. That anger was there."
And it spewed out at the Isle of Wight. "I was really excited, properly," he admits. "I said, 'I'm not going to jump around like I used to, that's just undignified.' But fuck me, as soon as it started, there I was, leaping around like a twat." - [Village Voice]
Irish rock icons The Boomtown Rats played their first US show since the '80s on Friday (9/26) at New York's Terminal 5. Bob Geldof (who we interviewed recently) was indeed doing a lot of leaping around as you can see in the pictures that accompany this post. We've also got the setlist and video of them performing their classic single "I Don't Like Mondays" at T5 below.
This was one of two American shows for the band (Boston was the other) both of which were presented by Smithwick's featuring fellow Irish acts The Stunning and Mundy. T5 also got Ash as well. That meant a late night -- The Boomtown Rats didn't go on till midnight. We missed Ash and Mundy, but pictures of The Stunning, plus more of The Boomtown Rats, below...

---
The Stunning
Boomtown Rats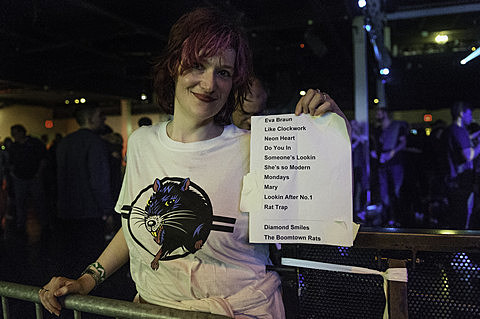 THE BOOMTOWN RATS @ TERMINAL 5 NYC 26 SEP 2014

SETLIST: Boomtown Rats @ Terminal 5, 9/26/2014
(I Never Loved) Eva Braun
Like Clockwork
Neon Heart
(She's Gonna) Do You In
Someone's Looking at You
She's So Modern
I Don't Like Mondays
Close as You'll Ever Be
Mary of the 4th Form / I Wanna Be Your Man / Radar Love / Boom Boom
Looking After No. 1
Rat Trap
Encore:
Diamond Smiles
The Boomtown Rats