The Cars played Roseland (pics, setlist), playing Lollapalooza
The Cars @ Roseland Ballroom

So many bands have cribbed from The Cars' new wave playbook you may have forgotten that they did it first. (Hear that Phoenix and The Strokes?) Ric Ocasek hasn't been behind the driver's seat of The Cars in 24 years, which is reason enough to see one of New Wave's most popular bands reunited. Five more reasons: "Just What I Needed," "My Best Friend's Girl," "Good Times Roll," "Let's Go" and "Shake it Up."
They didn't play "Shake it Up", but the other four reasons were heard along with 14 other songs at Roseland Ballroom in NYC last night (5/25). It was The Cars' second to last show on their May tour that is both a reunion with Ric and in support of a brand new album. The new album, Move Like This, was released on May 10th, and its songs also contributed greatly to the Cars' 90 minute setlist at the large, sold out NYC club show.
Bassist Benjamin Orr died in 2000 from pancreatic cancer. In case you were wondering...
"I wondered how they would replace singer/bassist Ben Orr, who passed away a few years ago. It turns out, they really didn't. Ric sang all of Ben's songs, and keyboardist Greg Hawkes played some basslines on keys, and picked up the bass guitar (which actually belonged to Orr) on a few songs. (On the album, Hawkes played some bass, as did producer Jacknife Lee)." [No Expiration]
The Cars end their tour tonight in Boston, but will be back on stage this summer at Lollpalooza in Chicago. More pictures from the NYC show, and the full setlist, below...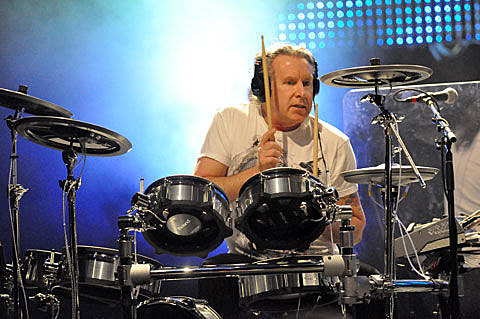 The Cars Concert at Roseland Ballroom, New York, NY, USA
Setlist on May 25, 2011
Good Times Roll
Blue Tip
Since You're Gone
Up and Down
My Best Friend's Girl
Touch and Go
I'm in Touch With Your World
Keep On Knocking
You Might Think
Drag On Forever
Free
I'm Not the One
Sad Song
Heartbeat City
Let's Go
Encore:
Moving In Stereo
Just What I Needed
You're All I've Got Tonight