The Casualties, Trash Talk & Leftover Crack – Gramercy pics, 2009 tour dates (shows w/ Youth Brigade)
Justina Villanueva
words by Black Bubblegum, photos by Justina Villanueva
The Casualties

If it wasn't for Trash Talk, July 3rd's bill of The Casualties and Leftover Crack would have felt more at home at ABC No Rio or C-Squat - if they could contain it. But alas, Gramercy Theater (instead of Irving Plaza) held down the fort as the trio of bands bid adieu to a larger tour, saving the fireworks for NYC - literally and figuratively.
Trash Talk, who spent their July 4th at Woodsist Fest, is seemingly forever on the road and has scheduled an appearance at Sound & Fury. The band recently self-released their East of Eden 7" featuring Circle Jerk and punk legend, Keith Morris.
Next up for The Casualties, a tour with Krum Bums and Mouth Sewn Shut that kicks off in August followed by another quick jaunt with Off With Their Heads and Youth Brigade that includes a NYC date at Europa on Sept 29th. Tickets are on sale.
After Youth Brigade and Off With Their Heads play Europa, the bands have a Canadian Tour lined up with The Bouncing Souls (who are on their way to NYC with 7 Seconds). Youth Brigade is also scheduled to play the kick-ass Riot Fest.
Full Casualties and Youth Brigade tour dates, and more pictures from Gramercy Theatre, are below...

Casualties...
Trash Talk...
Leftover Crack...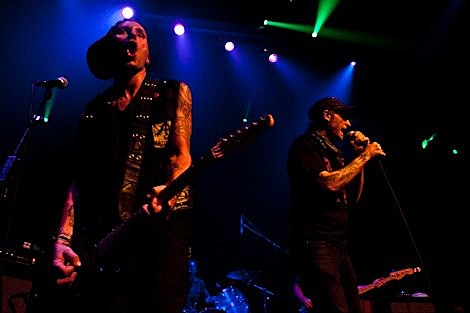 THE CASUALTIES - 2009 TOUR DATES
Aug 20 2009 BERNIE'S DISTILLERY COLUMBUS, Ohio*
Aug 21 2009 ES JUNGLE INDIANAPOLIS, Indiana*
Aug 22 2009 THE JACKPOT MUSIC HALL EARLY SHOW LAWRENCE, Kansas*
Aug 23 2009 THE BLACK SHEEP COLORADO SPRINGS, Colorado*
Aug 24 2009 THE LAUNCHPAD ALBUQUERQUE*
Aug 25 2009 THE CLUBHOUSE TEMPE, Arizona*
Aug 26 2009 RED ELECTRIC LAS VEGAS*
Aug 27 2009 THE KEY CLUB LOS ANGELES, California*
Aug 28 2009 THE GLASS HOUSE POMONA, California*
Aug 29 2009 MEGASOUND STUDIOS VENTURA, California*
Sep 3 2009 MUSICHEAD MEDFORD, Oregon*
Sep 4 2009 THE SATYRICON PORTLAND, Oregon*
Sep 6 2009 CRETIN HOP SPOKANE, Washington*
Sep 8 2009 IN THE VENUE SALT LAKE CITY, Utah*
Sep 11 2009 TRIPLE ROCK SOCIAL CLUB - ALL AGES MINNEAPOLIS, Minnesota*
Sep 17 2009 NORTH STAR - ALL AGES PHILADELPHIA, Pennsylvania**
Sep 18 2009 ASBURY LANES ASBURY PARK, NJ**
Sep 19 2009 EUROPA NEW YORK CITY, New York **
* w/ Krum Bums and Mouth Sewn Shut
** w/ Youth Brigade & Off With Their Heads
YOUTH BRIGADE, OFF WITH THEIR HEADS - 2009 TOUR DATES
Sep 14 2009 Small's Bar Detroit, Michigan
Sep 15 2009 Peabody's Cleveland, Ohio
Sep 16 2009 Belvedere's Pittsburgh, Pennsylvania
Sep 17 2009 North Star Bar Philadelphia, Pennsylvania
Sep 18 2009 Asbury Lanes Asbury Park, New Jersey
Sep 19 2009 Europa Brooklyn, New York
Sep 20 2009 Middle East Boston, Massachusetts
Sep 21 2009 Hall Pittsfield, Massachusetts
Sep 23 2009 Foufounes Electrique Montreal, Quebec*
Sep 24 2009 Ritual Ottawa, Ontario**
Sep 25 2009 Vinyl Guelph, Ontario**
Sep 26 2009 Call The Office London, Ontario**
Sep 27 2009 Opera House Toronto, Ontario**
Sep 30 2009 Pyramid Cabaret Winnipeg, Manitoba**
Oct 1 2009 Riddell Centre Regina, Saskatchewan**
Oct 2 2009 Starlite Edmonton, Alberta**
Oct 3 2009 MacEwan Ballroom Calgary, Alberta**
Oct 4 2009 Wild Bills Banff, Alberta**
Oct 6 2009 Sugar Nightclub Victoria, British Columbia**
Oct 7 2009 Richards On Richards Vancouver, British Columbia**
Oct 10 2009 Riot Fest! Congress Theatre Chicago, Illinois
* w/ Bouncing Souls
** w/ Bouncing Souls, Saint Alvia