The Cribs – new album, MP3, video & shows w/ Johnny Marr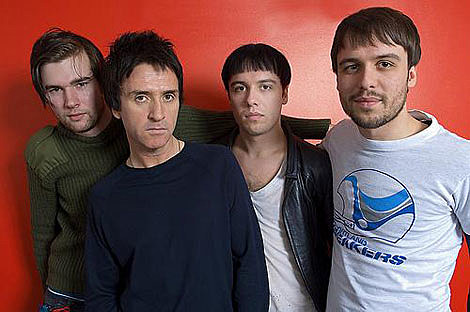 Wakefield, England's finest all-brother trio, The Cribs, expanded last year to a four-piece with restless Smiths (and Modest Mouse) axeman Johnny Marr joining the Jarman brothers. The fruits of this colaboration, the band's fourth album, Ignore the Ignorant, is out physically in the U.S. on November 10, the same week they'll be playing their first American shows with Marr, including two consecutive nights at Bowery Ballroom: November 12-13, to which tickets go on sale Friday(8/21) at noon.
You can get Ignore the Ignorant digitally September 8, which is the same week as the CD comes out in the UK. Ignore the Ignorant, which was made with veteran producer Nick Launay (The Veils, Maximo Park, XTC, a slew of Midnight Oil albums) is the lead review in the September issue of MOJO and garnered four stars:
There's an ambition at play here that has nothing to do with the more mercenary aspirations of their lesser peers, and while the album presents The Cribs in widescreen and Technicolor where previously they had a more rustic, lo-fi approach, they're no sell-outs, preserving their grit despirte the relative grandeur of the production. Lead single "Cheat on Me" is a spophisticated tangle of hooks that drives its melancholic point home via the sad-eyed melodies of its chorus, Marr's slide-guitar swoon and Ryan's delivery of the song's anguished refrain -- a torn Cobain-esque howl that could provoke goose-pimples from a corpse. A key point of reference here is The Replacements' "Bastards of Young," which The Cribs covered as a b-side last year, and which "Cheat on Me" echoes, another anthem of post-adolescent alienation.
Grab a free MP3 of "We Were Aborted" from that album above.
There's also a "deluxe edition" of Ignore the Ignorant that is available exclusively through iTunes that comes with live tracks recorded at The Ritz in Manchester in February of this year. In a move that seems clearly designed to keep fans from downloading the album illegally, if you pre-order this digital version (which you can do starting August 25) you get the full 20-song set. If you don't pre-order, you only get 14 bonus tracks.
All Cribs 2009 tour dates, the video for "Cheat on Me", and the new album cover art, below...


The Cribs - "Cheat on Me"

The Cribs - 2009 Tour Dates
Sep 15 Le Nouveau Casino Paris
Sep 17 White Air Festival Brighton
Sep 21 Academy Dublin
Sep 22 Mandela Hall Belfast
Sep 24 UEA Norwich
Sep 25 Junction Cambridge
Sep 26 Academy Liverpool
Sep 28 University Hull
Sep 29 Barrowlands Glasgow
Sep 30 University Newcastle
Oct 2 Apollo Manchester
Oct 3 Engine Shed Lincoln
Oct 4 Academy Leeds
Oct 6 Lemon Grove Exeter
Oct 7 Guildhall Southampton
Oct 8 Assembly Rooms Leamington Spa
Oct 10 Anson Room Bristol
Oct 15 The Forum London
Nov 9 The Roxy Los Angeles
Nov 12 Bowery Ballroom - New York, NY
Nov 13 Bowery Ballroom - New York, NY
Nov 20 Sportshalle (w/ Franz Ferdinand) Hamburg
Nov 21 Lotto Arena (w/ Franz Ferdinand) Antwerp
Nov 22 Heineken Music Hall (w/ Franz Ferdinand) Amsterdam
Nov 24 Arena (w/ Franz Ferdinand) Berlin
Nov 25 Philliphshalle (w/ Franz Ferdinand) Dusseldorf
Nov 26 Le Zenith (w/ Franz Ferdinand) Paris
Nov 28 Le Liberte (w/ Franz Ferdinand) Rennes
Nov 30 Medoquine (w/ Franz Ferdinand) Bordeaux
Dec 2 Birmingham Academy Birmingham
Dec 3 Brixton Academy London
Dec 5 Dome Doncaster
Dec 6 Corn Exchange Edinburgh