The Cribs play Irving Plaza Saturday (win tix), played Bowery Ballroom in 2008 (here's a new set of pics)
Timothy S. Griffin
photos by Tim Griffin
Marr, best-known for his work with The Smiths, has been collaborating with the group since the end of The Cribs' tour for their 2007 album, Men's Needs Women's Needs. But this will be the first time the guitarist joins the band on a North American run. As the short version of the story goes, Marr met Gary Jarman at a Portland barbecue, and the two - who were mutual fans -struck up a friendship. The rest of the band met him at the 2007 Glastonbury festival some time later. "We ended up just being friends, and then we ended up laying music together - which is naturally what you do when you're musicians, and it just happened from there," Jarman explains.

"It's like a new best friend having Johnny in the band," says Jarman simply. He says he and his brothers "sometimes pick his brain about things he's done in the past, he's got a lot of history, he's been in some bands," but in terms of Marr's role in the group, they're all equals. "He's just one of the guys," he says. "He doesn't come across as a mentor or anything like that." [Dose.Ca]
As you know, The Cribs are back. Tickets are still on sale for their Saturday night (1/16) show at Irving Plaza with Adam Green, and we have one pair of tickets to give away. Details at the end of this post.
A never-published set of pictures from the second of two shows they played at Bowery Ballroom in November (the set we posted already was from the first night), continues (with the setlist) below...

--
Von Bondies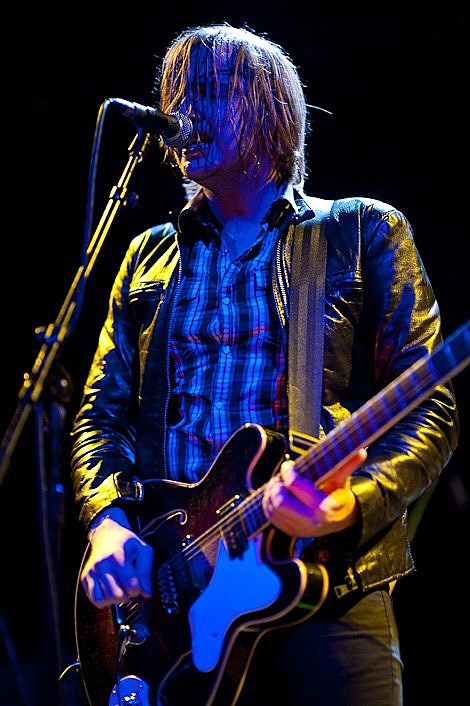 The Cribs
TO WIN A PAIR OF CRIBS Irving Plaza TIX: Email BVCONTESTS@HOTMAIL.COM (subject: Cribs) with your first and last name. A winner will be picked at random and contacted with more details ASAP.