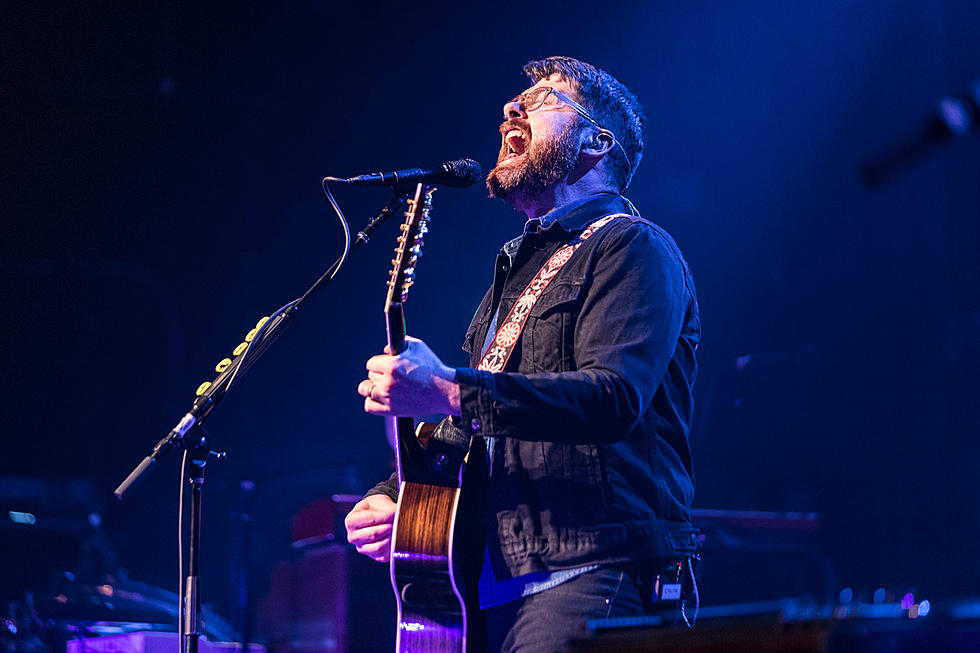 The Decemberists played New Haven before this week's Brooklyn Steel run (pics/setlist)
Photo by Sachyn Mital
If Atticus Bookstore in New Haven needed a momentous occasion to enrich its history, that moment probably would not be Colin Meloy's nosebleed the morning before The Decemberists took the stage at College Street Music Hall on Saturday, April 15. At the show, Meloy generally expressed his gratitude for playing New Haven at a venue amidst the Gothic buildings of Yale. But the lead singer was surprised by the Carrie-level of blood gushing from his nostrils. Fortunately, that didn't stop the band from playing a sold out show to a rapturous audience.
Julien Baker opened the show with a short solo set to nearly a full house. She's been on the road with The Decemberists on their brief East Coast tour (which was dubbed "The Shuffling off to Ragnarök") and it was great to watch her perform, as her stirring yet melancholic music can penetrate the heart.
The Decemberists, including Meloy and his nose, will perform at Brooklyn Steel tonight, Tuesday and Wednesday, all with Baker, all sold out. Longtime fans may be interested to know their are some new tunes to be heard, such as "Everything is Awful." Check out photos from their show in the gallery above to get a sense of what is in store. Sadly, there was no whale as there had been on the What a Terrible World, What a Beautiful World tour. But it was still a lot of fun -- the audience could be heard singing-along throughout the night.
Connecticut's Manic Presents (formerly Manic Productions) is celebrating it's 15th Anniversary this month and have Explosions in the Sky playing their official birthday show this week. View their full slate of shows here.
SETLIST: Julien Baker @ College Street Music Hall 4/15/2017
Funeral Pyre
Sprained Ankle
Everybody Does
Rejoice
Turn Out the Lights
Something
SETLIST: The Decemberists @ College Street Music Hall 4/15/2017
The Crane Wife 3
The Island
Down by the Water
Make You Better
Traveling On
We Both Go Down Together
Lake Song
Everything is Awful
Red Right Ankle
O Valencia!
The Queen's Rebuke / The Crossing
The Chimbley Sweep
Odalisque
[encore break]
The Tain
[encore break]
Dear Avery