The Devil & The Sea and Music Hates You – played SXSW (pics), on tour (dates) & in Brooklyn (tonight)
words & photos by Black Bubblegum
Music Hates You @ SSS day show in Austin @ Room 710 - March 21

As mentioned before, The Devil & The Sea and Music Hates You, two KILLER young bands from the south, will be in NYC on March 31st (TONIGHT) to play The Charleston along with locals Descender. The show are part of a short east coast tour that ends a few days after The Charleston, with Music Hates You continuing on into the Carolinas for another few days.
Music Hates You played the Slow Southern Steel day show at Room 710 on March 21st (more pics are below), the first of a long line of great bands that also included Hex Machine (who we profiled here), The Roller, and headliner Rwake (pics previously posted). The band currently has only one recording to their name, the aptly titled Send More Paramedics, but recently signed on to Zoroaster's label Terminal Doom Records and will release a split EP with the band which incorporates both tracks above.
The Devil & The Sea (mems Icepick Revival & Collapsar) played Snake Eyes Vinyl during SXSW on March 20th (pics below). The Louisiana trio recently dropped their Sanford Parker produced debut, Heart Vs Spine, on Acerbic Noise Development. Check out "Monolith" from that record above, and pick it up at the show, their myspace, or via their label.
Pics and dates below...

The Devil & The Sea @ Snake Eyes Vinyl....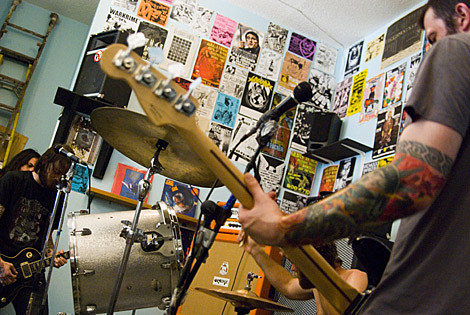 Music Hates You @ @ Room 710...
THE DEVIL & THE SEA - 2009 TOUR DATES
March 31 2009 The Charleston, Brooklyn, New York&
April 1 2009 TBA, Philidelphia, Pennsylvania&&
April 2 2009 TBA, Baltimore, Maryland&&
April 3 2009 Macrock Festival, Harrisonburg, Virginia
& w/ Descender
&& w/ Music Hates You
MUSIC HATES YOU - 2009 TOUR DATES
March 31 2009 - The Charleston, Brooklyn, New York*
April 1 2009 - Millcreek Tavern, Philadelphia, Pennsylvania*
April 2 2009 - Nowarehouse, Baltimore, Maryland^
April 3 2009 - Macrock Festival, Harrisonburg, Virginia -
April 4 2009 - TBA, TBA, Virginia
April 5 2009 - The Reservoir, Carrboro, North Carolina^^
April 6 2009 - The Rock Shop, Fayetteville, North Carolina^^^
April 7 2009 - Volume 11 Tavern, Raleigh, North Carolina^^^^
April 11 2009 - Doom Room, Vicksburg, Mississippi%
April 20 2009 - GroundZero, Spartanburg, South Carolina%%
April 29 2009 - TastyWorld, Athens, Georgia%%%
May 22 2009 - Drips Coffee and Brew, Hickory, North Carolina
May 23 2009 - The Milestone, Charlotte, North Carolina%%%%
* w/ The Devil & The Sea
^ w/ The Devil & The Sea, Darsombra, Mars
^^ w/ Caltrop
^^^ w/ Black Skies, Noble Rust
^^^^ w/ Beast In The Field, Noble Rust
% w/ Buzzardstein
%% w/ ANAL CUNT
%%% w/ AGAINST ME!, Off With Their Heads
%%%% w/ ANTISEEN & Twenty Five Minutes To Go