The Dodos played Studio B (pics), releasing 'Time To Die'
The Dodos will release their third album, Time To Die (produced by Phil EK), on September 15th via Frenchkiss Records...
Time To Die introduces one major addition to the Dodos' creative core: Keaton Snyder, a 21-year-old music school dropout who plays a mean vibraphone. As Long puts it, "He's a better musician than Logan and I combined. I don't even know what's going on with his music theory ideas half the time." On a similar note, Snyder-a classically-trained musician-is constantly learning what 'being in a band' entails. In fact, he didn't even know how to react when a chord was yanked during his Dodos debut. "After the show," says Long, "he was like, 'Yeah, I've never had to plug anything in before.' It was hilarious."
I wasn't expecting Studio B to be so crowded when I showed up for their 5pm Northside Festival show on Sunday (6/14). I wonder if the Miller commercial has helped ticket sales. It was so beautiful outside, and so dark and packed on the inside (not counting the roof deck - it was nice up there). I couldn't really get a good spot and was pre-occupied, so I don't really have an opinion on the actual show, but I loved the Dodos all the other times I've seen them, so I'll probably try and go check them out again when they come back in the fall. No exact NYC dates - just a bunch in Europe and Canada, and some festivals for now. All dates, the new album tracklist, and more pictures from studio B, below...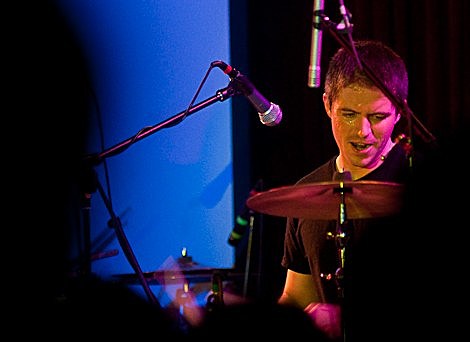 The Dodos - Time To Die - tracklist
1. Small Deaths
2. Longform
3. Fables
4. The Strums
5. This Is A Business
6. Two Medicines
7. Troll Nacht
8. Acorn Factory
9. Time To Die
The Dodos - 2009 Tour Dates
Jul 1 - Landmark Bergen
Jul 2 - Revolver Oslo
Jul 3 - Tavastia Helsinki
Jul 4 - Roskilde Festival Roskilde
Jul 9 - Phoenix Theater Toronto, Ontario
Jul 10 - Ottawa Blues Festival Ottawa, Ontario
Jul 11 - Metropolis Theatre Montreal, Quebec
Jul 16 - Plage de Rock Festival St Tropez, France
Jul 17 - Melt Festival Berlin
Jul 18 - Dour Festival Dour, Belgium
Jul 19 - Valkhof Affaire Nijmegen, NL
Aug 8 - Getty Museum Los Angeles, California
Aug 14 - KEXP Mural Amphitheater Summer Series Seattle, Washington
Aug 29 - Outside Lands Festival San Francisco, California
Sep 1 - Glee Club Birmingham, UK
Sep 2 - Thekla Bristol, UK
Sep 3 - Bush Hall London, UK
Sep 4 - King tut's Glasgow, UK
Sep 5 - Ruby Lounge Manchester, UK
Sep 7 - Maroquinerie Paris, France
Sep 8 - Botanique Rotunda Brussels, Belgium
Sep 10 - Molotow Hamburg, Germany
Sep 11 - Magnet Berlin, Germany
Sep 12 - Melkweg Amsterdam, NL
Sep 13 - End of Road Festival Dorset, UK
Oct 4 - Austin City Limits Music Festival Austin, Texas