The Dodos releasing a new LP, touring in 2015 (dates, stream)
The Dodos at Sasquatch 2014 (more by Chris & Rae Graham)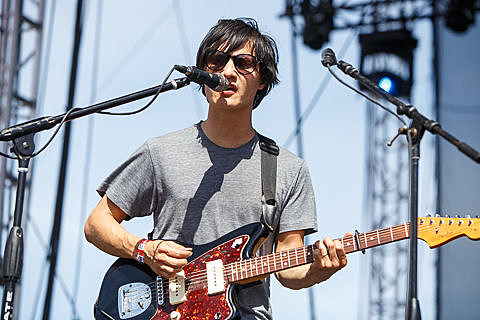 The Dodos will be releasing their sixth album, Individ, on January 27 via Polyvinyl. Its first single, "Competition," is out now and it's more of The Dodos' style of melodic and percussive indie folk. Check it out, with the LP's artwork and tracklist, below.
The Dodos will be opening for their labelmates American Football at two of the California dates on their reunion tour and also have a headlining tour of their own coming up in 2015 after the new album's release. That tour will have support from Springtime Carnivore and hits NYC on February 27 at Music Hall of Williamsburg. Tickets for that show go on sale at noon on Friday (11/21) with an AmEx presale starting noon on Wednesday (11/19).
All dates are listed, with the new song stream, artwork and tracklist, below...

Individ Tracklist:
1. Precipitation
2. The Tide
3. Bubble
4. Competition
5. Darkness
6. Goodbyes and Endings
7. Retriever
8. Bastard
9. Pattern/Shadow
The Dodos -- 2014/2015 Tour Dates
Fri Dec 12, 2014 San Francisco, CA The Fillmore ^
Sat Dec 13, 2014 Los Angeles, CA The Fonda Theatre ^
Sun Dec 14, 2014 Long Beach, CA Alex's Bar
Tue Feb 10, 2015 Sacramento, CA Harlow's *
Wed Feb 11, 2015 San Francisco, CA Great American Music Hall *
Fri Feb 13, 2015 West Hollywood, CA Roxy Theatre *
Sat Feb 14, 2015 San Diego, CA Casbah *
Sun Feb 15, 2015 Phoenix, AZ The Crescent Ballroom *
Mon Feb 16, 2015 Tucson, AZ Club Congress *
Wed Feb 18, 2015 Austin, TX The Parish *
Thu Feb 19, 2015 Dallas, TX Three Links *
Fri Feb 20, 2015 New Orleans, LA Gasa Gasa *
Sat Feb 21, 2015 Birmingham, AL The Bottletree *
Sun Feb 22, 2015 Atlanta, GA Vinyl *
Mon Feb 23, 2015 Durham, NC Pinhook *
Thu Feb 26, 2015 Philadelphia, PA Johnny Brenda's *
Fri Feb 27, 2015 Brooklyn, NY Music Hall of Williamsburg *
Sat Feb 28, 2015 Hamden, CT The Space *
Sun Mar 01, 2015 Allston, MA Brighton Music Hall *
Mon Mar 02, 2015 Montreal, QC La Sala Rossa *
Tue Mar 03, 2015 Toronto, ON Horseshoe Tavern *
Thu Mar 05, 2015 Ann Arbor, MI The Blind Pig *
Fri Mar 06, 2015 Chicago, IL Lincoln Hall
Sat Mar 07, 2015 Minneapolis, MN 7th St. Entry *
Tue Mar 10, 2015 Spokane, WA The Bartlett *
Wed Mar 11, 2015 Seattle, WA Neumos *
Thu Mar 12, 2015 Vancouver, BC Fortune Sound Club *
Fri Mar 13, 2015 Portland, OR Doug Fir Lounge *
Sat Mar 14, 2015 Boise, ID Neurolux *
Sun Mar 15, 2015 Salt Lake City, UT Urban Lounge *
Mon Mar 16, 2015 Denver, CO The Bluebird Theater *
^ - w/ w/ American Football
* - w/ Springtime Carnivore