The Drums played Novotel Hotel Times Square roof (pics), announce new album, 'Encyclopedia'
Wei Shi
The Drums @ Novotel Hotel 7/16/2014

"From here on out begins the new chapter of the Drums," singer Jonny Pierce told a small but devoted crowd packed awkwardly onto the rooftop of Manhattan's Novotel for the Brooklyn-via-Florida duo's first show in years. He and multi-instrumentalist Jacob Graham then left behind the frothy bounce of 2010's "Portamento" and launched into the dark, reverbed twangs and theremin wails of "Magic Mountain," the first single off the Drums' forthcoming third album, "Encyclopedia."

"Our new record sounds just like that," Pierce laughed, illuminated by red stage lights and the bright billboards of Times Square behind him, featuring Pitbull endorsing Hennessy and Conan O'Brien in "Sharktopus vs. Pteracuda." "It's a rude awakening." - [Billboard]
The Drums previewed their new album Encyclopedia on Wednesday night (7/16) on the roof of Times Square's Novotel. A lot of people showed up for the free show, with the line wrapping around the block. Pictures from the show -- and its fairly spectacular backdrop -- are in this post.
The Drums will be back in NYC for two shows, Music Hall of Williamsburg on September 16 and Bowery Ballroom on September 20, as part of their fall tour. Tickets for those NYC shows go on sale at noon today (7/18). Encyclopedia will be out September 23. Check out cover art and tracklist, along with more photos from Wednesday night's rooftop show, below...

---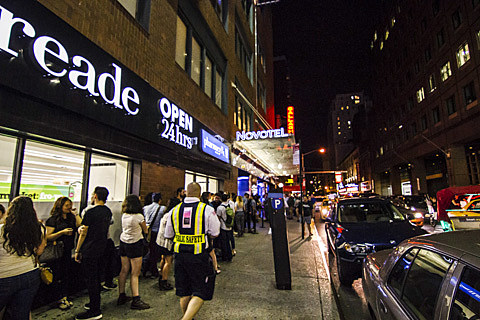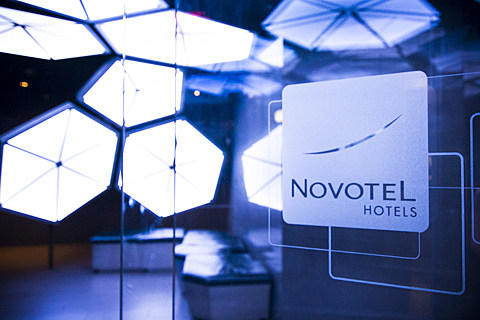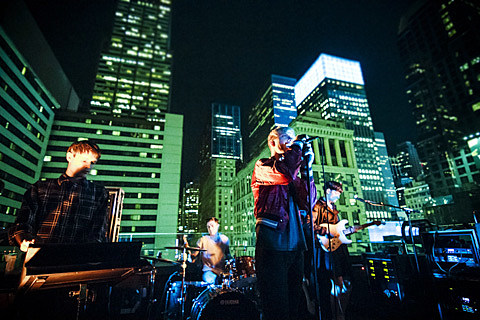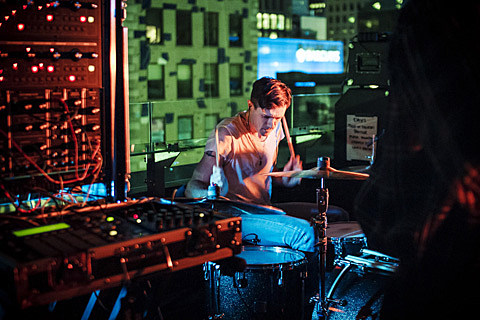 The Drums - Encyclopedia tracklist:
1. "Magic Mountain"
2. "I Can't Pretend"
3. "I Hope Times Doesn't Change Him"
4. "Kiss Me Again"
5. "Let Me"
6. "Break My Heart"
7. "Face Of God"
8. "U.S. National Park"
9. "Deep In My Heart"
10. "Bell Laboratories"
11. "There Is Nothing Left"
12. "Wild Geese"