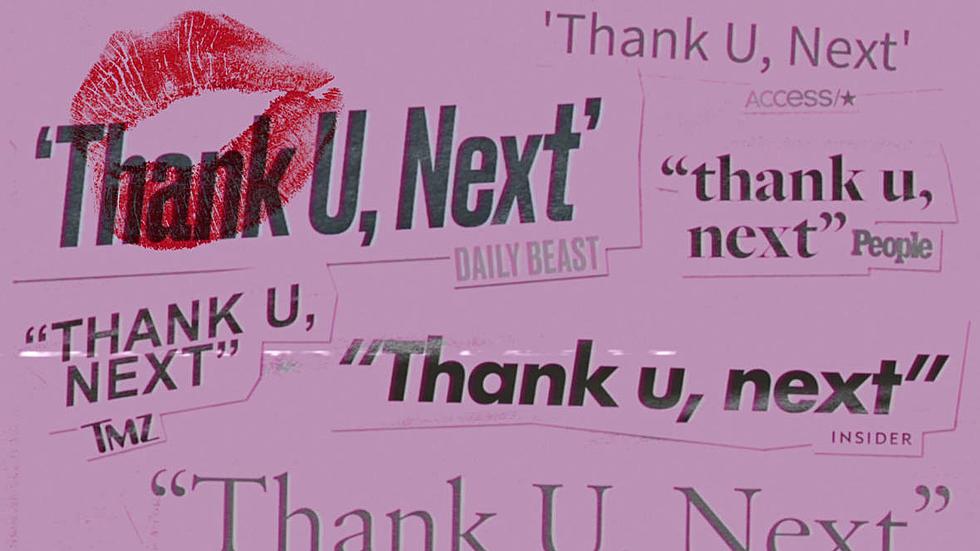 The FADER's top 100 songs of 2018
Best of 2018 season continues today with The FADER, who put out their list of the 100 best songs of 2018 (they don't usually do an albums list). Coming at #1 is Ariana Grande's "thank u, next," and as usual, the list is heaviest on rap, R&B, and pop, but there's some other stuff in there too -- Kacey Musgraves, Snail Mail, and Rosalía all made the top 10, with boygenius and Mitski trailing closely behind. Interestingly, Cardi B is only on there once, and it's with "Be Careful" at #15 (not "I Like It," which has been showing up near the top of many song lists this year). There's also that Doja Cat "Mooo!" song, that really popular Zedd/Maren Moris/Grey "The Middle" song, The 1975, Empath, Colin Self, Mac Miller, Yves Tumor, Black Belt Eagle Scout, Ashley McBryde, Grouper, Dear Nora, Mariah Carey, JPEGMAFIA, Payroll Giovanni & Cardo, ALLBLACK & Kenny Beats, Lana Del Rey, and lots more. They wrote blurbs for the top 25, and after that, each pick came with a choice lyric (except the instrumental songs, which would say something like "[sick instrumental]"). Check out the full list and stream a playlist (Spotify or Apple Music) of the full list below, and read more here.
The FADER's Top 100 Songs of 2018
1. Ariana Grande, "thank u, next"
2. Rico Nasty, "Smack A Bitch"
3. Lady Gaga & Bradley Cooper, "Shallow"
4. Tirzah, "Holding On"
5. Kacey Musgraves, "Slow Burn"
6. Serpentwithfeet, "bless ur heart"
7. Tierra Whack, "Hungry Hippo"
8. Snail Mail, "Pristine"
9. Rosalía, "Malamente"
10. BlocBoy JB & Drake, "Look Alive"
11. boygenius, "Me & My Dog"
12. Mitski, "Geyser"
13. Drake, "Nice For What"
14. Zedd, Maren Morris & Grey "The Middle"
15. Cardi B, "Be Careful"
16. 03 Greedo, "Dibiase"
17. Oneohtrix Point Never, "Babylon"
18. Valee f. Jeremih, "Womp Womp"
19. Davido, "Assurance"
20. Lil Uzi Vert, "New Patek"
21. Robyn f. Zhala, "Human Being"
22. Key! & Kenny Beats, "Kelly Price Freestyle"
23. Meek Mill, "Championships"
24. Burna Boy, "PH City Vibration"
25. Doja Cat, "MOOO!"
26. Trouble, "Kesha Dem"
27. StarBoy f. Wizkid, Ceeza Milli, Spotless & Terri, "So
28. Playboi Carti f. Lil Uzi Vert, "Shoota"
29. Bad Bunny, "Estamos Bien"
30. Soccer Mommy, "Scorpio Rising"
31. Sada Baby & Drego, "Bloxk Party"
32. Young Thug f. Gunna & Lil Baby, "Chanel (Go Get It)"
33. Lil Tracy, "Like A Farmer"
34. J Hus, "Dark Vader"
35. Popcaan, "A Wha Suh"
36. SOPHIE, "Immaterial"
37. Now, Now, "AZ"
38. Galcher Lustwerk, "Wristbands"
39. Noname f. Phoelix, "Window"
40. Casper, Nio García, Darell, Nicky Jam, Bad Bunny & Ozuna, "Te Boté (Remix)"
41. Mallrat, "Groceries"
42. Rae Sremmurd f. Juicy J, "Powerglide"
43. The 1975, "Love It If We Made It"
44. City Girls, "I'll Take Your Man"
45. Colin Self, "Emblem"
46. Teyana Taylor, "Issues/Hold On"
47. YBN Nahmir, "Bounce Out With That"
48. Empath, "The Eye"
49. Ozuna, "Escape"
50. SOB x RBE, "Paramedic!"
51. Rina Sawayama, "Cherry"
52. Mac Miller, "Self Care"
53. Peggy Gou, "Itgehane"
54. Azealia Banks, "Anna Wintour"
55. Mason Ramsey, "Famous"
56. Travis Scott, "STOP TRYING TO BE GOD"
57. Sahbabii, "Anime World"
58. Yves Tumor, "All The Love We Have Now"
59. Black Belt Eagle Scout, "Indians Never Die"
60. Jay Rock, Kendrick Lamar, Future & James Blake, "King's Dead"
61. Ashley McBryde, "Girl Goin' Nowhere"
62. Gunna, "Top Off"
63. Virtual Self, "Particle Arts"
64. Grouper, "Driving"
65. Roddy Ricch, "Die Young"
66. (Sandy) Alex G, "Fay"
67. Matt Ox, "Zero Degrees"
68. Shy Glizzy f. Q Da Fool, "Rich Shooters"
69. That Kid f. Slayyyter & Ayesha Erotica, "Dial Tone"
70. Boosie Badazz, "Love Yo Family"
71. Let's Eat Grandma, "Falling into Me"
72. Cola Boyy, "Penny Girl"
73. Christine and the Queens, "5 dollars"
74. SASAMI, "Not The Time"
75. Porches, "Find Me"
76. Dear Nora, "White Fur"
77. Kurt Vile, "One Trick Ponies"
78. Mariah Carey, "A No No"
79. Dijon, "Nicos Red Truck"
80. Charlie Puth, "Empty Cups"
81. The Internet, "Hold On"
82. G Herbo, "Who Run It (Freestyle)"
83. Lil Berete, "Northside"
84. Empress Of, "When I'm With Him"
85.JPEGMAFIA, "Baby I'm Bleeding"
86. Jennifer Castle, "Grim Reaper"
87. CupcakKe, "Duck Duck Goose"
88. Alex Zhang Hungtai, "Divine Weight"
89. GAIKA, "Crown & Key"
90. Blood Orange, "Charcoal Baby"
91. Payroll Giovanni & Cardo, "10 Years, 1 Summer"
92. Channel Tres, "Controller"
93. ALLBLACK & Kenny Beats, "76 Buccaneers"
94. Lana Del Rey, "Venice Bitch"
95. Unknown T, "Homerton B"
96. Kelsey Lu, "Shades of Blue"
97. Lil Wayne, "Dedicate"
98. Jean Grae & Quelle Chris, "My Contribution To This Scam"
99. Kali Uchis, "After The Storm"
100. Lil Duval f. Snoop Dogg & Ball Greezy, "Smile"