The Feelies @ Battery Park (4th of July), NYC – pics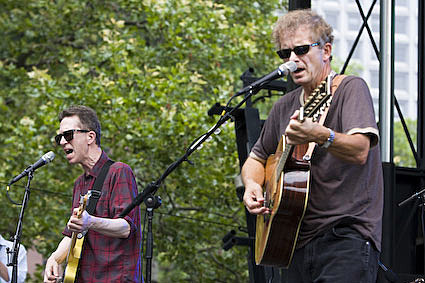 The Feelies are a rock band from Haledon, New Jersey. They formed in 1976 and disbanded in 1992 after having released four albums. The band reunited in 2008. [Wikipedia]
And they played their fourth 2008 show to a large crowd in Battery Park on the Fourth of July. They opened for Sonic Youth, and they sounded surprisngly tight for a band that broke up 16 years ago. More pictures below....


The band lineup is the one that gelled in 1983 and made the last three of the four Feelies albums. It has Mr. Mercer, 53, and Mr. Million, 54, on guitars; Brenda Sauter, 49, on bass; and Dave Weckerman, 58, and Stan Demeski, 47, on drums and percussion. Mr. Mercer and Mr. Million have resumed their songwriting collaboration, and the sets will include some new material.

The Feelies were a vivid apparition between 1977, when they played their debut show at a high school here, and 1991, when they released their fourth album, "Time for a Witness," and played a final Fourth of July show at Maxwell's. Then they disappeared. Mr. Million suddenly moved to Florida without leaving a forwarding address and gave up guitar, and the band was no more. [NY Times]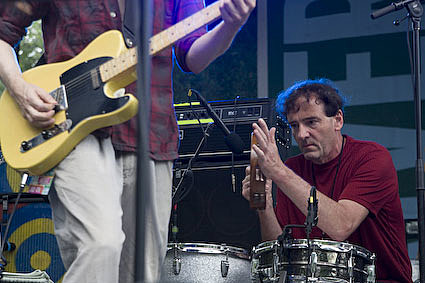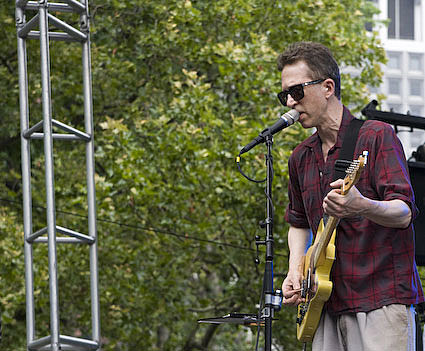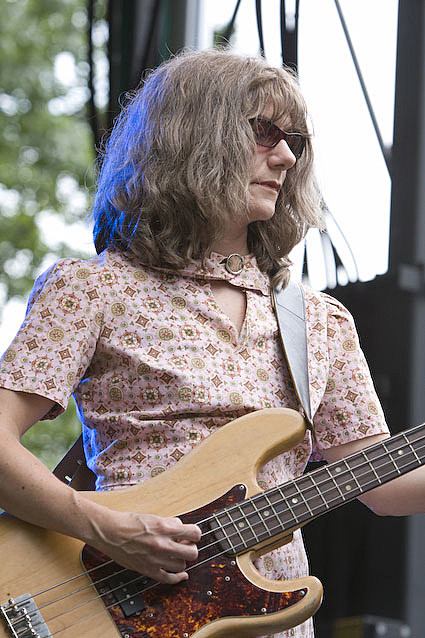 We'll credit Gaylord Fields' onstage Feelies intro invocation/namedrop of Bud Costello as the positive vibeage that kept big rain away from Battery Park yesterday, but it was a great atmosphere all around for the thousands who attended the WFMU-supported Sonic Youth/Feelies show put on by River To River and Downtown Alliance. We should say upfront that both bands' soundmen were geniuses, it's the best I've heard either act, and a big shout to our own Irene Trudel, Bill Bowen, Scott Williams and Diane Farris for swinging WFMU's first ever big-venue live broadcast for the Sonic Youth portion, which went out at 5:00 PM on Friday. [WFMU]
Sonic Youth headlined the show.