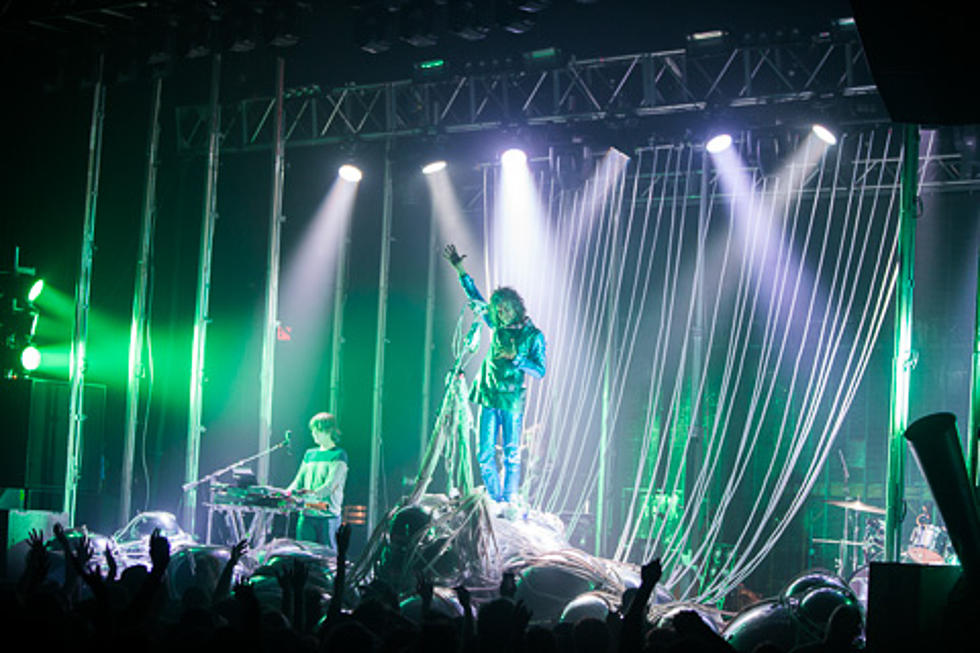 The Flaming Lips played Wellmont Theatre (pics, setlist); GoogaMooga is tonight
Dominick Mastrangelo
The Flaming Lips @ Wellmont Theatre, 5/16/2013

The Flaming Lips played the first of two New York-area shows last night (5/16) at the Wellmont Theatre in Montclair, New Jersey.
It was near-sensory overload -- as all Flaming Lips shows have been since The Soft Bulletin tour -- as strobes and lasers flashed all about the theater. Wayne Coyne ascended a pile of silver half domes where his mic sat atop and he cradled an infant doll for the first three songs as black confetti was shot from cannons, two on either side of the stage, during the second song of the evening, "The Terror." It was everywhere and I found myself fishing confetti out of my camera bag on the train ride home.
It was also a far cry from my first Lips show - "The World's First Headphone Concert" - in Dallas in 1999 when Coyne had a solitary trash bag of confetti and would launch handfuls of it into the crowd. Colors cascaded through fiber-optic cords that snaked around the domes and back behind Coyne. From afar it looked as if he was standing on the glittering remains of a Disney Electrical Parade float. You may have seen it on their Late Night with Jimmy Fallon appearance.
The set leaned heavily on material from their new release, The Terror, and the past few records back to Yoshimi Battles The Pink Robots. We were treated to one song from The Soft Bulletin ("Race For The Prize") and nothing from the earlier records which I think is a bit of a shame.
Nonetheless, it was a spectacle that looked and sounded great. Spanning thirty years, the Lips maintain an eclectic and wide-ranging age group of fans. The younger part of the crowd did their part as kids toward the front wore costumes and covered themselves in glitter and fake blood. One girl - front and center - even had her own infant doll.
The Flaming Lips, along with the Yeah Yeah Yeahs and The Darkness, will play the first night of Great GoogaMooga 2013 tonight (the Lips are on at 6 PM) before heading over to Europe for a handful of dates.  Setlist and more pictures from Wellmont --  including ones of opener Julianna Barwick -- are below.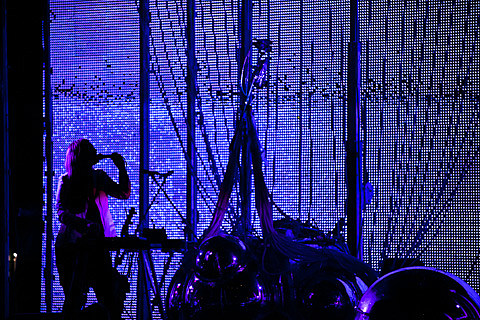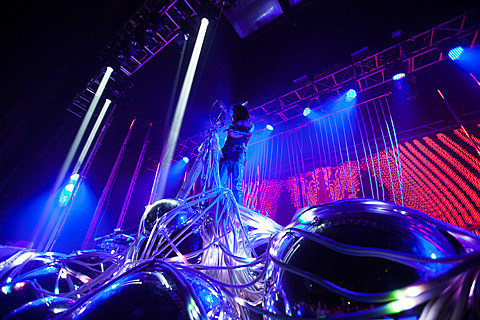 THE FLAMING LIPS - WELLMONT THEATRE 5/16/13 SETLIST
Look...The Sun Is Rising
The Terror
The W.A.N.D.
Silver Trembling Hands
Try to Explain
Race for the Prize
Butterfly, How Long It Takes to Die
You Lust
One More Robot
Sympathy 3000-21
"Heroes" (David Bowie cover)
Riding to Work in the Year 2025 (Your Invisible Now)
Turning Violent
Do You Realize??
=====
ENCORE
All We Have Is Now
Always There, In Our Hearts