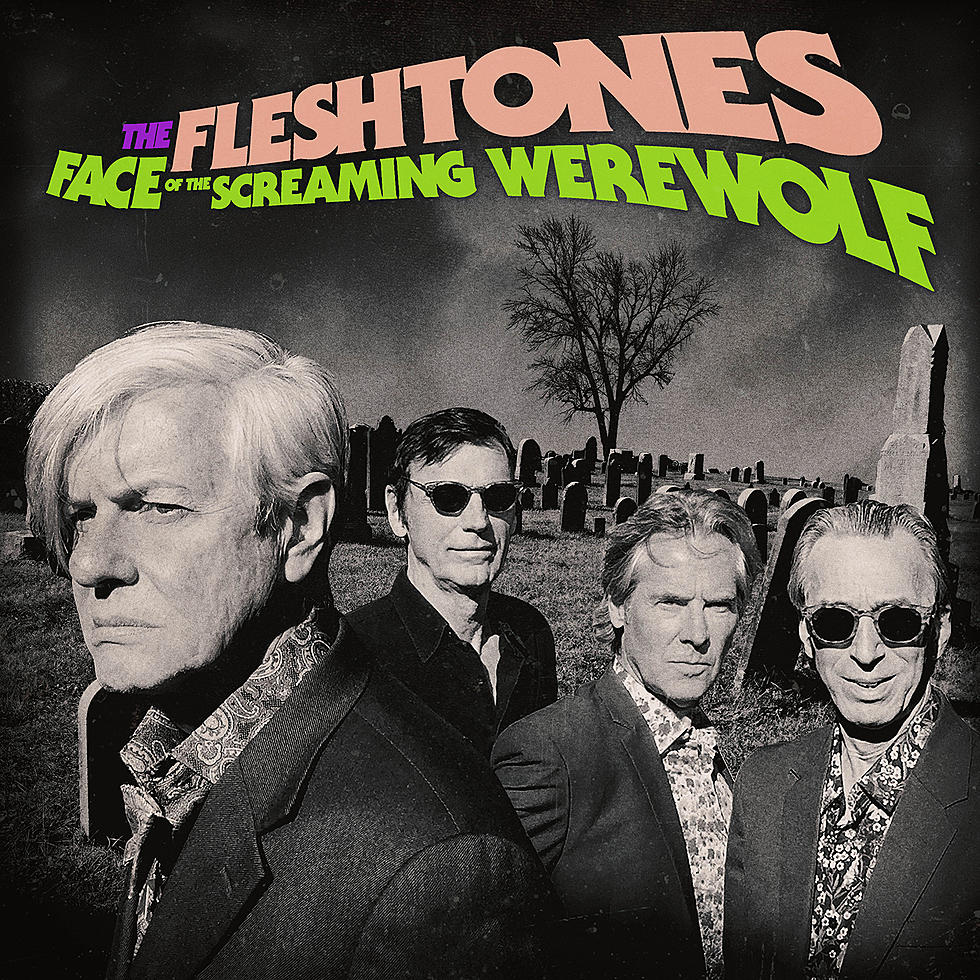 The Fleshtones prep new LP (listen to "Alex Trebek"), playing Ivan Julian benefit w/ Lenny Kaye & more
The fabulous Fleshtones are back with a new album, Face of the Screaming Werewolf, that will be out April 18 via YepRoc. That release date is Record Store Day and the album is a "Record Store Day First" title, meaning it will be available in stores after RSD too. While a sci-fi/horror theme is present on a lot of tracks, the first single is a tribute to Jeopardy host and cancer-battler Alex Trebek. "Turn it up, don't turn it off / Watching Alex will make you smart!" Some 40 years into their career, The Fleshtones are still cranking out killer, fun garage rock pop like this. The lyric video for "Alex Trebek," which continues the Jeopardy theme, premieres in this post and you can watch below.
The Fleshtones are also still a great live band and have dates coming up, including Philly, DC, Jersey and NYC's Bowery Electric on March 23. The NYC show is a benefit for Ivan Julian, who has been battling cancer, and it also features performances by Lenny Kaye, Gogol Bordello's Eugene Hutz backed by The Yeah Yeah Yeah's Nick Zinner and Brian Chase, and more. Tickets are on sale and proceeds go to the Ivan Julian Medical Fund.
All Fleshtones dates are listed below.
Face of the Screaming Werewolf - CD tracklist:
1. Face of the Screaming Werewolf
2. Alex Trebek
3. Spilling Blood (at the Rock & Roll Show)
4. Child of the Moon
5. Manpower Debut
6. Swinging Planet X
7. You Gotta Love, Love
8. Violet Crumble, Cherry Ripe
9. Waiting on a Girl
10. The Show Is Over
11. Somerset Morning
Face of the Screaming Werewolf - vinyl tracklist:
1. Face of the Screaming Werewolf
2. Alex Trebek
3. Spilling Blood (at the Rock & Roll Show)
4. Child of the Moon
5. Swinging Planet X
6. Waiting on a Girl
7. You Gotta Love, Love
8. Violet Crumble, Cherry Ripe
9. Manpower Debut
10. The Show Is Over
11. Somerset Morning
The Fleshtones - 2020 Tour Dates:
3/18 - Silk City Diner - Philadelphia, PA
3/19 - City Winery - Washington, DC
3/20 - Cafe Nine - New Haven, CT
3/21 - Randy Now's Man Cave - Bordentown, NJ
3/23 - Bowery Electric - New York, NY
4/30 - Freakshow - Essen, Germany
5/1 - Roots & Roses Festival - Lessines, Belgium
5/2 - Battle of the Garages - Athens, Greece
5/3 - 8Ball Club - Thessaloniki, Greece
5/6 - Hafenklang - Hamburg, Germany
5/7 - Råhuset - Copenhagen, Denmark
5/8 - Folk a Rock - Malmo, Sweden
5/9 - Musikens Hus - Gothenburg, Sweden
5/10 - Siste Reis - Halden, Norway
5/13 - Statsraaden Bar - Bergen, Norway
5/14 - Revolver - Oslo, Norway
5/15 - Odal Rockeklubb - Austvatn, Norway
5/16 - Bar Brooklyn - Stockholm, Sweden
5/18 - Pub Ettan - Mariehamn, Finland
5/19 - Hotell Hulingen - Hultsfred, Sweden