The Gaslight Anthem & The Hold Steady (joined by Patrick Stickles of Titus Andronicus) @ Pier 26 (pics, setlists, video)
The Gaslight Anthem / The Hold Steady @ Pier 26, 7/28/2013

The Gaslight Anthem just brought their tour through NYC this past weekend for three NYC shows. We already posted pictures of the Irving Plaza show, and now we've got a set from their Sunday show (7/28) on Pier 26 with The Hold Steady.
Despite this being the show where fans chanting "BRUUUUUUCE" led Gaslight Anthem frontman Brian Fallon to write a blog post addressing their identity as a band, it otherwise went over really well. The Hold Steady, who helped lay the groundwork for bands like The Gaslight Anthem, weren't treated as "openers" by any means; they played a 16-song set (about an hour), and got tons of love from the crowd. Their set was most heavy on Boys and Girls in America and Stay Positive, and also included some new songs from an album Craig Finn told the crowd the band has been working on. And as an added bonus, Titus Andronicus frontman Patrick Stickles (whose birthday was that day) joined the band to sing lead vocals on "Cattle and the Creeping Things" (video of that below).
When The Gaslight Anthem were playing their own songs, and neither the band nor the crowd were talking about covers, the crowd was loving it. Sure, songs like "The '59 Sound" and "45" got the biggest reactions, but this was really a crowd who seemed to know every word to almost every song. They played almost all of the newest album, Handwritten, including kicking the show off anthemically with its title track, and getting the crowd grabbing their friends and swaying on "Too Much Blood." There were older favorites played too, like "Great Expectations and "We Came to Dance," and all this talk of covers aside, it seemed like everyone on and off stage had a good time during the set-ending cover of The Who's "Baba O'Riley."
More pictures and the setlists from both bands, and that video of Patrick Stickles joining The Hold Steady, below...

---
The Hold Steady w/ Patrick Stickles - "Cattle and the Creeping Things" - Pier 26 7/28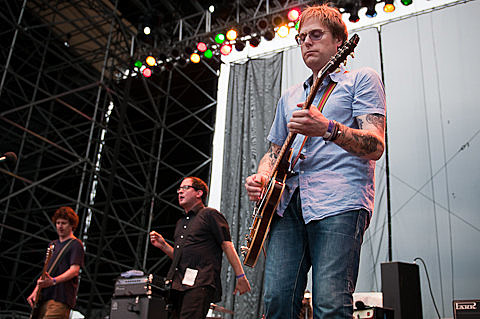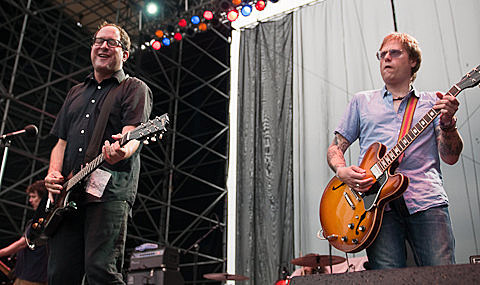 The Hold Steady on Pier 26 - 7/28/13 Setlist:
Constructive Summer
Hot Soft Light
Hurricane J
Wait Awhile
The Swish
Rock Problems
Magazines
Rainbow
Chips Ahoy!
You Can Make Him Like You
Your Little Hoodrat Friend
Cattle and the Creeping Things (with Patrick Stickles)
Stuck Between Stations
Sequestered in Memphis
Southtown Girls
Stay Positive
The Gaslight Anthem on Pier 26 - 7/28/13 Setlist:
Handwritten
The '59 Sound
The Diamond Church Street Choir
Biloxi Parish
We Came to Dance
Blue Dahlia
Howl
Halloween
"45"
Old Haunts
Great Expectations
Too Much Blood
Blue Jeans & White T-Shirts
The Backseat
Encore:
Here Comes My Man
Mulholland Drive
She Loves You
Baba O'Riley (The Who cover)