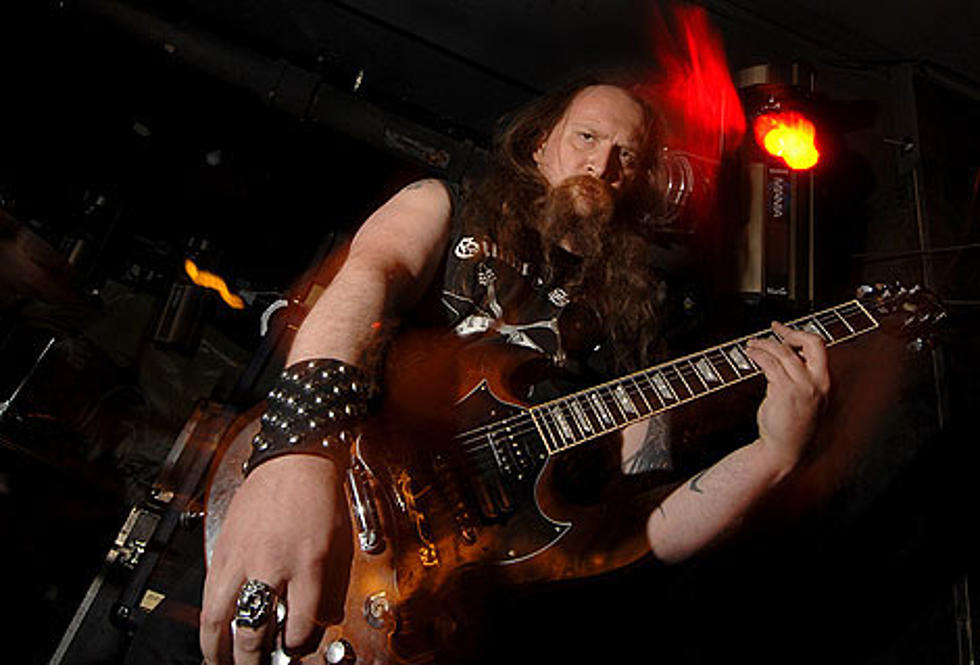 The Gates of Slumber touring, playing Brooklyn w/ Hour of 13
The Gates of Slumber at The Studio at Webster Hall (more by Markus Shaffer)

BrooklynVegan and 1000Knives are proud to present the return of The Gates of Slumber with the amazing Hour of 13 at Union Pool on Oct 16th! One more band is TBA, but $10 will get you in the door.
After two fantastic LPs, 2007's eponymous release on Shadow Kingdom and this year's The Ritualist on Northern Silence, Hour of 13 will present their material for the first time to North American audiences at the show. If you are a fan of doom then you are most likely aware of Hour of 13, and if you aren't aware of them then I urge you to pick up The Ritualist ASAP! Killr record.
Doom gods The Gates of Slumber played the Attitude Adjustment party at Red 7 during SXSW, and are touring off of their killer LP Hymns of Blood & Thunder released in the tail end of 2009, as well as The Hyena Sessions EP, released in March.
All Gates dates, and some videos are below...

--
THE BRINGER OF WAR -- THE GATES OF SLUMBER

DEATH DEALER -- THE GATES OF SLUMBER

Hour of 13 - The Ritualist

Hour Of 13 - Call To Satan

THE GATES OF SLUMBER - 2010 TOUR DATES
Oct 14 Triple Triangle Lounge Richmond, VA
Oct 15 Sidebar Tavern Baltimore, MD
Oct 16 Union Pool Brooklyn, New York
Oct 17 TBA Rochester, NY
Oct 18 31st Street Pub Pittsburgh, Pennsylvan
Nov 7 Underground Köln, Geramny, GERMANY
Nov 8 DIE RÖHRE Stuttgart, Stuttgart, GERMANY
Nov 9 Szene Wien, Wien, AUSTRIA
Nov 11 Z7 Schweiz, CH, SWITZERLAND
Nov 12 Backstage München, München, GERMANY
Nov 13 ROCK PLANET PINARELLA di CERVIA, PINARELLA, ITALY
Nov 14 INIT CLUB Roma, Roma, ITALY
Nov 17 HEINEKEN MADRID, MADRID, SPAIN
Nov 18 RAZZMATAZZ 2 Barcelona, Barcelona, SPAIN
Nov 19 BELFORT - LA POUDERIE BELFORT, FRANCE
Nov 20 Le Divan du Monde Paris, Paris, FRANCE
Jun 17 THE P.L.A.V. Kenosha, Wisconsin
Jun 18 DAY OF THE DOOMED Kenosha, Wi