The Get Up Kids played MHOW & Webster Hall w/ Miniature Tigers & Brian Bonz (pics & setlist)
New York Press: You guys reunited last year and now you've got this new record. Tell me how it all happened.

Get Up Kid Matt Pryor: The band broke up basically because we were sick of each other... but the business of the band still existed. There were some tax issues that we needed to get everyone's signature for. So we went to Rob and Ryan's bar in Lawrence and we were just having some beers and it hit me that all, or at least a big bulk of that baggage wasn't there anymore. I was just enjoying hanging out with my friends. Then when someone brought up the idea that we should play a show. We were like, "Yeah, lets do it." So then we were like "Yeah, let's play some festivals," and then a tour. Then at some point backstage we were like, "Let's make a record, but let's write it start to finish and record it in two weeks and that's it." Then we just kind of went from there. It's all been very natural and very pleasant for the most part.
The Get Up Kids are now on tour with Miniature Tigers & Brian Bonz, and they brought the pleasantness to NYC shows at Webster Hall on 3/2 and Music Hall of Williamsburg on 3/3. Pictures from the Webster Hall show and the setlist, below...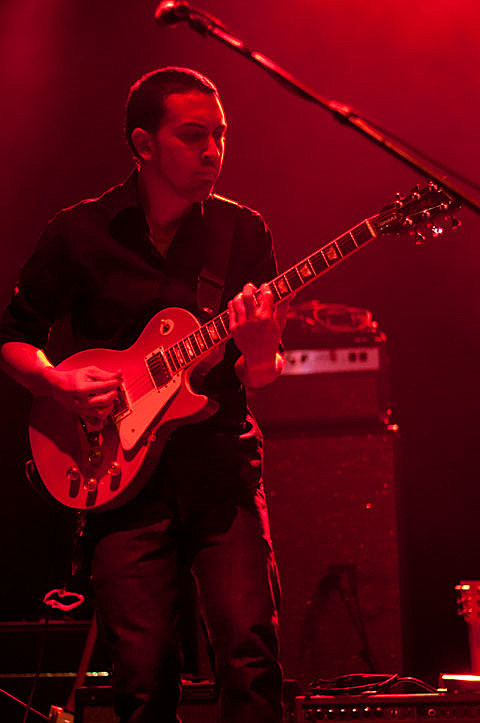 THE GET UP KIDS @ WEBSTER HALL SETLIST:
Tithe
Action and Action
The One You Want
Regent's Court
Red Letter Day
Woodson
Overdue
Keith Case
I'm a Loner Dottie, a Rebel
Shatter Your Lungs
Automatic
Close to Home
Pararelevant
Holy Roman
Campfire Kansas
Don't Hate Me
Walking on a Wire
======
Holiday
No Love
I'll Catch You
Ten Minutes