The Heavy & James Dean Wells @ 92YTribeca – pics & setlist
Dominick Mastrangelo
Given that most of their gear was already on the stage, one would have thought the interim between opener James Dean Wells (of the Gay Blades) and headliner The Heavy on Saturday (1/16) would have been rather brief. The whirring of noise that begins "If I Were Going" from the Afghan Whigs classic "Gentlemen" came on the 92Y Tribeca loudspeakers and, despite a solid set, Wells had done little to capture the attention of those who arrived early. As track one bled into the title track and then "Be Sweet" the prospect of maybe one or two more tracks from "Gentlemen" was a welcome. Given the Whigs' soul, R&B and Stax records leanings, it seemed a more appropriate opener. Forty minutes - or eight and a half tracks - later, The Heavy finally sauntered onto the stage to the Spaghetti Western opening of "Short Change Hero". Frontman, Kelvin Swaby bounced from one end of the stage to the other, pointed at the ladies, and early on had the crowd shouting "What you say?" during the call and answer chorus of "Big Bad Wolf." The set was split evenly among older songs and new material from last year's The House That Dirt Built. "Colleen", "Girl" and "That Kind of Man" all off 2007's Great Vengeance and Furious Fire were among the highlights of a pulsating, hour-long set. Despite moving almost non-stop, Swaby and the rest of the band somehow had attitude and swagger to spare, cashing most of it in on set closer "How You Like Me Know" ,the single from the new record.
The Heavy, who also opened for The Hot Rats at Bowery and Music Hall last week, perform tonight (1/18) on Late Night with David Letterman backed by the Dap Kings Horns (Neal Sugarman, Dave Guy and Ian Hendrickson-Smith) before heading back to Europe to play a string of shows through the end of February.
More pictures and the headliner's setlist below...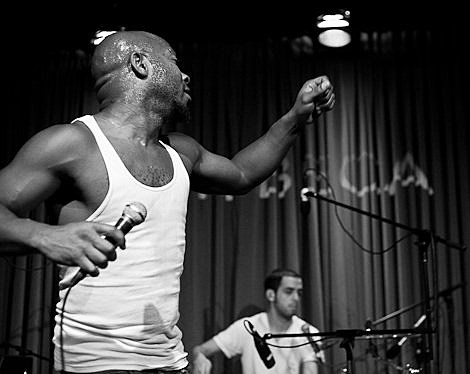 The Heavy setlist (as written)
Short Change
What You Want Me To Do
Big Bad Wolf
Sixteen
Cause For Alarm
Coleen
Girl
Love Like That
In The Morning
TKOM
No Time
BRVK
How You Like Me Now