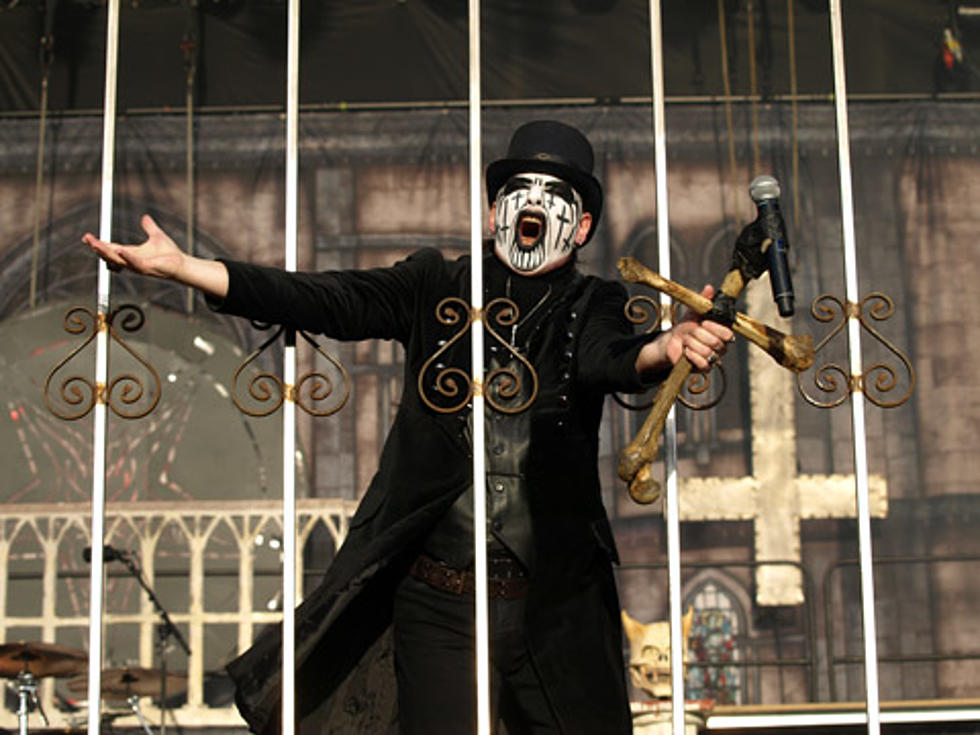 The Heavy Lowdown: King Diamond, Ghost BC, Slough Feg, Witch Mountain, Mortals, weekend shows & more
King Diamond

Over the weekend, King Diamond turned into King Dynasty. First bassist Hal Patino quit over a pay dispute. Then, Kim Bendix Petersen responded with a seemingly well-reasoned letter of epic length (if you read it in a King Diamond falsetto, it makes the words fly by). Finally, Patino fired back with a screed beginning with "I'm NOT a drug addict!" Duly noted. All of this reads like. . . a conspiracy, ooooooooaaaaaaaaaaaaaaaaaaaaaaaaaaaah. Also, King Diamond is set to play a handful of Euro fests this summer and will be hitting North America for a tour this fall, including a date at FFF Fest and October 14 at NYC's Best Buy Theater.
Speaking of things that shouldn't have been made public, there's a petition on Change.org asking Ghost BC to break up. Says the petition, "We petition against Ghost of the heavy metal genre that continues to make albums and tour. Many people getting into metal think that they are the real deal and that we should forget the real bands like Black Sabbath, Judas Priest, Iron Maiden, etc." Of course they're not real, they're ghosts. Some trvthers you are.
Want to drum for Slough Feg? There's now an opening. Harry Cantwell -- who also plays for Bosse-De-Nage -- will be leaving the band at the end of July, leaving open a spot on the stool. Leader Mike Scalzi: "Obviously this news brings up the question: what are we gonna do about a drummer? Well, we do have some stuff scheduled for a few months down the road, so we'll be auditioning drummers ASAP. If you think you're up to the task, then let us know!!!"
Could the next Slough Feg drummer be the newly elected president of Indonesia? Joko Widodo is indeed a fan, known to sport Napalm Death and Lamb of God shirts in pics. His first order of business? Declaring war on Ghost.
Don't forget to keep up with the rest of our metal coverage during the week.
Now that you're, ahem, fully briefed, let's recap all of the A/V transmissions.
still from Mortals' video

Mortals shot a video using Brooklyn's the Archeron as the backdrop. Said the Acheron's Facebook, "Now we gotta find a new sound tech and bartender!!" This Heavy Lowdown just turned into Metal Careerbuilder. You can watch the video below.
For streams, Witch Mountain debuted "Psycho Animundi" from their forthcoming Mobile of Angels on NPR. The record is out September 30 via the mighty Profound Lore Records. Tech-deathers Beyond Creation dropped "Elusive Reverence" from Earthborn Evolution (October 24, Season of Mist - preorder). And friends in digital metal dissemination CVLTNation released their fourth covers record, this one taking on Joy Division. It includes renditions by Pinkish Black, Theologian, and Arctic Flowers and it's available for download. You can also listen to it and the Beyond Creation cut below.
Got it? Good. To shows we go:
SUNNNNNNDAY (7/27): New York Death Fest finishes up with a gurgle at Saint Vitus. Over at the Acheron, there's the progressive Blackest, Warm, and Dead Empires (tickets).
Alright, consider the decks cleared. What did we miss? What are your plans? Let us know and check out those streams, and other noted details below.

---